Shinsuke Nakamura World Wrestling Entertainment (WWE) - BE@RBRICK
The WWE, formerly WWF and WWWF, is an entertainment company that is known around the world for professional wrestling. Although many unique people and personas have appeared through the years, one of the more recent fighters to join the WWE rosters is Shinsuke Nakamura. On the other hand, Medicom Toy, the company behind the BE@BRICK line of figures, began adding more figures in their collaboration with WWE. As a result, the "BE@RBRICK Last Man Standing Shinsuke Nakamura 100%" was created in 2019.
WWE x BE@RBRICK Collaboration Background
The first set of figures to be produced through the collaboration between BE@RBRICK and WWE was the Hulkamania BE@RBRICK, which was released in December 2014. As of early 2021, a total of four BE@RBRICK designs based on WWE have been produced, with the Nakamura figure being the most recent addition.
Collaboration Planning and Launch
Although the Hulkamania figure first launched in 2014, it would be almost two full years before another WWE BE@RBRICK figure would be made. After this gap, however, The Undertaker would get a figure of their own in August 2016. Later in 2019, both Shinsuke Nakamura and AJ Styles would also get recreated as BE@RBRICK figures as well. The Hulkamania and Undertaker figures were both made in BE@RBRICK's 100% and 400% sizes, while the latter two were only made in the smaller 100% size.
BE@RBRICK Last Man Standing Shinsuke Nakamura 100%
This figure recreates Shinsuke Nakamura's costume as he appears in the ring. His outfit simply consists of a pair of red pants tied up with a black belt, as well as a pair of black bracers, and a matching armband. Since his outfit doesn't have a shirt, Nakamura's upper body is painted to show off his muscular chest and abdomen. This figure also has Nakamura's characteristic hair parted to one side and a unique smirk.
Product Name: BE@RBRICK Last Man Standing Shinsuke Nakamura 100%
Manufacturer: Medicom Toy
Specifications: Painted and articulated plastic figure
Height (Approx.): 70 mm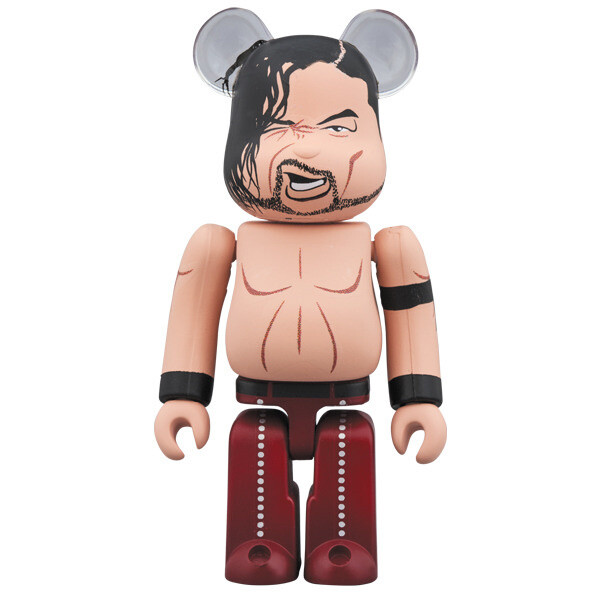 About WWE
The World Wrestling Entertainment company is widely known for holding professional wrestling competitions and events. It first began in 1953 as Capitol Wrestling Corporation, where it was a part of the National Wrestling Alliance. After the controversy surrounding the founders of the CWC, one of their fighters, and the NWA in 1963, however, the CWC founders left the NWA and created the World Wide Wrestling Federation. The company would truly begin to hit its stride after 1979, where it rebranded once again to become the World Wrestling Federation. This new rebranding eventually led to the creation of WrestleMania in 1985, which quickly became a staple of the professional wrestling scene. In 2002, the WWF would once again rebrand to become World Wrestling Entertainment, where it currently stands today.
Shinsuke Nakamura Background
Shinsuke Nakamura is a Japanese professional wrestler and former mixed martial artist that currently performs for WWE. Prior to being signed with WWE, Nakamura was a fairly prolific fighter for New Japan Pro-Wrestling. Early on into his career, he was dubbed "Super Rookie" after officials and fans alike were blown away by Nakamura's impressive skills and speed. After leaving for an international training excursion before returning to New Japan Pro-Wrestling once again. After a four-year winning streak at the IWGP Intercontinental Championship, Nakamura signed a contract with WWE in 2016. Although he started out on WWE's NXT roster, he was later moved to one of the main WWE rosters in 2017, where he remains to this day.
Shinsuke Nakamura Background: Biography
Shinsuke Nakamura was born in Kyoto, Japan on February 24th, 1980. He had expressed an interest in wrestling from a young age and grew up watching Jushin Liger perform in New Japan Pro-Wrestling. In 2002, Nakamura made his first professional debut with NJPW, where he quickly made a name for himself. After four years, Nakamura would travel to many different countries like Mexico, Brazil, and Russia in order to hone his skills even further. During this training, talks of having Nakamura temporarily fight in WWE were held but never came to fruition.
From 2009 on, Nakamura's career would take a turn for the better, eventually resulting in his third IWPG Heavyweight title and successful wins that defended several other titles. From 2012 to 2016, Nakamura would have a hot streak by consistently winning the IWGP Intercontinental Championship back-to-back. Shortly after this, in January 2016, Nakamura announced that he had signed an exclusive contract with WWE and made his first televised WWE NXT debut on April 13th, 2016, where he defeated Tye Dillinger. Around a year later, Nakamura appeared on SmackDown Live, making his first main roster appearance.
Shinsuke Nakamura Background: Career Highlights
Throughout his ongoing career in both NJPW and WWE, Nakamura earned a number of championship titles, awards, and accomplishments. Nakamura is credited as a five-time IWGP Intercontinental Champion and a one-time IWGP Tag Team Champion with Hiroshi Tanahashi. During this time, he also received the New Wave Award in 2003, Technique Awards in 2004 and 2012, Match of the Year Awards in both 2009 and 2014, among many others.
Related Figures
Although other WWE BE@RBRICK figures have already been mentioned before, sports fans can rest assured that Medicom Toy has collaborated with many other sports teams around the world as well. For example, there are other BE@RBRICK figures that recreate teams like Futbol Club Barcelona, the Boston Celtics, and the Chicago Bulls.
Links
BE@RBRICK Last Man Standing Shinsuke Nakamura 100%
BE@RBRICK Series
Undertaker World Wrestling Entertainment (WWE) - BE@RBRICK
Futbol Club Barcelona - BE@RBRICK
Larry Bird Boston Celtics - BE@RBRICK
Scottie Pippen Chicago Bulls - BE@RBRICK
BE@BRICK Label
Shinsuke Nakamura Label
WWE Label