Minnie Mouse - BE@RBRICK
Minnie Mouse boasts the reputation of the world's most recognizable female character. As Mickey Mouse's girlfriend, Minnie has undergone a wide variety of character roles. She's played everything from damsel in distress to focused aspiring songstress. Her design has changed to match the times, but her old-fashioned flapper look is making a comeback. Medicom Toy's "BE@RBRICK Minnie Mouse 400%" figure shows off Minnie's nostalgic charm from the early days of Disney.
Disney and BE@RBRICK Collaboration Background
The first Disney BE@BRICK came out in 2010, depicting the brand's signature couple: Mickey and Minnie. Since then, Medicom Toy has released countless figures depicting the Disney mice as well as characters from other Disney properties.
Collaboration Planning and Launch
Minnie first appeared in BE@RBRICK form as part of a two-pack figure set alongside Mickey in 2010. In this set, they resembled their vintage, 1940s appearance complete with a black and white color scheme. Minnie appeared in holiday-themed Disney BE@RBRICK sets in 2012 for Christmas and 2014 for Halloween. Her first solo figure was announced in late 2017 and entered regular sales in February 2018. Later that year, Minnie received a black and white version figure in 400% and 1000% size options.
BE@RBRICK Minnie Mouse 400%
Minnie shows off her classic 1940s design in this highly detailed BE@RBRICK figure from Medicom Toy. She wears her yellow flower adorned bowler hat instead of the large bow of future designs. Her polka dot dress is bright blue, matching her hat, and reveals the ruffles of bloomers underneath. The figure's feet are capped red, implying Minnie's oversized red pumps. Her tail curls up her back, creating a delicate "s" shape. Her face features the simplified black dots representative of the early Mickey and Minnie Mouse designs. Above her eyes is a light sheen of purple eyeshadow and eyelashes, highlighting her feminine charm.
Product Name: BE@RBRICK Minnie Mouse 400%
Manufacturer: Medicom Toy
Specifications: Painted & articulated plastic figure
Height (Approx.): 280mm | 11"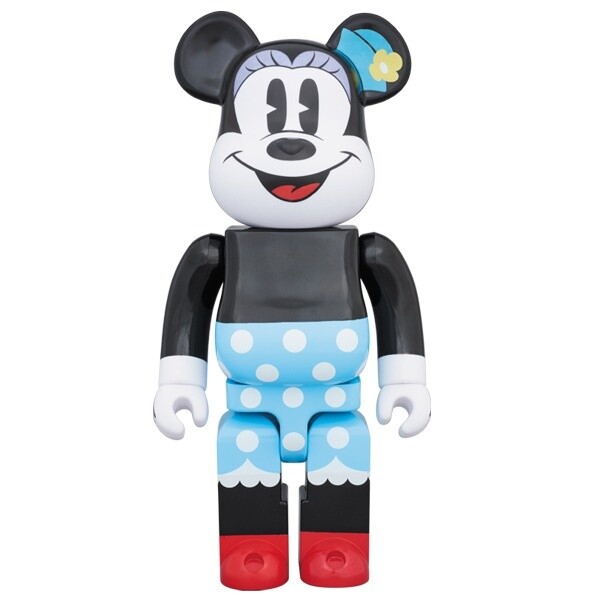 About Disney
The Walt Disney Company, shortened to Disney, is an American mass media company. The original studio was formed in 1923 under the name Disney Brothers Cartoon Studio. Run by brothers Walt and Roy Disney, the studio made unsuccessful silent animated films until 1928. After incorporating sound and introducing the character, Mickey Mouse, the studio began to see major success. In 1937, Disney began producing feature-length animated films. The business expanded to include televised cartoons, live-action films, and theme park attractions. After a popularity decline in the 1970s and early 80s, Disney staged a "Renaissance" of new animated films to bolster sales and popularity. Today, Disney remains one of the most popular media producers in the world, for child and adult audiences.
About Minnie Mouse
Minnie Mouse is a Walt Disney cartoon character created in 1928. She is the long-time girlfriend of the brand's mascot, Mickey Mouse. She is an anthropomorphic black mouse and wears white gloves, a polka-dot dress, and a large bow on her head. Minnie debuted alongside Mickey in the animated short Steamboat Willie. Her personality is cheerful, sweet, and loving. She played the damsel in distress for most of her early film appearances, especially during the 1930s. However, she gains more agency in later roles that showcase her spunky attitude and dreams of show business. Minnie is the sixth Disney character to receive her own star on the Hollywood Walk of Fame.
Other Important Disney Characters
In addition to Mickey Mouse, Minnie has strong ties with the other characters in the Sensational Six. Her long history in Disney also gives her strong ties to other classic Disney creations.
Daisy Duck
Daisy Duck is an anthropomorphic duck cartoon character, the girlfriend of Donald Duck, and Minnie Mouse's best friend. Daisy often wears a bow, blouse, and high heels. She has a sophisticated, sometimes primadonna-like personality. While she scolds Donald for his outbursts of anger, she possesses a similarly explosive temper. Daisy is a member of Disney's Sensational Six: the core characters that appear in the Mickey Mouse and Donald Duck cartoons. Daisy first appeared in the 1940 animated short, Mr. Duck Steps Out.
Pete
Pete is a large anthropomorphic cat and a recurring antagonist in Mickey Mouse-related media. Pete originally debuted as a bear in the Alice Cartoons in 1925, making him the longest-running Disney character. He is usually characterized by a ruthless, tyrannical personality. Initially, he served as Mickey's arch-nemesis and a threat to Minnie Mouse's well-being. However, sometimes Pete appears in more neutral roles. In the 1992 Goof Troop cartoon, Pete appeared as a stereotypical suburban father and mischievous counterpart to Goofy. He appeared in this role again in the Goofy feature films, A Goofy Movie, and An Extremely Goofy Movie.
Pluto
Pluto is Mickey Mouse's pet dog and is one of the only non-anthropomorphic characters in the original cartoons. He is a yellow-orange, medium-sized dog with black ears and a green collar. Pluto first appeared as a nameless bloodhound in the 1930 animated short The Chain Gang. He is a well-behaved dog with a strong sense of loyalty and high intelligence for a dog. He has a childlike sense of wonder and aptitude for getting into trouble that makes him appear less intelligent than he actually is. Since Pluto communicates through exaggerated miming, he quickly became a favorite of the animators.
Links
BE@RBRICK Minnie Mouse 400%
BE@RBRICK Series
Mickey Mouse - BE@RBRICK
BE@BRICK Label
Disney Label