Hitohata Usagi Kiyoshiro Imawano - BE@RBRICK
Kiyoshiro Imawano was a defining figure of the Japanese rock scene during the 1970s and 80s. As the "King of Rock," Imawano redefined the relationship between Japanese linguistics and modern rock lyrics. His flashy stage presence and loud political voice made him a pop culture icon until his death in 2009. Medicom Toy commemorates his long career in the figure, "BE@RBRICK Kiyoshiro Imawano 50th Celebration Hitohata Usagi 100% & 400% Set."
Kiyoshiro Imawano and BE@RBRICK Collaboration Background
Medicom Toy produced a large line of Kiyoshiro Imawano merchandise for the 30th anniversary of his solo career.
Collaboration Planning and Launch
Medicom Toy produced a Kiyoshiro Imawano inspired BE@BRICK in 2014. The two-pack depicted figures wearing his iconic costumes and stage makeup. In 2017, Medicom Toy participated in the cultural celebration of the 30th anniversary of Imawano's solo career. As part of the anniversary, Medicom Toy centered Imawano during their annual Exhibition. In partnership with Amplifier, the company designed a line of t-shirts featuring photos from iconic moments in Imawano's career. Medicom Toy also designed a R@BBRICK version BE@RBRICK figure based on a drawing by Imawano himself. The 100% size went on sale through Medicom Toy's partnered retailers while a 400% version served as an entry in the Exhibition. In 2020, a second Imawano BE@RBRICK debuted in honor of the musician's 50th career anniversary.
BE@RBRICK Kiyoshiro Imawano 50th Celebration Hitohata Usagi 100% & 400% Set
This bright, visually dynamic BE@RBRICK figure set captures the spirit of legendary Japanese musician, Kiyoshiro Imawano. The figure features a design motif based on a drawing by Imawano himself. Dubbed "hitohata usagi," the fluffy white rabbit has two red hearts instead of eyes and a red heart-shaped mouth. The rabbits repeat over a hot pink background at various angles with irregular spacing. On the back of the figure, there's a commemorative stamp signifying the 50th anniversary of Imawano's career. A small, wide-stand silhouette of Imawano stands atop the number 50. The number is also accented by a regal crown, denoting Imawano's status as Japan's "King of Rock."
Product Name: BE@RBRICK Kiyoshiro Imawano 50th Celebration Hitohata Usagi 100% & 400% Set
Manufacturer: Medicom Toy
Specifications: Set of 2 painted, articulated, non-scale figures with water transfer printing
Set Contents:
100%: 70 mm | 2.8"
400%: 280 mm | 11"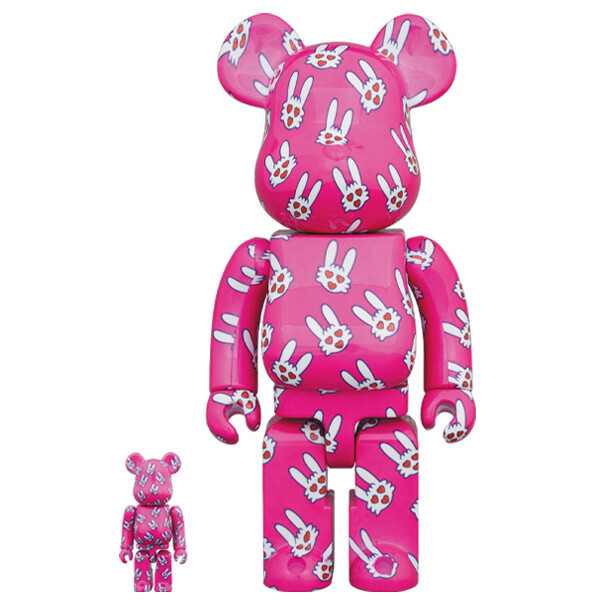 Kiyoshiro Imawano Background
Kiyoshiro Imawano was a Japanese rock musician, composer, and actor. He was known by his nickname "Japan's King of Rock." Notably, he combined the unique linguistic properties of the Japanese language with rock music in his songs.
Kiyoshiro Imawano Background: Biography
Kiyoshiro Imawano was born as Kiyoshiro Kurihara in Tokyo on April 2, 1951. Imawano formed his first band in high school at age 15, called the Clover. The band dissolved a year later and Imawano formed a new band, RC Succession, with the remaining members in 1968. RC Succession debuted on the music scene two years later as an acoustic trio. Imawano served as the group's lead singer, standing out from other bands at the time with his high-pitched, warbling singing style. His distinct, innovative lyrical style coupled with his voice made Imawano a unique star in Japanese music. As the band's popularity grew, Imawano began donning outrageous costumes and stage makeup.
Imawano developed his stage name from a villainous character in the children's anime "The Mighty Hercules." He combined a kanji from the character's title "the abominable Iron Mask" with the expression "ima wa no kiwa." The phrase, meaning "brink of death," and character meaning "mourning" together made a name Imawano found impressive and cool.
Imawano announced his diagnosis of throat cancer in 2006 and entered a brief hiatus. In 2007, he resumed his performance schedule and full recovery from the disease. However, six months later he revealed the cancer had not returned and spread through his lymphatic system. Imawano died from his battle with cancer on May 2, 2009.
Kiyoshiro Imawano Background: Career Highlights
Kiyoshiro Imawano's career spanned his work as the frontman of RC Succession and a solo artist in the 1990s. RC Succession had their first hit single in 1972, "My Favorite Teacher." Their career took off in the late 1970s after acquiring an additional guitarist and stronger rock and roll sound. In 1980, the band released two of their most popular songs: "Ameagari no Yozora Ni" and "Transistor Radio." RC Succession performed as part of the massive "Day of R&B" concert in 1982. The band left their agency in 1985 and started their own independent management. From that point, the members began engaging in more solo activities until their hiatus in the 1990s.
Imawano had a successful career as a solo artist after RC Succession's dissolution in 1991. Before their disbandment, Imawano collaborated with musician Ryuichi Sakamoto on the single "Ikenai Rouge Magic." After establishing RC Succession's own management agency, Imawano recorded his first solo album "Razor Sharp." During this period, Imawano began writing politically-minded songs, particularly in response to the Chernobyl Disaster. In 1992, Imawano recorded his album "Memphis" in the namesake city, earning him honorary citizenship from the Mayor. Imawano continued to release music almost annually until 2009. His last recorded song, "Oh! Radio" was released on June 17, 2009, following his death.
Related Figures
Japanese music fans will want to check out the "R@BBRICK Hitohata Usagi 100%" figure. This Hitohata Usagi figure commemorates the 30th anniversary of Imawano's solo career. It's both a part of musical history and an adorable memento of the artist's stylistic flair.
Links
BE@RBRICK Kiyoshiro Imawano 50th Celebration Hitohata Usagi 100% & 400% Set
R@BBRICK Hitohata Usagi 100%
BE@RBRICK Series
BE@BRICK Label