Anna Sui - BE@RBRICK
Medicom Toy levels up their style factor with one of the fashion world's most iconic designers, Anna Sui. Sui is well-known for her cutting-edge and intricate designs. Her participation in high-profile and innovative collaborations has made her an unforgettable figure of 21st-century pop culture. Sui's design sense comes through the "BE@RBRICK Anna Sui Red & Beige 400%" figure. The design, originally released as part of a set in 2013, was so popular it received a solo launch.
Anna Sui and BE@RBRICK Collaboration Background
Anna Sui and Medicom Toy began their collaboration in 2008. The relationship has resulted in unique Anna Sui brand designs, fashion-inspired BE@BRICK figures, and collaborations with other designers.
Collaboration Planning and Launch History
Medicom Toy released the first Anna Sui BE@RBRICK in 2008 in the standard 100% size. The figure proved incredibly popular and was re-released in the 400% size in 2010. That year the figure also received a new design name, "Anna Sui Black." In 2011, Sui designed a purple-themed BE@RBRICK in both a standard and 50% keychain size. The 100% size 2013 set "Black and Blue" contained the design that would become the future release "Red and Beige." In 2014, Anna Sui released another two-pack figure set, "Pink and Blue." Sui produced two new figures in 2020: a 1000% version of "Black" and a collaboration with artist Mika Ninagawa. Both a 400% and 1000% version of "Red and Beige" came out in early 2021. Later that year, Sui designed a two-sized figure collaboration with children's show Pecola.
BE@RBRICK Anna Sui Red & Beige 400%
This articulated bear figure from Medicom Toy shows off the punk rock elements of Detroit fashion designer Anna Sui. The figure features a three-tone color scheme of red, beige, and black. A black vest over a beige long-sleeved shirt gives the outfit a biker vibe with details like a star patch and diagonal zipper. The reddish-orange tie features a black guitar shape that matches the vest's patch. Sui's trademark thorough and whimsical style comes through on the button-like eyes and embroidery style design on the bandana. Instead of a mouth, the bear has "Anna Sui" painted on its face in the shape of a faint smile. Sui's name appears again on a patch on the bear's sleeve. The white fishnets under heavily zippered black shorts complete the rocker style.
Product Name: BE@RBRICK Anna Sui Red & Beige 400
Manufacturer: Medicom Toy Corporation
Specifications: Painted & articulated plastic figure
Height (Approx.): 280mm | 11"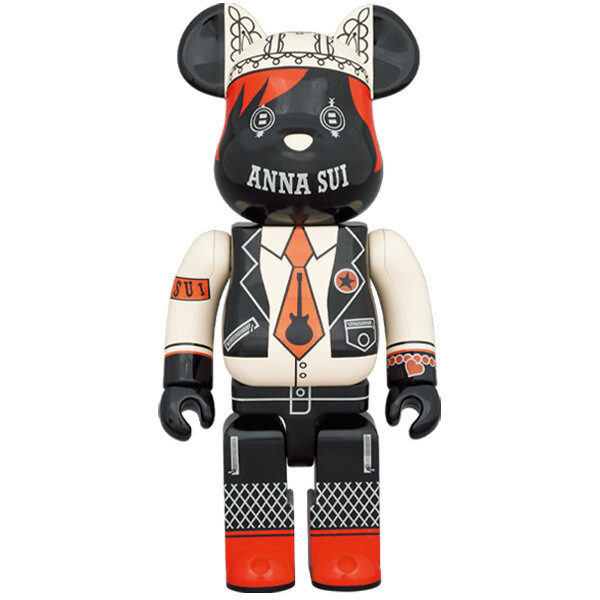 Anna Sui Background
Anna Sui is a Chinese American fashion designer from Detroit, Michigan. Since starting her career in the 1980s, Sui has launched successful fashion, accessories, skincare, footwear, and cosmetic lines. She is known for her innovative style and numerous design collaborations during the early 2000s and 2010s.
Anna Sui Background: History
Anna Sui was born in August 1964 to an engineer father and artist mother. From a young age, Sui's mother encouraged her to pursue creativity and taught her the importance of a good wardrobe. She enrolled in Parsons the New School of Design in New York for college. After her second year, Sui began working in junior's clothing and sportswear lines. During the 1980s, Sui shied away from the traditional fashion houses and embraced the grunge fashion scene. By the end of the decade, she achieved a global cult following with a large fanbase in Japan.
In 1991, Sui gained global attention when Madonna wore one of her creations to Paris Fashion Week. The following years saw her first runway show, retail shop, and expansion into shoe design. In 1997, Sui opened her first boutique shops in Tokyo and Osaka through a partnership with Japanese Department Store brand Isetan. By the early 2000s, Sui expanded into skincare and fragrance lines and began a string of high-profile design collaborations.
Anna Sui Background: Reception
Sui's designs consistently receive generally positive reviews, particularly regarding her innovative nature. Critics praise her thorough attention to detail in both her clothing and her runway show ambiance. Sui famously designs her signature dolly head mannequins that inspired the name of her Dolly Girl diffusion brand. Her trademark style combines dark coolness with whimsy and is a favorite among celebrities like Naomi Campbell and Blake Lively. In 2009, Sui received the Geoffrey Beene Lifetime Achievement Award from the Council of Fashion Designers of America.
Other Notable Anna Sui Collaborations
Anna Sui famously contributes designs to brands across all media and industries. Her work can be seen in everything from clothing and accessories to cars and web design.
Fashion Collaborations
Anna Sui began collaborating with other fashion designers and retailers in 1997 with Isetan in Japan and shoemaker Ballin in Italy. In 2009, she partnered with Target to create a clothing line inspired by the television show Gossip Girl. Her accessory partnerships include luxury brands like Coach and luggage designer Tumi. She has created numerous lingerie lines with retailer Victoria's Secret as well as with Alvin Korea. Her collaborations also expanded the type of clothing she created, such as an athletic line with Fila and surfwear from O'Neill.
Popular Culture Collaborations
Outside of fashion brands, Anna Sui has collaborated with creators from a variety of industries. She has worked with companies like Dark Horse Comics as a wardrobe designer for characters appearing in William Tucci's Shi: Ju-Nen. In 2006, she launched an Anna Sui Boho Barbie doll in partnership with the Toy company, Mattel. Sui has been involved in accessory lines for famous Japanese properties such as Hello Kitty and Sailor Moon. She has participated in two collaborations for custom car designs. The first was with Nissan in 2008 and the second with Ford in 2015. During the 2015 and 2016 winter seasons, Sui collaborated with Starbucks for both holiday designs and online sales merchandise.
Links
BE@RBRICK Anna Sui Red & Beige 400%
BE@RBRICK Anna Sui Red & Beige 1000%
BE@RBRICK Series
BE@BRICK Label