Jackson Pollock - BE@RBRICK
Jackson Pollock remains one of the most influential abstract painters in the art world. His groundbreaking style of pouring paint changed how art was made and what abstract art is considered valuable. Medicom Toy offers a variety of BE@BRICK figure designs to explore the breadth of Pollock's work in a unique collectible. Two figures best representing Pollock at his peak are "BE@RBRICK Jackson Pollock Ver. 2.0 100% & 400%" and "BE@RBRICK Jackson Pollock Studio 1000% Water Print Ver."
Jackson Pollock and BE@RBRICK Collaboration Background
Medicom Toy started their figure collaboration with the Pollock-Krasner House in 2015. As of 2021, the collaboration has produced four distinct designs.
Collaboration Planning and Launch
The first Jackson Pollock BE@RBRICK was titled "Jackson Pollock Studio." The design came out in December 2015 and included options for the 100%, 400%, and 1000% sizes. In 2016, the design entered regular sales. A second Studio design went on presale in February 2018. That same year, Water Print came out in the 1000% size in April. The collection's fourth and most recent design, called "Splash," was announced in September 2020. It entered regular sales in February of 2021.
BE@RBRICK Jackson Pollock Ver. 2.0 100% & 400%
This BE@RBRICK figure set introduced Jackson Pollock to the collectible line. Both sizes feature a print of one of Pollock's classic drip and splatter paintings The lines vary in width and length, blending the colors into a richly textured image. The muted colors, grays, browns, and browns, set off the pops of more vibrant primary colors. Most of the lines extend vertically along the figure's form. This creates strong visual contrast with the paint drops along the middle. Pollock's signature across the back finishes the design.
Product Name: BE@RBRICK Jackson Pollock Ver. 2.0 100% & 400%
Manufacturer: Medicom Toy
Specifications: Set of 2 painted, articulated, non-scale plastic figures
Height (Approx.):
100%: 70 mm | 2.8"
400%: 280 mm | 11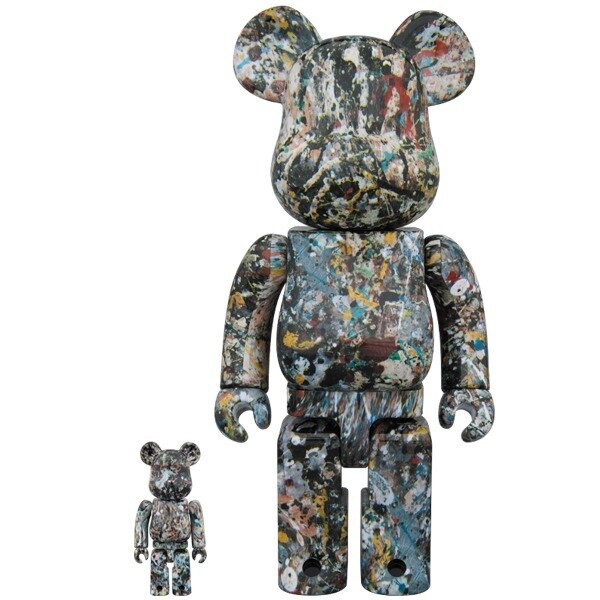 BE@RBRICK Jackson Pollock Studio 1000% Water Print Ver.
The second figure in the Jackson Pollock and Medicom Toy collaboration features a cool, blue abstract design. The 27-inch figure centers on a light blue color scheme, reminiscent of Pollock's Blue Seaweed. Flecks of yellow and orange paint contrast with the cool, frenzied lines in the background. Parts of the design appear stippled and choppy while others display languid linework. Together, these contrasting patterns create an organic pattern representative of Pollock's most famous works.
Product Name: BE@RBRICK Jackson Pollock Studio 1000% Water Print Ver.
Manufacturer: Medicom Toy
Specifications: Painted & articulated plastic figure
Height (Approx.): 700 mm | 27.6"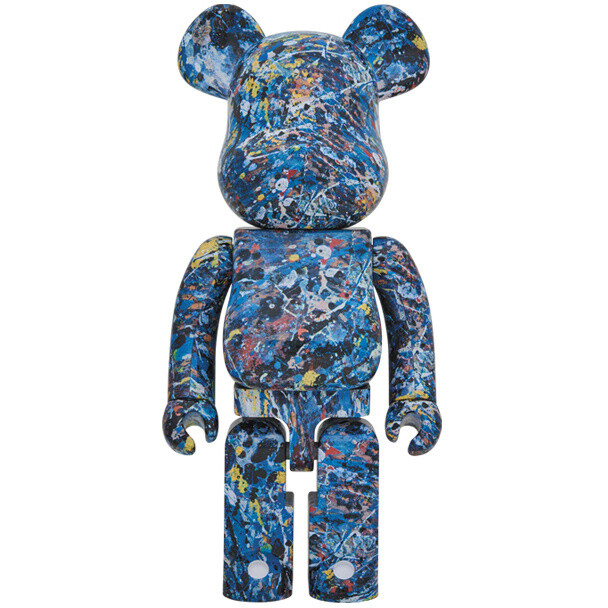 About Jackson Pollock
Jackson Pollock was an American artist well-known for his innovative painting style. Today, he is considered one of the most influential figures in the abstract expressionist movements. His painting style, known as "all-over painting," involved very physical movement around all four sides of the canvas. Pollock began working with liquid paint, crucial to his trademark painting style, in 1936. His most famous paintings came out of his "drip period" in the late 1940s and early 1950s. He suddenly abandoned the drip style at the height of his fame and began experimenting with form and darker colors. In 1956, he did not paint at all and instead began working with sculpture. He died later that year in a single car crash while driving drunk.
About Pollock's Drip and Splatter Paintings
Pollock's most recognizable style involved his use of dripping, splattering, and splashing paint onto a canvas. The process involved laying canvases down flat on the floor and using gravity and liquid paint to create an image. Pollock spilled the paint directly from the can, used syringes and palette knives, and occasionally used a traditional brush. He then moved around the canvas rhythmically, mimicking dance-like movements. To avoid the issue of coiling fluids, Pollock moved his hands quickly, keeping them low to the canvas. This resulted in distinct lines and organic patterns likened to fractal patterns by modern physicists.
Other Important Artwork by Jackson Pollock
Pollock's most famous works happened during the peak of his career, from 1947 until 1950.
Blue Poles
Blue Poles, also known as "Number 11, 1952," is one of Jackson Pollock's most well-known and controversial paintings. While the painting marked the end of Pollock's famous drip and splatter technique, most of its significance occurred over its gallery life. New York art dealer Ben Heller bought Blue Poles in 1957, the year after Pollock's death. He displayed the painting in his home until 1973. That year, The National Gallery of Australia purchased Blue Poles for over the approved limit of $1 million. The painting resulted in great public debate over the value of abstract art, challenging the conservative climate of the time. Today, it remains in the National Gallery of Australia as one of its most popular exhibits.
Lavender Mist
Lavender Mist, also known as "Number One, 1950," is considered one of the representative pieces from his "classic" era. When Pollock first debuted his drip paintings in 1947, they received mixed reviews and limited sales. The next year, his technique earned him the reputation as one of America's greatest painters. By 1950, Pollock had fully refined his technique and solidified his status as a big name in the art world. Lavender Mist contains no lavender paint but combines black, grey, white, and blue webs of paint. The overall effect has a mauve-like appearance in which all the painting's elements create a separate, finished image.
Links
BE@RBRICK Jackson Pollock Ver. 2.0 100% & 400%
BE@RBRICK Jackson Pollock Ver. 2.0 1000%
BE@RBRICK Jackson Pollock Studio 1000% Water Print Ver.
BE@RBRICK Series
BE@BRICK Label