In spring 2011, Tokyo Otaku Mode was born from the heartfelt desire to make Japanese content more accessible for fans all over the world. We're a global team made up of Japanese and non-Japanese members, united in our love for otaku culture and in our passion for bringing you closer to all the things you love, too.
In 2018, Tokyo Otaku Mode still strives to become a bridge that connects you with what you care about—be it anime, manga, games, fashion, the kawaii lifestyle, or anything else about Japan that inspires you. The TOM Shop is a huge part of that—along with TOM Projects, Otaku News, and much more. For Japanese rights holders and manufacturers, we also offer translation services and international shipping support. We've been to local conventions in quite a few countries, and we're always looking for ways to boost talented independent creators.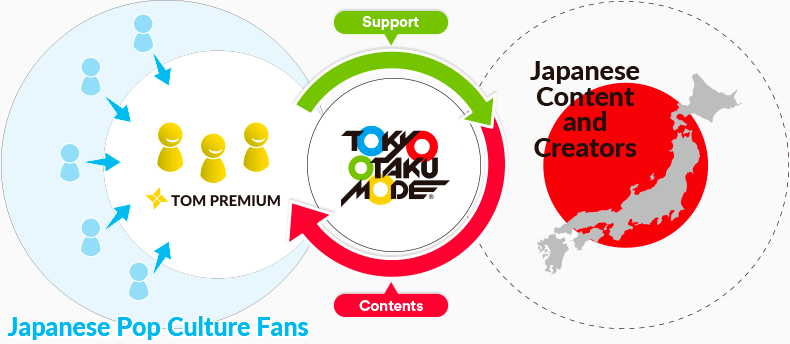 But the truth is, we want to do so much more. We don't just aspire to grow Tokyo Otaku Mode--we want to be able to give back more to fans and to creators. Above all, we hope to help grow and strengthen the beloved creative industries of Japan--leading to more Japanese content for you to enjoy, and more fun products to enrich your otaku life.
You don't need to be a TOM staff member to come along for the ride. Become a TOM Premium member to watch TOM grow from the inside. Grow along with us, and challenge us to fulfill our mission of eventually contributing to the entire industry--of making Japanese pop culture even more vibrant and sustainable. It won't happen overnight, but it's what we've always aimed for. TOM Premium is our way of inviting you to join us. With your help, we'll be that much closer to our goal!