Harley Quinn Batman the Animated - BE@RBRICK
Of the many praised features of Batman: The Animated Series, none had the same lasting impact as the creation of Harley Quinn. The Joker's sidekick and on-off love interest, Harley's distinct characterization earned her a place in the comic canon and fans' hearts. Her iconic debut design is showcased in Medicom Toy's "BE@RBRICK Harley Quinn: Batman the Animated Series Ver. 100% & 400% Set" figure.
Batman: the Animated Series and BE@RBRICK Collaboration Background
Medicom Toy began their BE@BRICK line featuring Batman: the Animated Series characters in 2019. As of 2021, the collaboration line includes three main designs.
Collaboration Planning and Launch
The first Batman: The Animated Series BE@RBRICK depicted Batman himself. The figure was announced for presale at the end of 2019 in the three main BE@RBRICK sizes. Next, Medicom Toy announced the release of Harley Quinn figures in May 2020. Harley's partner, the Joker, entered pre-seal in June of the same year. Harley's model entered general release in late 2020. The Joker will follow in mid-spring 2021.
BE@RBRICK Harley Quinn: Batman the Animated Series Ver. 100% & 400% Set
Batman: the Animated Series' most successful sidekick gets her own bear-shaped figure set from Medicom Toy. Harley Quinn's first and most iconic design has been accurately reproduced down to her stylized collar and wrist ruffles. Her mischievous personality comes through with her scheming smirk. Faithfully to the unique art style, her dark lipstick features a glossy red sheen at the corner of her mouth. Even her mask moves with her eyes to form her expression, similar to her animation in the series. The two points of her hat curl up on the figure's translucent bear ears. The figure also comes in a massive 27-inch, 1000% size.
Product Name: BE@RBRICK Harley Quinn: Batman the Animated Series Ver. 100% & 400% Set
Series: Batman the Animated
Manufacturer: Medicom Toy
Specifications: Set of 2 painted and articulated plastic figures
Height (Approx.):
100%: 70mm | 2.8"
400%: 280mm | 11"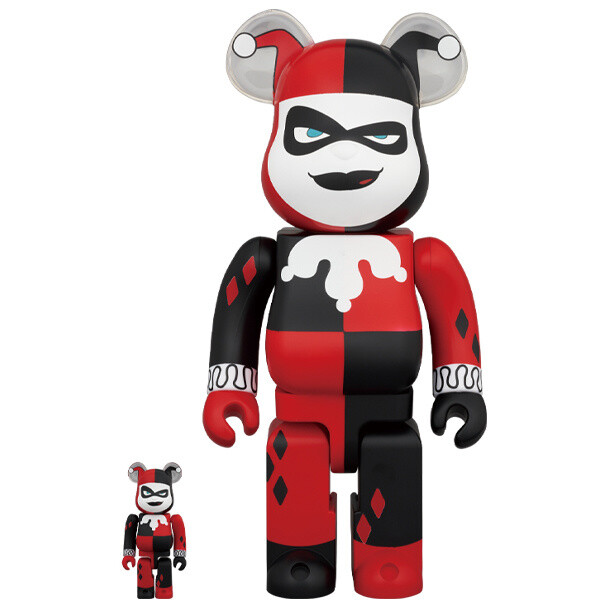 About Batman: The Animated Series
Batman: The Animated Series is a television cartoon adaptation of the Batman comics. The series aired from 1992 until 1995 with a total of 85 episodes and two tie-in direct-to-video films. Visually, the creators took inspiration from the 1989 and 1992 Batman films and Radomski's gothic Gotham City art. Compared to previous superhero cartoons, the series took a more adult-oriented approach. Violence was depicted on screen as well as realistic firearms. The series received praise for its thematic elements, "dark deco" aesthetics, and complexity. It remains one of the most highly praised Batman properties and comic book cartoons today.
About Harley Quinn
The Joker's assistant, Harley Quinn, made her debut in Batman: The Animated Series before being adapted into comic book canon. Initially, the creators intended for Harley to be a one-off character but her role eventually expanded. She served as both a series villainess and stormy love interest for the Joker. Her design is based on simplified harlequin gear with villain color influences. In designing her character, creator Paul Dini took inspiration from a roller-skating jester a friend of his played in a soap opera. His friend, Arleen Sorkin, provided Harley's voice for the series and developed her trademark Brooklyn accent.
Other Important Batman: the Animated Series Characters
Batman: The Animated Series managed to flesh out a large cast of heroes and villains throughout 85 episodes. In addition to creating new characters, the series breathed new life into existing favorites.
Batman
Batman is the titular hero of the Animated Series and one of DCs classic superheroes. Born Bruce Wayne, Batman trained to become a vigilante hero after witnessing his parents' murder as a child. He spent his formative years under the care of the family butler, Alfred Pennyworth, and turned his trauma into an obsession. After growing up with the un-checked crime wave in Gotham City, Bruce adopted an alter ego to stop crime his way. Inspired by his childhood fear of bats, Bruce donned a bat-themed mask called his persona Batman. In his daily life, Bruce Wayne is an assertive, involved manager of the family company, Wayne Enterprises. This is a characteristic first seen in the animated series, as Bruce traditionally played up his playboy billionaire image.
Joker
The Joker is one of the Batman comics' most iconic supervillains and Batman's archenemy. He is an extremely calculating and manipulative figure, making him incredibly dangerous. Like all traditional Batman comic villains, the Joker has a thematic gag: he's a clown. As a result, the majority of his crimes are connected to humor in some way. His overall goal for committing crimes is to create as much chaos as possible. With the introduction of Harley Quinn in the series, the Joker received a new victim to treat with merciless violence. Notably, Mark Hamill's performance as the Joker revolutionized voice acting and Hamill's off-screen career.
Poison Ivy
Poison Ivy, real name Dr. Pamela Lillian Isley, is a botanist and main villain in the Batman universe. In the animated series, she is distinct from other villains in that she does not desire money or power. Instead, her goals lie almost entirely in preserving plant life and harming those who threaten it. Her extreme methods of punishment, usually involving poisons, often landed her in Arkham Asylum. In the episode Harley and Ivy, Poison Ivy teams up with a recently rebuffed Harley Quinn to become the new "Queens of Crime." The partnership between the two characters was well-received by fans and continued in the comic book canon.
Related Figures
Harley Quinn's partner, the Joker, also appears in BE@RBRICK form. His Batman: The Animated Series design shines in the "BE@RBRICK The Joker: Batman: The Animated Series Ver. 1000%" figure. The 27-inch height is just comically large enough to capture his chaotic spirit.
Links
BE@RBRICK Harley Quinn: Batman the Animated Series Ver. 100% & 400% Set
BE@RBRICK Harley Quinn: Batman the Animated Series Ver. 1000%
BE@RBRICK Series
The Joker Batman the Animated - BE@RBRICK
BE@BRICK Label
Harley Quinn Label
Batman Label