Bastet Kamigami no Ki - BE@RBRICK
Kamigami no Ki, or The Chronicles of the Gods, is a Japanese TV anime that aired between 2016 and 2017. It aired as part of a variety show called "#Hi_Poul" run by Fuji TV and is set around 3000 BCE in ancient Egypt. The super-short anime follows Bastet, Anubis, and Ra on their humorous misadventures near the Nile River. With a cat head and woman's body, the feline goddess Bastet quickly became one of the program's standout characters. Her immense popularity made Bastet a natural choice for Medicom Toy's BE@BRICK line. Deviating from its original design, this Kamigami no Ki Bastet figure was released as a NY@BRICK, perfectly capturing its friendly, yet mischievous disposition.
Kamigami no Ki x BE@RBRICK Collaboration Background
Kamigami no Ki premiered on Fuji TV in late October 2016. In promotion of the series, Medicom Toy simultaneously released the collaboration figure, "Kamigami no Ki Bastet NY@BRICK." A multimedia promotion, the "NY@BRICK Kamigami no Ki Bastet" figure also included a free music download card for the show's theme song: "Kamigami wo Tataeru Uta."
Collaboration Planning and Launch Information
The "NY@BRICK Kamigami no Ki Bastet" figure is the only collaboration between BE@RBRICK and the TV anime Kamigami no Ki. Instead, the figure is part of a larger collection of NY@BRICK figures. In 2016, Medicom Toy released a series of NY@BRICK figures, each paired with a different artist, brand, or musician. Each figure in the series came with a music download card for an accompanying song.
NY@BRICK Bastet
This cute, cartoon cat-shaped figure is part of Medicom Toy's successful BE@RBRICK figure line. Bastet, the Egyptian feline goddess, is one of the main characters of the anime Kamigami no Ki. Unlike typical BE@RBRICKs, this NY@BRICK version figure is shaped like a cat. This feline goddess's striking design in gold and black is a one-to-one replica of the anime's chibi look. Its face features big, gold-lined cat eyes and a mischievous expression. The figure is predominantly black wearing a golden Egyptian headpiece, highlighting its shoulders and ears. Bold gold stripes on the ears reference the design motif seen in a traditional nemes headcloth. The back features a simple band of gold wrapping around the figure's neck and a simple, stylized tail.
The figure is 2.6" tall, similar to the 100% BE@RBRICK format, with a respective height of 2.8".
Notably, the figure includes a music download card for two different songs. The first is the anime's theme song "Kamigami wo Tataeru Uta." The second bonus song is "Nemure, Muku na Tenshitachi yo" by Repli Sin, the show's pseudo-ending theme.
Product Name: NY@BRICK Kamigami no Ki Bastet
Manufacturer: Medicom Toy
Specifications: Painted & articulated plastic figure
Height (Approx.): 260mm | 10.2"
Bonus: Music download card that includes:
"Kamigami wo Tataeru Uta" by Toshiyuki Morikawa
"Nemure, Mukuna Tenshitachi yo" by Repli Sin of Cyber New New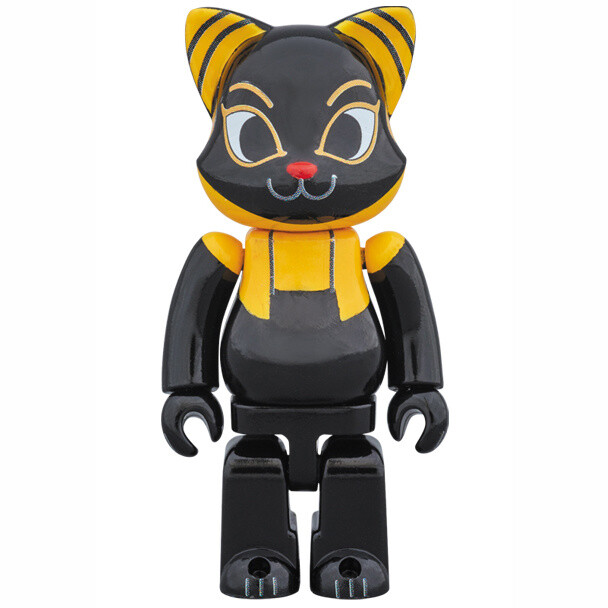 About Kamigami no Ki
Kamigami no Ki is a TV anime produced for Fuji TV from 2016 until 2016. The series aired for a short 16 episodes. It is directed by Tommy Hino with voice actor Toshiyuki Morikawa performing the theme song and voicing not just one, but all of the characters. Each episode is two minutes long and follows the protagonists as they live their daily lives. Set in Egypt in 3000 BCE, the story's events center around Medjed, a mysterious god who has the power of shooting laser beams through his eyes. Other cast members include Ancient Egyptian deities, such as Bastet, Anubis, and Ra. All of them appear with human bodies and animal heads: a cat, dog, and falcon respectively. The show also features two human characters, the god's assistant Iabi and his friend, Aakeu.
About Bastet
Bastet, sometimes referred to as Bast, is an ancient Egyptian goddess. She is the daughter of Ra, the sun god, and plays an important part in Egyptian mythology. Originally the lion goddess, over time she became the deity of cats. She is often portrayed as a cat or cat-headed woman. However, she was worshipped for many other things including protection against disease and thieves. Old customs state that wearing one of her cat amulets would bring forth the protection of Bastet.
Other Kamigami no Ki Characters
Kamigami no Ki's small cast is made up of the most prominent gods and goddesses of ancient Egyptian history as well as their human assistant and friend.
Ra
Ra is the sun god in Egyptian history, the king of gods. Generally depicted with the head of a falcon. However, in Kamigami no Ki and its chibi-like design, he is shown with the head of a sparrow.
Anubis
Anubis, also known as Anpu, is the god of the dead in Egyptian mythology. Usually represented as a man with the head of a jackal. In Kamigami no Ki, he is shown with the head of a dog, matching the show's cute design theme.
Related Figures
This is the only BE@RBRICK and Kamigami no Ki collaboration. However, the cat-shaped NY@BEAR line has many more adorable feline characters to choose from. For example, the 2017 Tokyo Skytree collaboration depicts the famous "Maneki-neko" the Japanese lucky beckoning cat.
Links
NY@BRICK Kamigami no Ki Bastet
BE@RBRICK Series
Daruma and Manekineko Trains - BE@RBRICK
BE@BRICK Label