Jerry Tom and Jerry - BE@RBRICK
Tom and Jerry is a classic cartoon that was first created in 1940 by William Hanna and Joseph Barbera. Many consider the cartoon to be an undeniable classic and is still watched by fans over half a century later. With such a successful series, it is no surprise that Medicom Toy sought out a collaboration with the franchise, resulting in several BE@BRICK figures like the "BE@RBRICK Tom and Jerry Jerry 1000%".
Tom and Jerry x BE@RBRICK Collaboration Background
The collaboration between the Tom and Jerry franchise and BE@RBRICK began in April 2019 with the release of the first set of 100% sized Tom and Jerry figures. Currently, there are four unique figures that have been produced through this collaboration.
Collaboration Planning and Launch
The first set of Tom and Jerry figures launched in April 2019 to commemorate the 80th anniversary of the original cartoon series. These figures originally came in BE@RBRICK's 100% size but were later released in their standardized 400% and 1000% sizes in December 2019 and August 2020 respectively. In December 2020, however, both Tom and Jerry would receive figures with new designs as a part of BE@RBRICK's Series 41 release.
BE@RBRICK Tom and Jerry Jerry 1000%
This figure features Jerry the Mouse on a BE@RBRICK figure. Many aspects of his design are perfectly represented in this figure, like Jerry's brown body, happy smile, and long, thin tail. Although Jerry is generally portrayed as a tiny little mouse, this massive 1000% BE@RBRICK figure is over two feet tall. Despite its massive size, it still has all of the usual characteristics of a standard BE@RBRICK figure. The round, bear-like ears of the figure are a perfect match for Jerry, as his big ears are one of his most defining traits.
Product Name: BE@RBRICK Tom and Jerry Jerry 1000%
Manufacturer: Medicom Toy
Specifications: Painted, articulated, non-scale figure
Height (Approx.): 700 mm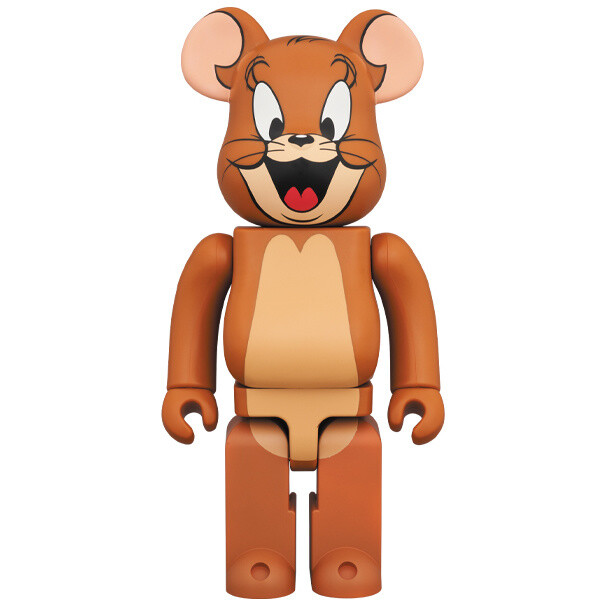 About Tom and Jerry
Tom and Jerry is a series of short animated cartoons that were created by William Hanna and Joseph Barbera. The first episode of the original series was first shown in 1940 and finished by the end of 1958. After the original series finished production, several spin-offs followed. Aside from the animation and comedy, one particularly notable aspect of the original series is the music. Scott Bradley, the musical director for many of the original shorts, opted to use music instead of traditional sound effects and Foley. The resulting music is an incredibly complex blend of jazz, classical, and contemporary pop music and is perfectly tailored for each individual episode.
Much of the franchise, whether it be the original series or the spin-offs that followed, centers around Tom the Cat and Jerry the Mouse. As natural enemies of each other, these two are always trying to best each other. When these two end up fighting, widespread destruction and hilarious antics often follow wherever they go. While the traditional cat-and-mouse chase is a common staple of the series, Tom the Cat often attempts to create exaggerated, complex plans to catch Jerry, though these attempts often end up backfiring on the mischievous cat.
About Jerry
Jerry is the titular mouse from Tom and Jerry. In the original 1940 pilot, he was named Jinx by William Hanna, though his name would later be changed after production for the original series began. As the "helpless mouse", Jerry often has to defend himself against Tom's attempts to catch him. That said, Jerry's quick wit and small size usually prove more than enough to best Tom most of the time.
Other Important Tom and Jerry Characters
Aside from Tom and Jerry, there are relatively few characters that appear often throughout the series. That said, there are a few notable recurring characters.
Tom the Cat
Tom the Cat, who was originally named Jasper in the original 1940 short, is a gray cat that is often tasked with catching Jerry. At times, he chases Jerry because his master tells him to, though he often does so on his own as well. Since Jerry is often too fast and small to chase, Tom usually resorts to creating elaborate and overly complicated plans to catch the elusive mouse. Unfortunately for Tom, however, Jerry often outsmarts him, causing his plans to backfire.
Spike the Dog
Spike the Dog is one of the few recurring secondary characters in the Tom and Jerry series. He is an American Bulldog that first debuted in the 1942 episode, "Dog Trouble" and is generally friendly toward others, particularly when it comes to his son Tyke and Jerry. That said, he is never afraid to show his hostile side if Tyke is in danger.
Related Figures
Aside from characters from Tom and Jerry, fans of animation and BE@RBRICK can find figures of many characters from other classic cartoons and animated movies. Some of these figures include the Cheshire Cat from Alice in Wonderland, Jack Skellington from The Nightmare Before Christmas, and Homer Simpson from The Simpsons.
Links
BE@RBRICK Tom and Jerry Jerry 1000%
BE@RBRICK Series
Cheshire Cat Alice in Wonderland - BE@RBRICK
Jack Skellington The Nightmare Before Christmas - BE@RBRICK
Homer Simpson The Simpsons - BE@RBRICK
BE@BRICK Label
Tom and Jerry Label