Stash - BE@RBRICK
Josh Franklin, who also goes by the name Stash, is a popular graffiti artist and graphic designer from America. As he became popular around the world, Medicom Toy eventually reached out to him to create several BE@BRICK figures inspired by his unique style. One particularly notable figure made through this collaboration was the "BE@RBRICK Stash 1000%".
Stash x BE@RBRICK Collaboration Background
The first figure to be created through the collaboration between BE@RBRICK and Stash was released in June 2004. This figure was included as a secret figure in Series 08 and had a rarity of 0.52%. In the years that followed, several additional figures inspired by Stash were created as well. As of 2021, there have been five unique designs released as a part of this collaboration.
Collaboration Planning and Launch
After the release of the Series 08 BE@RBRICK, another figure designed by Stash was created to commemorate the 2004 BE@RBRICK World Wide Tour. In 2010, Medicom Toy would once again collaborate with Stash and Levi's Taiwan to create a set of BE@RBRICK figures that also came with a pair of Levi's jeans. Stash would eventually design another BE@RBRICK figure in 2017, which was first made available in both BE@RBRICK's 100% and 400% sizes, though a 1000% version of the figure would be released the following year. The last figure released as a part of this collaboration was created by both Bape and Stash and was released in August 2017.
BE@RBRICK Stash 1000%
This figure is designed by Stash and features a white background composed of light gray spray paint can nozzles while the chest of the figure has Stash's signature written in blue and white. One of the BE@RBRICK's eyes also has a blue stylized "S" in place of an eye, giving it a unique look. The back of the figure also has a graffiti tag and drops of blue ink splattered over it. Although the design used for this figure was released in the past in BE@RBRICK's 100% and 400% sizes, this particular figure is the 1000% version, meaning that it stands at an impressive 27.6 inches tall. That said, it still has all of the classic features of a standard BE@RBRICK figure, like the cute bear-shaped head, big belly, and posable arms and legs.
Product Name: BE@RBRICK Stash 1000%
Manufacturer: Medicom Toy
Specifications: Painted and articulated plastic figure
Height (Approx.): 700 mm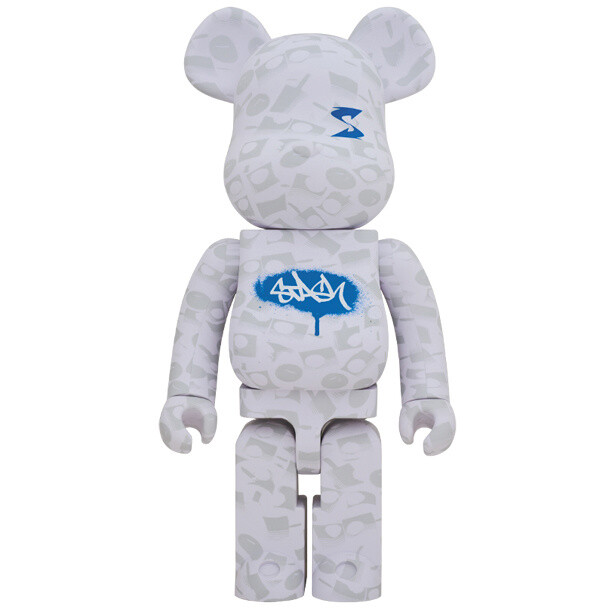 About Stash
Josh Franklin is an American graffiti artist and graphic artist that was born in Long Island, New York, and, like many graffiti artists at the time, got their start by painting on subway trains illegally in the 1980s. He eventually took up the street name "Stash" and quickly made a name for himself, despite only being in his teens at the time. By the end of the 1990s, Stash had already created limited-edition apparel through collaborations with internationally acclaimed clothing brands like Nike, Casio, and Reebok. He would later go on to create his own clothing brands, which are named Subware and Recon. During the late 2000s and early 2010s, Stash's artwork would be displayed in several exhibitions around the world. Some examples include Hollywood in 2009, Sweden in 2012, and Kyoto in 2013. Although he has since distanced himself from graffiti in the streets, he is often considered to be an incredibly influential figure in the history of New York's graffiti scene.
About Stash's "Splat Caps"
Although there are several differences regarding color and composition, the "BE@RBRICK Stash 1000%" figure shares many features with the blue version of "Splat Caps", a piece that Stash published in 2014. Like the figure, "Splat Caps" is made of a background of spray paint can nozzles that are tinted a light shade of blue. The piece is then covered in various drops and sprays of dark blue, which creates a wonderful contrast of colors. Two variants of this piece were created, a blue version and a red version. Forty prints were made for each version and sold for $150 USD when they were first published.
Other Important Stash Artwork
Stash may have started out painting on trains in the early hours of the morning, he would later move his work to canvases. Some of these works are detailed below.
"Four Pack"
This piece features a collection of spray paint cans lined up against a black background. Each can show signs of use, as some are missing their caps or covered in paint. Various colors and brands of spray paint like red Krylon and blue Varathane also give the piece plenty of variety as well. Since spray paint is a medium that is closely associated with graffiti, it is a wonderful call-back to Stash's roots as a graffiti artist.
"Stash X Leica"
This piece was originally created in 2014 as a special collaboration between Stash and Leica Camera AG, a camera company based in Germany. Like "Splat Caps", "Stash X Leica" has a blue and red variant that were both shown at the Leica Store and Gallery in Los Angeles. The work itself takes the original Leica logo and infuses it with the special flair of Stash's graffiti, which features various splotches and splatters of black, white, and either blue or red paint, depending on the variant.
Related Figures
Those interested in collecting BE@RBRICK figures that are inspired by various artists will be happy to know that Medicom Toy has collaborated with many artists from around the world to create figures with plenty of unique designs. Some of these figures include designs from KRINK, Andy Warhol, Jean-Michel Basquiat, and many more.
Links
BE@RBRICK Stash 1000%
BE@RBRICK Series
KRINK Craig Costello - BE@RBRICK
Brillo Andy Warhol - BE@RBRICK
Vol. 6 Jean Michel Basquiat - BE@RBRICK
BE@BRICK Label