Batman v Superman: Dawn of Justice - BE@RBRICK
While a divisive film, Batman v Superman: Dawn of Justice helped launch the DC Extended film universe. Ben Affleck's Batman surprised fans by giving the familiar hero a wise and cynical vibe. Medicom Toy depicts this version of Batman in the "BE@RBRICK Knightmare Batman 100%" figure.
Batman and BE@RBRICK Collaboration Background
Batman has appeared multiple times throughout the BE@BRICK line as part of anniversary celebrations and regular releases.
Collaboration Planning and Launch Information
Batman first appeared in a 2008 two-part BE@RBRICK figure set with the Joker. A figure depicting Batman from the Animated Series was included in the Series 21 BE@RBRICK set for Batman's 75th anniversary. In 2013, Medicom Toy introduced a design from the film The Dark Knight Rises. Figures from the DC Extended Universe Batman canon started to come out in 2016. Notable figures from this line include Armored Batman and the Batman from. Most recently, a new design for the Animated Series Batman launched in 2019.
BE@RBRICK Knightmare Batman 100%
Batman looks seasoned and ready to fight in this figure from Medicom Toy's BE@RBRICK line. He wears the apocalypse-ready outfit from his nightmare sequence in the film Batman v Superman: Dawn of Justice. He wears desert-themed cargo pants and a brown bomber jacket over his bat suit. The bandana around his neck and pushed up goggles look ready for the rough weather in Superman's totalitarian world. Accessories like his gold belt and two straps on his leg give the outfit an even cooler look. Under the mask, fans can see Batman's wearied eyes and stubble.
Product Name: BE@RBRICK Knightmare Batman 100%
Series: Batman v Superman: Dawn of Justice
Manufacturer: Medicom Toy Corporation
Specifications: Painted & articulated plastic figure
Height (Approx.): 70mm | 2.8"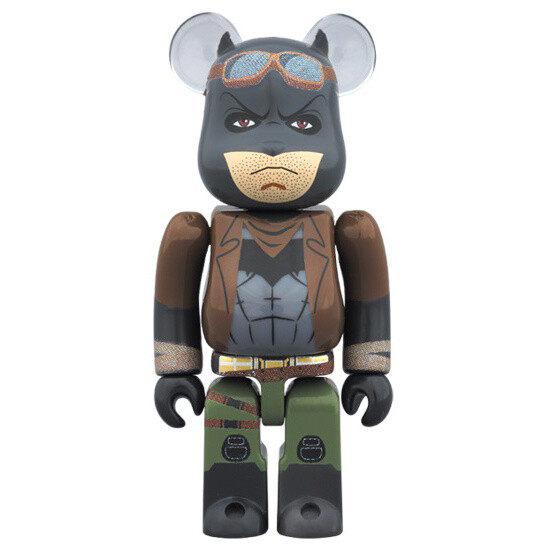 About Batman v Superman: Dawn of Justice
Batman v Superman: Dawn of Justice is a 2016 superhero action movie by director Zack Snyder. It's a direct sequel to 2013's Man of Steel. Superman's conflict with General Zod in Metropolis has turned the hero into a controversial figure. Batman is one of many who begin to question Superman's potential threat to humanity. At the same time, Superman learns of Batman's style of justice and seeks to expose him in his journalistic work as Clark Kent. Criminal mastermind Lex Luthor takes advantage of their mutual distrust and manipulates the two against each other. After discovering Luthor's plan, Batman and Superman team up to defeat him and save Metropolis.
The film opened to box office record-breaking sales followed by a historic drop the next weekend. Critics panned the film for its tone, pacing, and plot, though some praised the actors' performances. However, the film saw a resurgence in fans a few years later, gaining cult film status.
About Batman
Batman is a hero from DC Comics and one of the film's protagonists. After witnessing the death of his parents, Bruce Wayne dedicates his life to fighting the crime in Gotham City. Unlike other superheroes, Batman lacks superpowers but relies on his wealth, intellect, and physique to combat enemies. In writing this version of Batman, Snyder looked to the character's portrayal in The Dark Knight Returns. The idea of an older, war-wearied Batman confronting a new unknown threat of Superman appealed to Snyder. Batman's seasoned career as a crimefighter honed his skepticism, making it easy for Luthor to manipulate his view of Superman. Ben Affleck's casting as this version of Batman proved very controversial with comic fans.
Other important Batman v Superman: Dawn of Justice Characters
Batman v Superman: Dawn of Justice marks the first time Batman and Superman appeared together in a live-action film. The movie also marked Wonder Woman's first live-action film appearance.
Superman
Superman is the other protagonist in Batman v Superman: Dawn of Justice. As a baby, Superman's parents saved him from the explosion of planet Krypton by sending him into space. He landed on Earth and was soon adopted by Jonathan and Martha Kent who named him Clark. After discovering his extraterrestrial abilities, Clark Kent dedicated his life to protecting humanity as Superman. In the film, Superman faces criticism from the public now that his identity has been exposed. While they both want to protect humanity, his clash with Batman is about personal philosophy and methods. Henry Cavill reprised his Man of Steel role for the film.
Diana Prince - Wonder Woman
Wonder Woman is a key heroine illustrated in DC Comics. Wonder Woman has many identities. Born Princess Diana of Themyscira, she also adopts the name Diana Prince as a human civilian. She goes by the name Diana Prince in the film, as she has not taken up her superhero identity yet. While still a formidable battler, her power in the film mostly stems from her compassion and emotional intelligence. Batman v Superman: Dawn of Justice served as Wonder Woman's first live-action film appearance. Gal Gadot received critical praise for her performance and continues to portray Wonder Woman in the DCEU.
Links
BE@RBRICK Knightmare Batman 100%
BE@RBRICK Series
The Joker Batman the Animated - BE@RBRICK
Wonder Woman Batman v Superman: Dawn of Justice - BE@RBRICK
BE@BRICK Label
Batman Label