Lightning McQueen Cars - BE@RBRICK
Cars is one of Pixar Studios' wildly popular movies. A smash-hit with young audiences, the film inspired a tv and film franchise. Formerly selfish and obnoxious race car Lightning McQueen is the franchise's hero. He made his debut in the BE@BRICK line in the imaginative figure, "BE@RBRICK Lightning McQueen 400%."
Lightning McQueen and BE@RBRICK Collaboration Background
Lightning McQueen is featured as part of a larger collaboration between Medicom Toy and Pixar Animation Studios.
Collaboration Planning and Launch Information
Medicom Toy released a special Christmas Edition Pixar-themed BE@RBRICK Blind Box set in 2013. In 2015, a set of 15 Pixar Characters featured in a BE@RBRICK WOW! limited edition contest prize. Lightning McQueen received his own solo design in 2017. The figure went on presale that November and entered regular sales in May 2018.
BE@RBRICK Lightning McQueen 400%
Lightning McQueen races onto the scene in this BE@RBRICK from Medicom Toy. His Pixar film appearance has been adapted to fit the bear-shaped figure. The windshield eyes typical of the film's designs adorns the figure's face. His wheels are split between the figure's ears and legs. On the ears, fans can see the lightyear logo around the bright red hub. Solid black legs represent the second set of wheels. The main, bright red body has a high shine finish reminiscent of a fresh car paint job. His number 95 stands out boldly on the figure's chest with his smaller sponsor stickers flanking the bear belly. On the back, his main sponsorship from Rust-Eze is on display, faithfully recreating the old-fashioned design of the company logo. His bumper appears on the figure's tiny rear with taillights and a second sponsor logo from Rust-Eze.
Product Name: BE@RBRICK Lightning McQueen 400%
Manufacturer: Medicom Toy
Specifications: Painted & articulated plastic figure
Set Contents: 280mm | 11"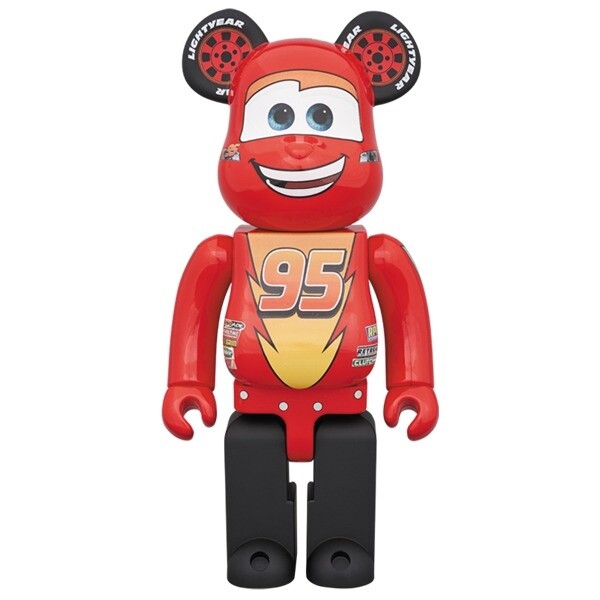 Cars
Cars is a Pixar Animation film directed by John Lasseter from 2006. The movie is set in a fictional world where vehicles have the power to talk and converse very much like the way humans do. The story follows a rookie race car, Lightning McQueen. In the last race of the Piston Cup, McQueen finishes first in a three-way tie. To settle the score, the three first-place winners plan a race in Los Angeles. McQueen desperately wants to win the race to leave his sponsorship with Rust-Eze for a more prestigious position with Dinoco. After alienating and firing his car crew, McQueen finds himself stranded in a small town off Route 66. His time with the townspeople gives McQueen a new perspective on life and he questions his once selfish ways.
Cars was a commercial success, grossing $462 million worldwide. Despite lukewarm reviews, the film received a nomination at the Academy Awards for Best Animated Feature. However, Cars proved immensely popular with younger viewers, launching a multimedia franchise.
About Lightning McQueen
Lightning McQueen is the protagonist of the Cars franchise. Initially, McQueen appears as a selfish, rude, and obnoxious car who treats those around him poorly. On the way to a career-making race in Los Angeles, McQueen ends up lost in a small town on Route 66, Radiator Springs. To avoid jail time for the road he destroyed, the town judge orders McQueen to repair the road. As he works in the town, he builds a relationship with the townspeople and learns consideration for others. McQueen takes his name from Pixar animator Glenn McQueen who died in 2002. His number, 95, references the release year of the first Pixar film and the animation studio's founding.
Other important Cars characters
Cars centers on the relationships Lightning McQueen forms with the residents in Radiator Springs.
Doc Hudson
Doc Hudson, or Dr. Hudson Hornet MD, is part of the main cast in Cars. Doc Hudson is a respected character as the Radiator Spring's doctor and judge. At first, he acts strangely toward McQueen, treating him with disdain and offering him tips at the same times. Over the course of the film, McQueen discovers Doc's past as the legendary race car, the Fabulous Hudson Hornet. Doc reveals his career-ending injury and his jaded attitude toward the racing industry. He sees a lot of his younger self in McQueen and eventually serves as the rookie's mentor.
Sally Carrera
Sally Carrera is the Radiator Springs local attorney and Lightning McQueen's love interest. Originally from Los Angeles in California, she grew tired of the high-speed lane of an attorney life in LA. After a breakdown, she moves to Radiator Springs to start a new life in a small city. She bought and restored the town's motel and intends to bring all of Radiator Springs back to its former glory. She and McQueen have a flirtation throughout the film and eventually begin dating.
Mater
Mater is a main supporting character in the Cars franchise and Lightning McQueen's best friend. He is a friendly, slow-witted tow truck. Mater takes to McQueen quickly, taking him tractor tipping on the night of his assigned watch. He teaches McQueen about friendship and trust, making him important towards McQueen's emotional journey. He appears in larger roles in later installments in the Cars franchise, receiving the lead role in the series of animated shorts, Cars Toons.
Links
BE@RBRICK Lightning McQueen 400%
BE@RBRICK Series
BE@BRICK Label