Goldwin Inc. is releasing the first line of their Symbolizing Japan slimwear collection of Speedos! Each of these swimsuits feature designs, motifs, and styles inspired by Japanese imagery. A new series and theme will be added to the Symbolizing Japan collection every year until 2020.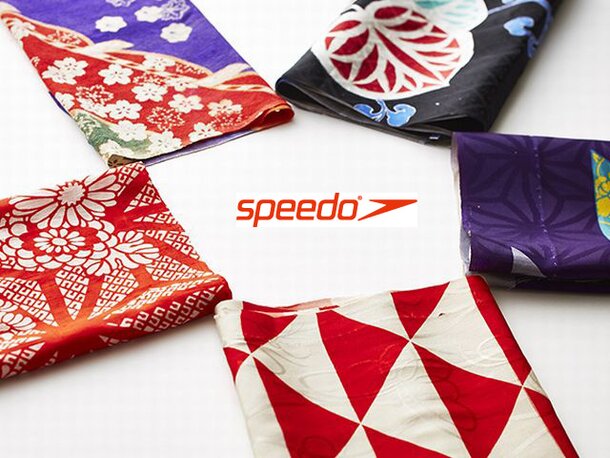 The first of these series is themed around kimono, one of Japan's most classic traditions with patterns including sakura, light blue azalea, mitsuuroko, chrysanthemum, and arabesque. They're also made using the incredibly popular and highly water repellent material FLEX Σ. Highly flexible and smooth on your skin, these swimsuits offer great support while you're swimming.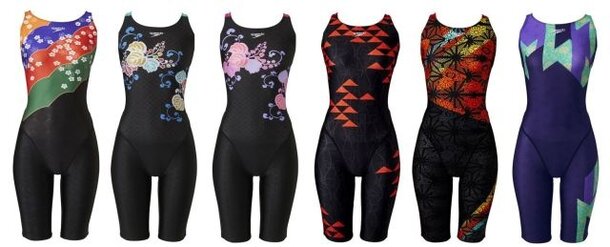 From left to right:
(Product Number) SD47H09 (Color) SA: Sakura, (Stock Number) SD47H10 (Color) AS: Light Blue, (Stock Number) SD47H10 (Color) TT: Azalea, (Stock Number) SD47H11 (Color) MI: Mitsuuroko, (Stock Number) SD47H12 (Color) KI: Chrysanthemum, (Stock Number) SD47H13 (Color) KR: Arabesque
Symbolizing Japan Series One: Kimono Motifs
FLEX Σ Women's Small Back Kneeskin (II)
Price: 15,000 yen+tax
Sizes: S/M/L/O
Materials: FLEX Σ
※Comes with matching pouch.