Imperial Enterprises Inc. cooperated with the legendary Sailor Pen to commemorate the release of the upcoming Detective Conan ( Case Closed ) movie! The "Detective Conan × Sailor Pen Official Fountain Pen w/ Special Ink" were released under the company's brand Premico on Mar. 15.
Instead of just using character illustrations, these exquisite pens use motifs and colors associated with the respective characters (Edogawa Conan, Kaitou Kid, Haibara Ai, and Heiji Hattori). There are only 950 pieces made of each set, making them super rare collector's items.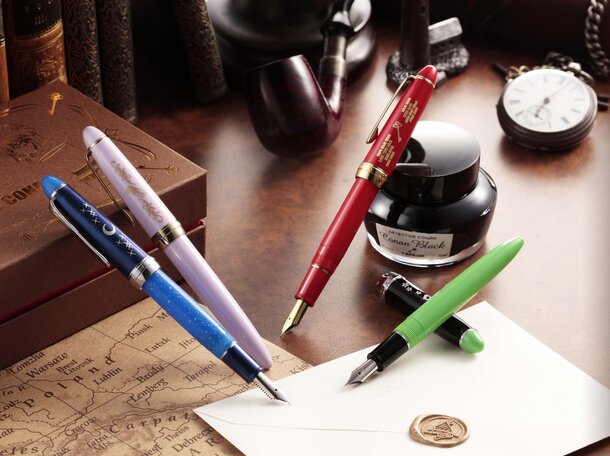 The set also includes a special ink mixed by Sailor Pen's popular ink blender Ishimaru Osamu and supervised by original creator Aoyama Gosho to perfectly fit the character's image. The shades are also named by Aoyama and are only available in this set.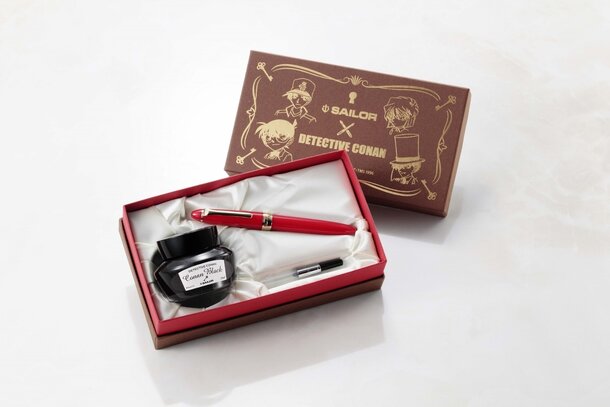 ● Edogawa Conan model
This sultry red and gold model takes its color from Conan signature bowtie. It features a keyhole to the gate of truth on the tip and a key between bricks reminiscent of Baker street on the cap. It comes with "Conan Black" ink, a black with the slightest touch of brown for that vintage feel.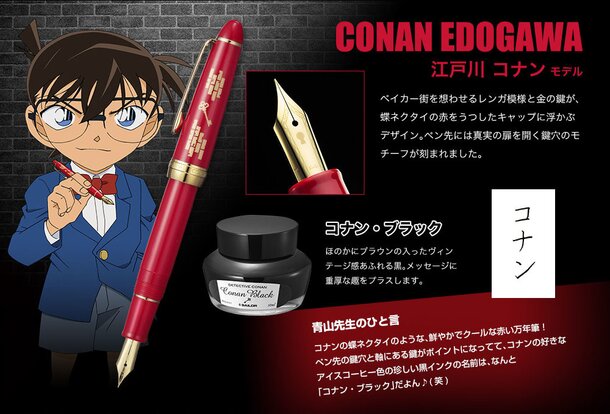 ● Kaitou Kid model
Inspired by starry night skies, Kaitou Kid's model takes your breath away with its beautiful shine. Its cerulean blue body sparkling with glitter creates a gorgeous contrast with the pearlescent deep navy cap featuring a crescent moon and gems. If you look closer on the tip, you can see the clover charm hanging from Kid's trademark monocle.
The ink for this model is called "Kid Blue" after the color of a moonlight night.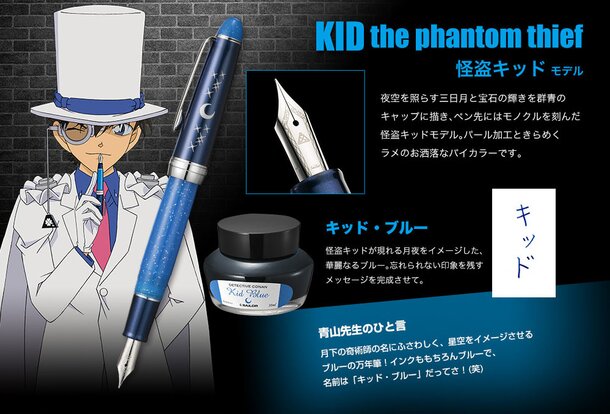 ● Haibara Ai model
This beautiful purple pen was inspired by Haibara's former code name, "Sherry". It features a design of the APTX4869 capsule on the cap in gold and a little rose on the tip. It comes with "Sherry Purple" ink that captures Haibara's cool beauty with a touch of cute.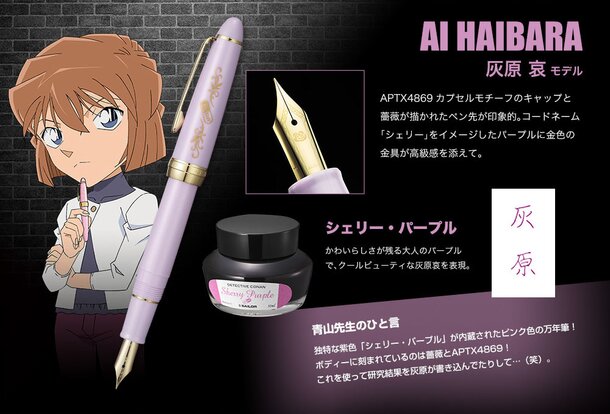 ● Hattori Heiji model
A shiny green coupled with jet black, this striking piece features Kazuha's good luck charm on the cap and Heiji's baseball cap on the tip. The ink it comes with, "Heiji Green", takes its color from the guards of Heiji's bike.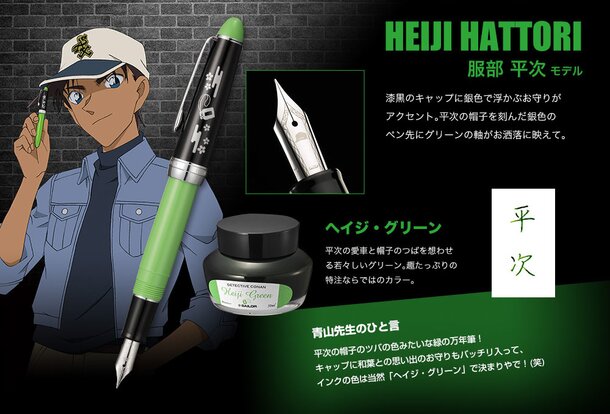 ■ Specifications
Material:
- Fountain pen: PMMA resin, stainless steel (tip)
- Ink bottle: glass, PP resin (cap)
Size (approx.):
- Fountain pen: 1.7 x 13.4 cm (closed)
- Ink bottle: 6.55 x 5 cm
Pen tip width: fine
Weight (approx):
- Fountain pen: 16 g
- Ink bottle: 171 g
Set contents: fountain pen, ink bottle, converter, special box
Country of origin: Japan
■ Detective Conan: Crimson Love Letter
Set to release on Apr. 15, 2017
■ About Premico
Premico is a brand by Imperial Enterprises Inc. that strives to deliver treasures of high sentimental value through official premium collector items inspired by anime characters and sports champions. They offer a wide range of original, rare goods.
(c) Aoyama Gosho / Shogakukan, Yomiuri TV, TMS 1996