Kitan Club has been releasing capsule toys based on Shinkai Makoto's 2016 film Kimi no na wa. ( Your Name. ), including metal keychains and acrylic plates, and they've now announced their 3rd and 4th releases: smartphone pouches and Miyamizu Shrine charm mascots!
The 3rd release, the Miyamizu Shrine Charm Mascots, are based on charms from heroine Miyamizu Mitsuha's home, the Miyamizu Shrine. They're designed to look just like the real thing with golden embroidery for the text and carefully knotted tie. It'll be available in red, deep blue, yellow, green, and pink. Each turn will cost 300 yen.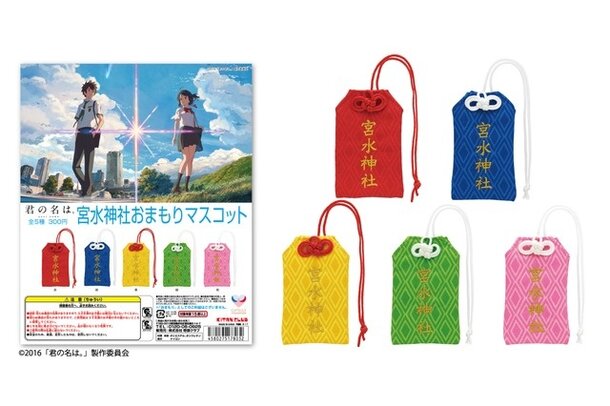 The smartphone pouch will be the 4th release, designed to protect smartphones like the ones that tied Tachibana Taki and Mitsuha together. It can also be used for other valuables like glasses, pens, and cosmetics. There will be 6 versions of this available featuring illustrations of chibi Taki, chibi Mitsuha, a hedgehog, the main visual, the title Your Name., and a starry sky. Each will be 300 yen, and this has us looking forward to their next capsule toy release, too!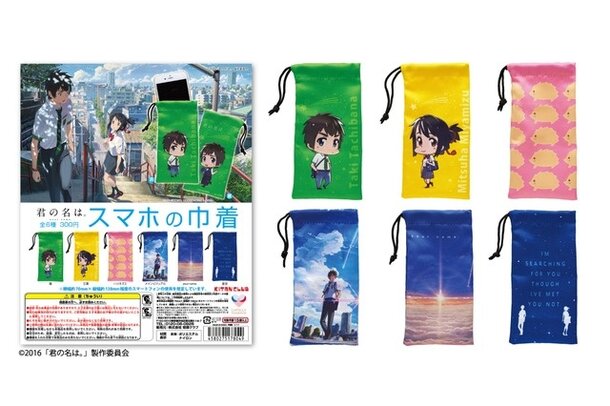 Kimi no Na wa. Miyamizu Shrine Charm Mascot
Release Date: 3/24/2017
Price: 300 yen each・5 types
Kimi no Na wa. Smartphone Pouch
Release Date (est.): Early Apr. 2017
Price: 300 yen each・6 types
(c)2016 Kimi no Na wa. Production Committee