With its message of love that transcends space and time, director Shinkai Makoto's body-swap romance Kimi no Na wa. ( Your Name. ) has taken the world by storm. If this stunning anime movie captured your heart, you'll definitely want to add these beautiful accessories to your jewelry collection!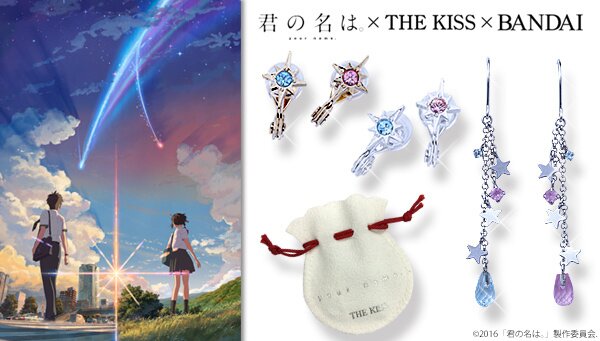 ■ Product Features
These earrings are the result of a collaboration between Kimi no Na wa. and jewelry brand The Kiss, and they're the first earrings and clip-on earrings inspired by the moment the comet Tiamat splits in two.
The comet Tiamat plays a vital role in the story of Kimi no Na wa., so much that it's a kind of keyword in the story. The comet is involved in the moment that Mitsuha and Taki first meet at the beginning of the movie, when they swap bodies, and when they try to meet up, as well as in the scene in the second half of the movie when the comet draws closer and splits in two. By wearing these earrings inspired by the comet Tiamat, you can immerse yourself in the world of Kimi no Na wa. and enjoy stylish accessories at the same time!
Earrings
These earrings recreate the beautiful image of the comet fragments falling, as brought to life in the movie by director Shinkai Makoto. To create a faithful representation of the comet, the top part of each earring features two semi-precious stones: rose quartz and blue topaz. The teardrop at the bottom of the left earring is made from a different colored topaz to the teardrop at the bottom of the right earring, capturing the way the comet splits in two and the blue fragment and pink fragment set off in opposite directions. These earrings are inspired by the way the comet divides and each fragment falls, and they're designed so the stars and semi-precious stones sway charmingly as you move.
Clip-On Earrings
These clip-on earrings are available with a gold-plated finish or a silver-plated finish. They are decorated with colored glass, with blue glass for the left earring and pink glass for the right, representing the way the comet divides into two. The shape of these earrings captures the sparkle between Mitsuha and Taki in the main visual for Kimi no Na wa.. They're also reasonably priced, making them the perfect memento for Kimi no Na wa. fans of all ages.
These earrings come beautifully packaged in an exclusive pouch with foil decorations. The pouch is inspired by the red braided cord that Mitsuha usually wears in her hair, which also happens to be a key item that connects Mitsuha and Taki.
■ Product Details
Name: Kimi no Na wa. x The Kiss x Bandai Earrings
Price: ¥11,880 (including tax, not including shipping and handling)
Set Contents: Earrings (one left earring and one right earring), exclusive pouch
Dimensions (approx.):
・Earrings: 29 mm | 1.1" (from the top of the chain to the bottom of the gem)
・Pouch: 68 x 72 mm | 2.7" x 2.8"
Materials: 10-karat white gold, rose quartz (round cut), blue topaz (round cut), sky blue topaz (teardrop cut)
Name: Kimi no Na wa. x The Kiss x Bandai Clip-On Earrings
Price: ¥3,456 (including tax, not including shipping and handling)
Set Contents: Clip-on earrings (one left earring and one right earring), exclusive pouch
Colour: 2 versions (gold-plated / silver-plated)
Dimensions (approx.):
・Earrings (sparkle motif): 12 x 10 x 2.5 mm | 0.5" x 0.4" x 0.1"
・Pouch: 68 x 72 mm | 2.7" x 2.8"
Materials:
・Parts: Brass, silicone
・Sparkle motif: Metal alloy, colored glass
Shared Details
Country of Manufacture: Japan
Recommended Age: 15 +
Available at: Premium Bandai and others
Pre-order Period: 1:00 pm on Monday, Jan. 23 to 11:00 pm on Monday, Feb. 6, 2017
Estimated Delivery: March 2017
©2016 your name. Production Committee