From the Portrait.Of.Pirates One Piece series of high-quality figures on Bandai's official shop, Premium Bandai, comes the latest entry in its CB-EX line, famous for capturing characters during their childhood. Featured is the only girl of the Thriller Bark Denizens' Mysterious Four, the Ghost Princess Perona! Pre-orders for "CB-EX Perona Gothic" (8,640 yen tax and shipping included, handling separate) began on her birthday, June 7, at 1:00 pm!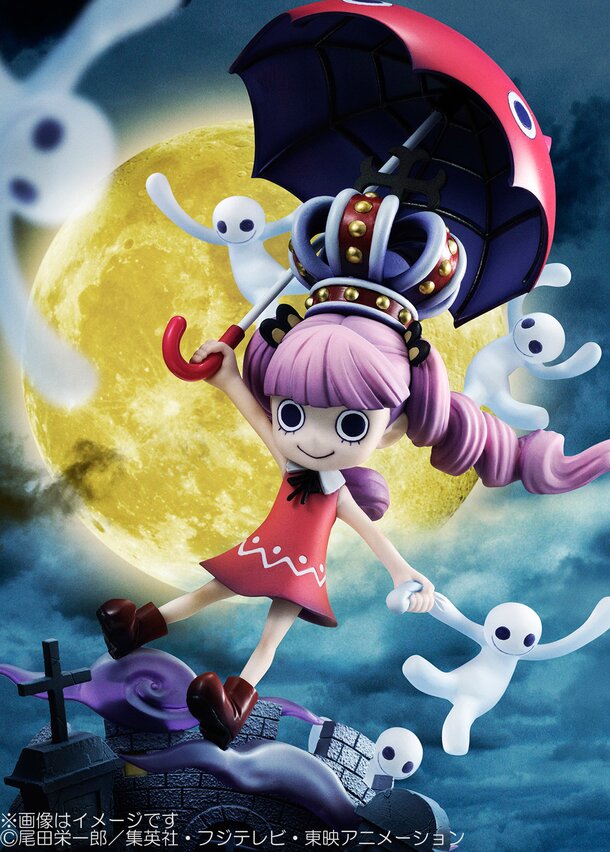 ■ About the Figure
The CB-EX series captures popular One Piece characters based on their childhood appearances. Its newest edition features the popular Ghost Princess, Perona, in her famous gothic lolita style.
Holding hands with a ghost she made using powers granted to her by the Horo Horo no Mi, floating through the air using her red umbrella at a height of approximately 16.5 cm (6.5", which includes her display pedestal and umbrella). She's wearing a red dress with the same pigtails she has as a member of Thriller Bark. With a sense of style that suits the princess, Perona is depicted wearing a crown and was designed by the sculpting unit Jango who also worked on CB-EX Rebecca and Sugar. It also has a very gothic look to it, from the red, black, and pink notes of her gothic chic outfit and accessories to the Thriller Bark-like diorama.
She comes with an exclusive message card with "Trick or Treat" written on it, so she's even perfect as a Halloween present. Pre-orders started on Perona's birthday, Tuesday, June 7, at 1:00 pm.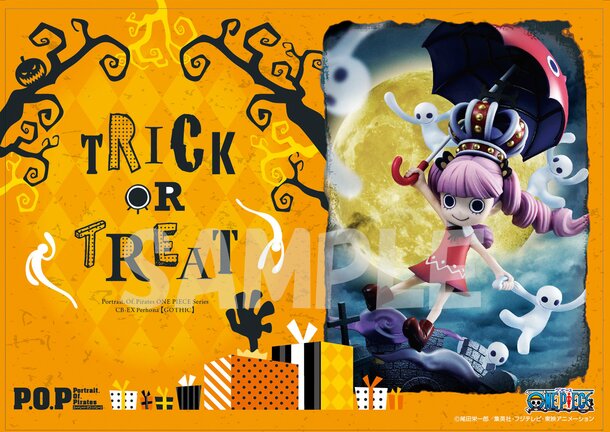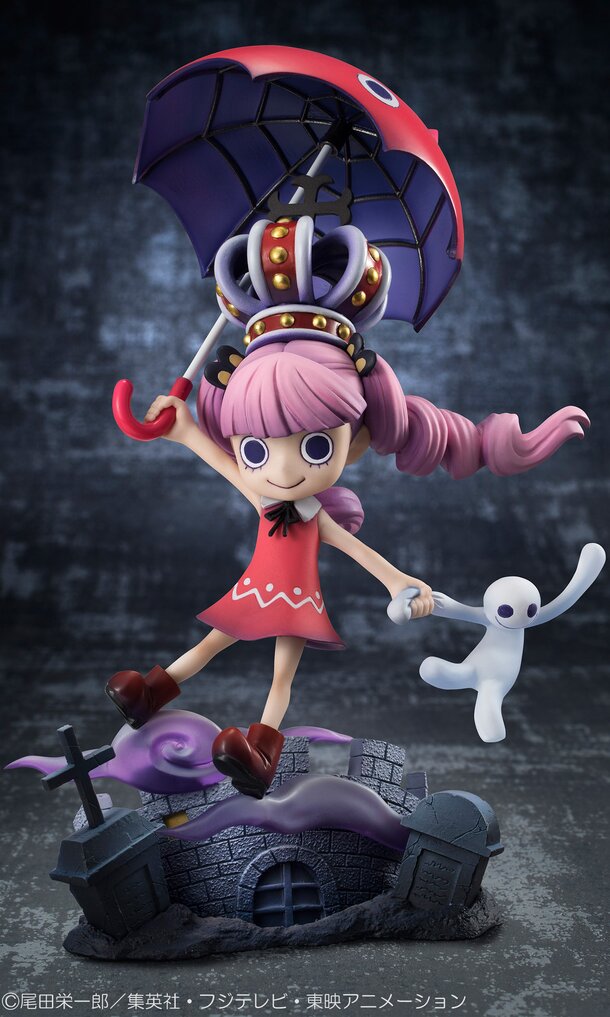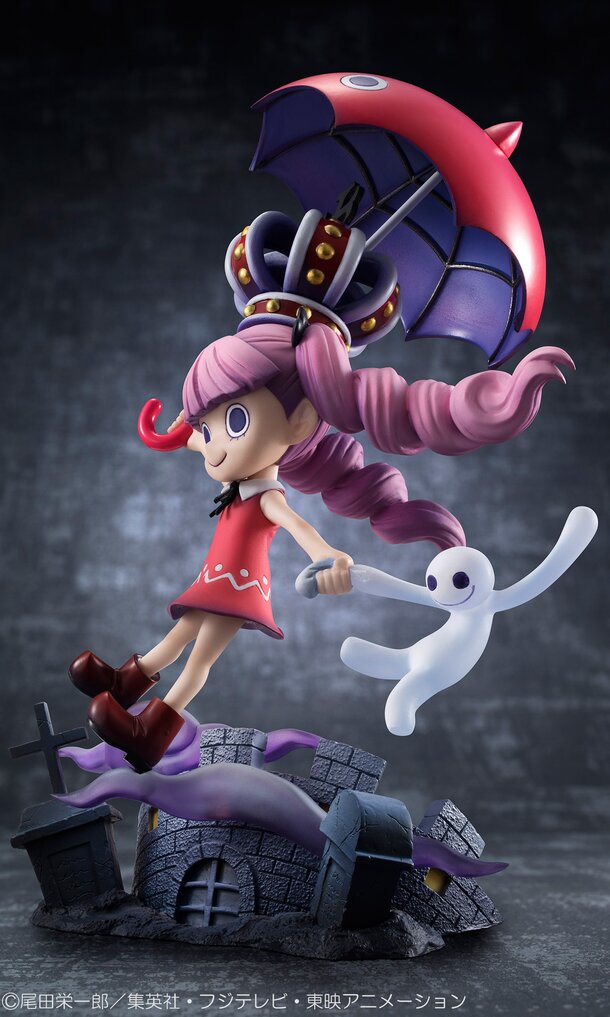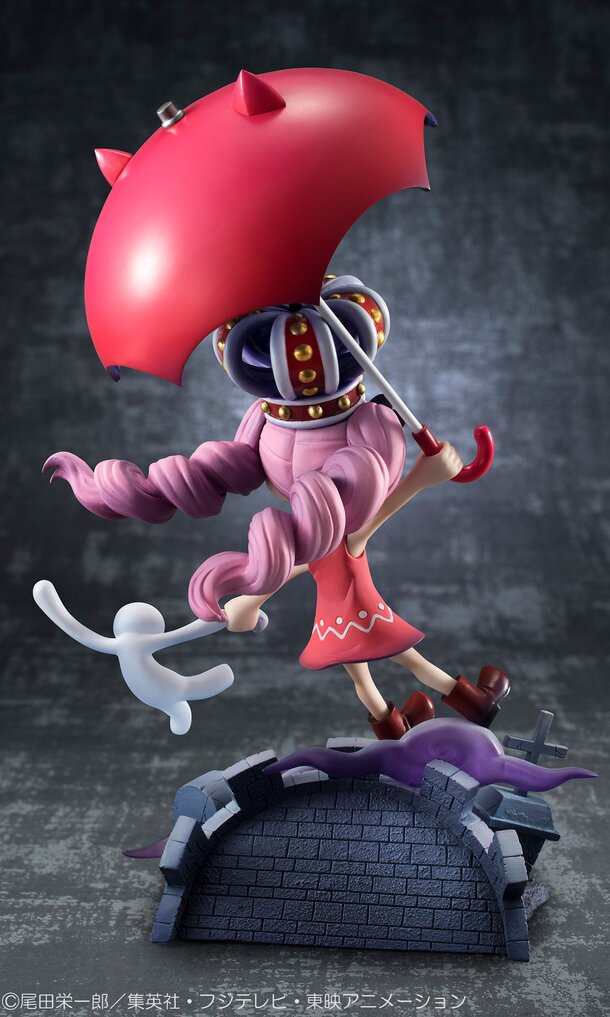 ■ Product Details
・Name: Portrait.Of.Pirates One Piece Series CB-EX Perona
・Price: 8,640 yen (tax and shipping included, handling separate)
・Target Age: 15+
・Set Contents: Pre-painted and finished figure, display pedestal
・Size: 1/8 scale (approx. 165 mm | 6.5" tall)
・Materials: PVC, ABS
・Made in China
・Available on: Premium Bandai, others TBD
・Pre-order Period: Tuesday, June 7 at 1:00 pm while supplies last
・Release: Late September 2016
・Sales Agency: MegaHouse Co., Ltd.
©Eiichiro Oda / Shueisha Inc., Fuji TV Network Inc., Toei Animation Co. Ltd.
For the latest information and details, please see the product page.
*Only available while supplies last.*
*Sales may end without notice.*
*Product details may change without notice.*
*Products photographed are under development and may differ slightly from final version.*
■ About the P.O.P One Piece Series
MegaHouse's P.O.P One Piece series recreates the franchise's most popular characters as high-quality figures which come finished and pre-painted. They're carefully molded and colored to capture the unique charms of each character and released primarily in 1/8 scale. Since its start in 2004, this series has received support both inside Japan and internationally with more than 200 products designed and 3.6 million shipped.
■ About One Piece
Eiichiro Oda's manga One Piece began its Weekly Shonen Jump serialization in 1997 and continues to be one of its most popular series. As of February 2015, it reached over 33 million total copies printed. Its anime adaptation, which started on Fuji TV in 1999, has also been broadcasted for over 15 years as of 2014.
■ About Perona
The only female member of Thriller Bark's Mysterious Four, Perona commands Wild Zombies and Surprise Zombies and is a lover of all things cute. She has abilities from the Horo Horo no Mi which allows her to create ghosts.
■ About Premium Bandai
Premium Bandai is the official shopping site of Bandai that allows everyone from kids to adults enjoy figures all day, every day! It offers special items that you can't buy anywhere else, and also has an e-mail magazine that will keep you updated on all of the latest information, campaigns, and upcoming events.