DMM.com, a company distributing various contents on the internet, is organizing a farewell party for the idols performing at Welcome to Japan Project (a project for Japan Expo 2016 to be held in July in Paris, France) at Shibuya Deseo through their celebrity communication app, DMM.yell.

Event Information
In a DMM.yell event between May 16 and 29, fans had the chance to vote for their most wanted idols. The group with the idol who got the most 'yells' gets to perform at Welcome to Japan Project, an event to be held in Paris, France in July. It doesn't end here: There will be a special farewell party to send off the six performing groups—including the event winner, Oyayubi Princess—so fans can wish good luck to their favorite idols before they depart to France!
Date & Time: June 28 (Tue.) 6:00 pm (performance starts from 6:30 pm)
Address: Shibuya Deseo - 1F No. 2 Okazaki Building, 3-3 Sakuragaoka-cho, Shibuya, Tokyo
About Japan Expo
Japan Expo is a Japanese cultural festival held every July in Paris, France that revolves around pop culture—anime, manga, and games—and traditional culture such as calligraphy, martial arts, tea ceremony, and origami. This is the biggest Japanese cultural festival in Europe with visitors not only from France but other European countries as well.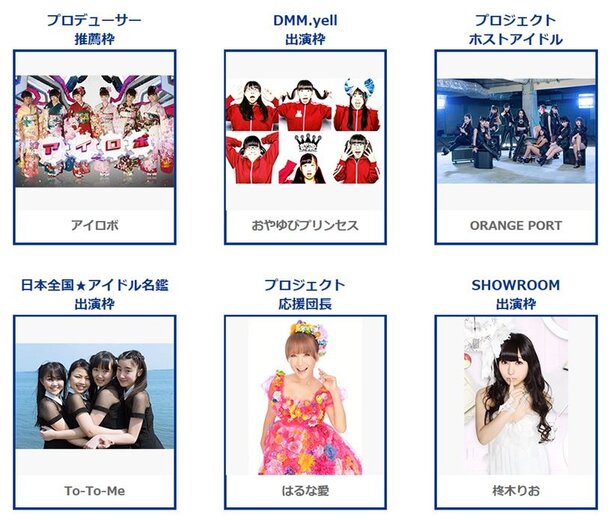 Producer Recommendation: I Robo
DMM.yell Performer: Oyayubi Princess
Project Host Idol: Orange Port
All-Japan Idol Listing Performer: To-To-Me
Project Cheerleader: Ai Haruna
Showroom Performer: Rio Hiiragi
About Welcome to Japan Project
Idols have been super popular in Europe lately, especially France. Idols were welcome with open arms at Japan Expo last year and the year before, and after saying a tearful goodbye and a promise to meet again with their fans, they are coming this year as well. There are a lot of fans who love their idols so much they would even come welcome them at the airport! The Welcome to Japan Project is a bridge that links Japan with other countries, a troupe that connects inbound tourism and regional development with entertainment. Its goal is to enliven Japan by inviting tourism from all over the world and vitalize the regions with comprehensive entertainment including Yuru Chara, B-grade gourmet food, regional idols, regional traditional arts, anime, cosplay, and art.
DMM.yell will continue to liven up the world of entertainment by collaborating with various events and projects, so be sure to be on the lookout!
About DMM.yell
DMM.yell is a social media application where users can browse photos and videos posted by celebrities and communicate with them through comments and cheering. Regular girls aiming to become idols or tarento can also publish content just like celebrities, using it as an entrance to the celebrity world. At present, there are more than 850 groups and 2,500 celebrities participating, but the numbers are growing by the day.