Shine Co., Ltd.'s innovative products are even available for purchase at New York's Museum of Modern Art (MoMA ). And just as you'd expect from a company like Shine, their latest offering is bursting with fun! Shine's Awamoko 3D Pen and Awamoko 3D Sheets hit the shops on June 16. With the Awamoko 3D Pen you can create 3D art using hand soap! The Awamoko 3D Pen is designed to let you really enjoy that feeling of wanting to play with bubbles that you get when you're taking a shower or washing your hair!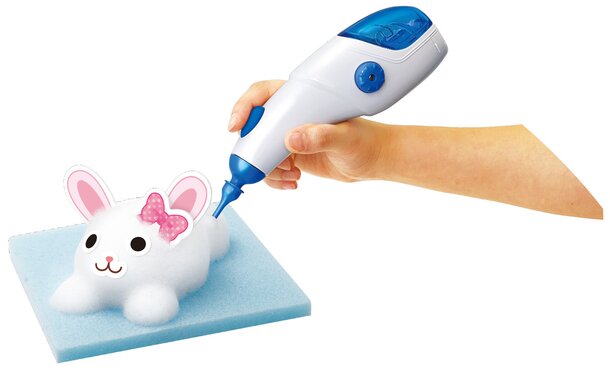 ■ What Is the Awamoko 3D Pen?
After loading the Awamoko 3D Pen with foaming liquid hand soap, switch it on and it'll start producing bubbles. You can choose between coarse bubbles and fine bubbles and have fun trying out different settings depending on the kind of soap you're using and the kind of art you want to create. The Awamoko 3D Pen isn't waterproof, so it's not suitable for playing with while you're in the bath. But since it produces bubbles using regular hand soap, everyone from kids to adults can enjoy creating bubbly art without any trouble.
■ The Awamoko 3D Pen's Special Features
You can start off just playing with bubbles and then have a go at bubble drawing, bubble stamps, and creating your favourite characters out of bubbles before moving on to 3D bubble art. You can make unexpectedly amusing and interesting creations just by adding bubbles on to the things around you, or try making bigger and more elaborate creations by using the Awamoko 3D Sheets that will be released at the same time as the pen. Use the felt accessories provided with the Awamoko 3D Sheets to make bubble animals, and pile bubbles up onto the sheets themselves to make more complicated bubble art with ease. Get creative and make your own unique bubble artworks!
Of course, since artworks made using the Awamoko 3D Pen are made from bubbles, they won't last forever. After about 30 minutes your creations will dry up and disappear. But their temporary nature is part of their charm - you can enjoy creating new bubble masterpieces over and over again!
Awamoko 3D Pen Artworks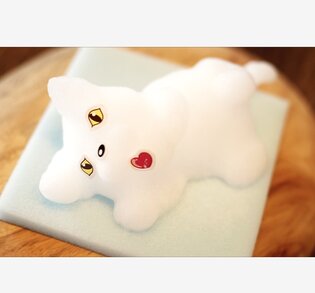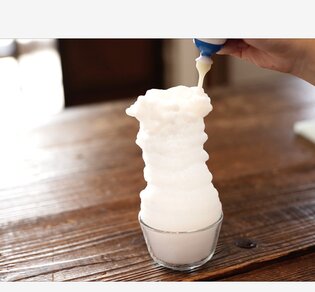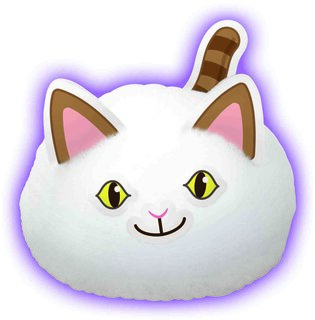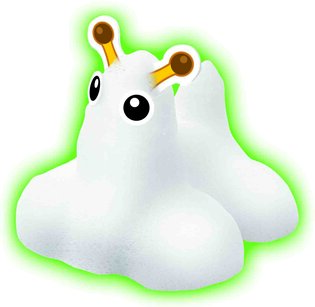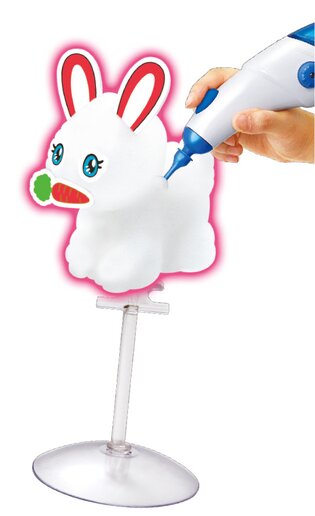 ■ Awamoko 3D Pen
Release Date: Saturday, July 16, 2016
Price: ¥2,480 (¥2,678 incl. tax)
Available at: Toy stores, miscellaneous goods stores, and online stores in Japan
Dimensions: 220 x 220 x 58 mm / 8.7" x 8.7" x 2.3"
Battery: 1 x AAA alkaline battery (sold separately)
Recommended Ages: 6+
*Foaming liquid hand soap is required for use.*
■ Awamoko 3D Sheets (Pets, Zoo, Aquarium, Dinosaurs)
Release Date: Saturday, July 16, 2016
Price: ¥680 each (¥734 incl. tax)
Available at: Toy stores, miscellaneous goods stores, and online stores in Japan
Dimensions: 220 x 165 x 23 mm / 8.7" x 6.4" x 0.9"
Recommended Ages: 6+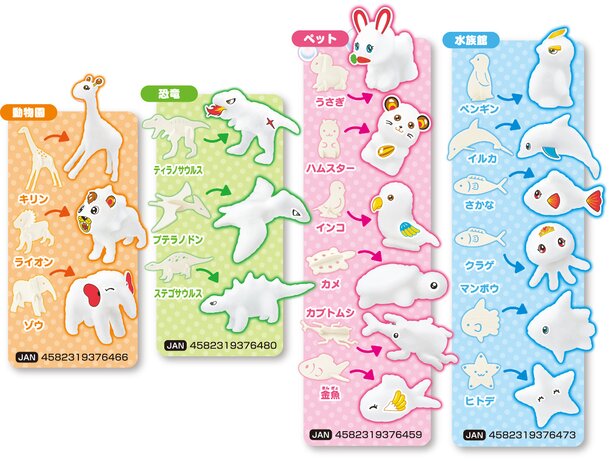 From June 9–12, the Awamoko 3D Pen will be on display at West 4-16 alongside the popular New Itazura Bank, Kumamon Piggy Bank New, and Hello Kitty Piggy Bank at the Tokyo Toy Show 2016.
■ Tokyo Toy Show 2016 Details
Dates: Thursday, June 9 to Sunday, June 12
Exhibitions: Toys and related products
Location: 3-11-1 Ariake, Koto, Tokyo; Tokyo Big Sight West Hall
Sponsored by: The Japan Toy Association
Telephone Number: 03-3829-2513
Homepage: http://www.toys.or.jp/toyshow/
■ Future Projects
Shine has released a product homepage for the Awamoko 3D Pen in anticipation of its release. Even if you haven't got your hands on an Awamoko 3D Pen yet, on the website you can check out tutorials on how to use it, plus videos and images of the kind of things you can create with it! Once the pen is on sale, this homepage will be constantly updated with news of events and useful information for Awamoko 3D Pen users.
There's also an official Twitter account, and in addition to example artworks created by Shine, user artworks will be featured too! Looking through examples of bubble creations by fellow Awamoko 3D Pen users is sure to get you in a creative mood! Your bubbly masterpieces might not last forever, but by taking pictures and sharing them with the bubble art community at least they'll be preserved through the power of photography!
■ About Shine Co., Ltd.
Shine Co., Ltd. is a company that uses an integrated assembly system from planning to production as it strives to always create new and original products without getting bogged down by stereotypes. Shine deals in the production of amusement devices made with a focus on mechatronic technology, toys, the design of miscellaneous goods, development, foreign production, inspection and delivery of goods, and the manufacture and sale of original products.