With the new One Piece movie One Piece Film: Gold coming out on July 23 in Japan, Hakujuji started a collaboration campaign with its Wound Treatment Series on June 1.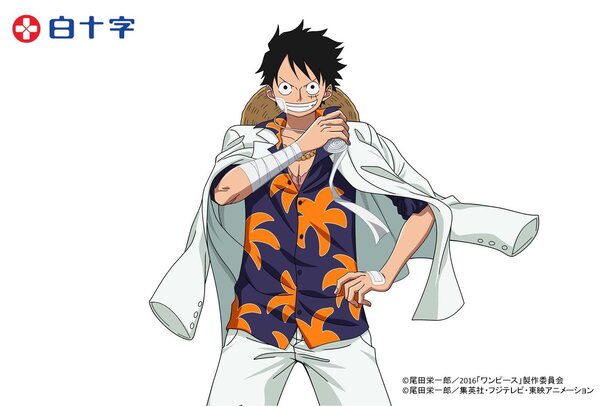 About the Hakujuji Wound Treatment Series One Piece Film: Gold Campaign
By collecting barcodes from the products included in the Wound Treatment Series campaign, 890 customers will get their share of exclusive One Piece items such as cushions and book cards featuring original illustrations. Following the campaign's Twitter account (@hakujuji8910) and tweeting the appointed text might have its rewards, too: If you're lucky you might get presented with a first-aid kit made to look like a pirate treasure chest!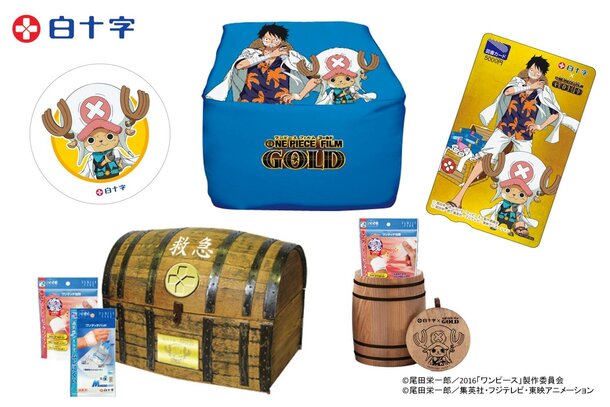 On Twitter:
Follow the official Twitter of the Hakujuji campaign and tweet the required contents. The winners will be selected through lottery and get the First-Aid Treasure Kit or one of the Mini Barrell Bandages. There are three periods in this campaign, and the last period starting from Aug. 9 at 10:00 am will see the appearance of more exciting treasures.
Prizes:
- First-Aid Treasure Kit (1 winner)
- Mini Barrel Bandage (30 winners)
(for the first two periods each)
Enter with Barcodes:
Collect barcodes from the six designated products from Hakujuji's Wound Treatment Series in the amount needed for your desired prize, and you might be among the 890 lucky people to get presented with original One Piece goods!
Prizes:
- 4 barcodes (10 winners): PlayStation® Vita Wi-Fi Glacier White (PCH-2000 ZA22) + exclusive original design pouch
- 3 barcodes (20 winners): Exclusive original design bean bag cushion
- 2 barcodes (100 winners): Exclusive original design book card (¥5,000)
- 1 barcodes (100 winners): Exclusive original design mini cushion
- Second Chance (660 winners): Exclusive original design metal bookmark
Target Products:
- FC One-Touch Pad: S, M, L (including value pack)
- FC Waterproof One-Touch Pad: S, M, L (including value pack)
- FC Highly Absorbent One-Touch Pad: S, M, L
- FC Waterproof Film Free Cut: M, L
- FC One-Touch Bandage: S, M
- FC Sterile Gauze: S, M, L, LL (including value pack)
The Wound Treatment Series provides easy-to-use, high quality medical supplies such as bandages and gauze. Their lineup covers all four steps of wound treatment (disinfection, treatment, protection, and fixing) with different functionalities including breathable or waterproof.
Campaign Duration:
June 1 (Wed.) to Aug. 31 (Wed.), 2016
Seventeen years have passed since the epic story of One Piece started in 1997 on the pages of Weekly Shonen Jump. With a total of 320 million volumes sold worldwide, the series even made it into the Guinness World Records as the most printed comic series by the same author. It has a vast amount of supporters not only in Japan but all over the world. The series also spawned a successful movie series: One Piece Film: Strong World (2009) boxed ¥4.8 billion, but its successor One Piece Film: Z (2012) surpassed even that with its ¥6.87 billion. The highly expected new movie, One Piece Film: Gold, is breaking four years of silence, and with original author Eiichiro Oda as its supervising producer, viewers can expect a masterpiece full of surprise and excitement. If you'll be in Japan, witness the legend with your own eyes this summer!