Tashigi, captain of Marine Grand Line 5th Branch or G-5, is the sixth in the Ver. BB sub line of Premium Bandai's One Piece Portrait.Of.Pirates limited edition figure series which features popular One Piece characters in bold, swimsuit poses. The Tashigi Ver. BB figure retailes for 9,504 yen (including tax and shipping, excluding handling fees) and pre-orders are already underway as of 1:00 pm on June 3.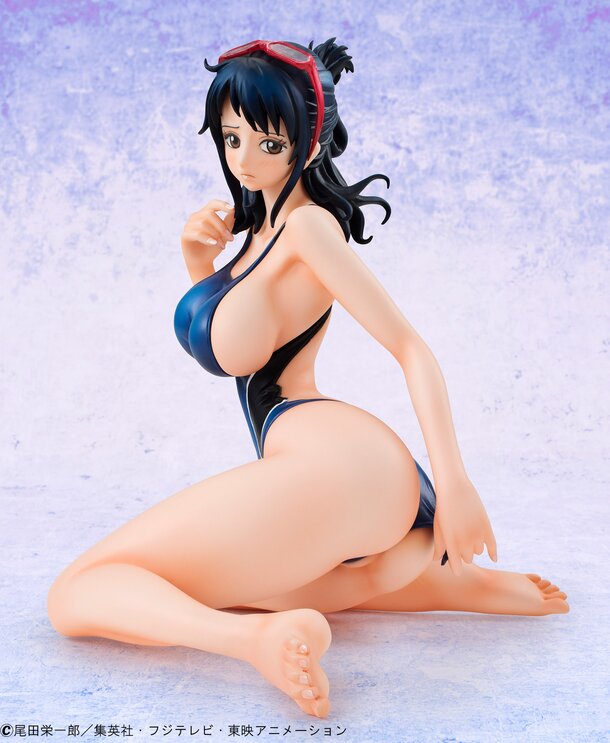 The "BB" in Portrait.Of.Pirates Ver. BB stands for "Bathing Beauty" - the series takes some of your favourite characters from the One Piece world and creates high quality swimsuit statuettes. Tashigi, captain of the Marine Grand Line 5th Branch (G-5), is the sixth character to join the crew so far.
Tashigi achieved great personal growth after being promoted from ensign to captain two years after the Marine Headquarters, Seven Warlords of the Sea, and the Whiteboard Pirates clashed at the Battle of Marineford. Following on from an illustration commemorating the release of the One Piece Memorial Log in 2010, Captain Tashigi has been given the swimsuit figure treatment.
The statue features Tashigi in a blue competitive swimming-style bathing suit perfectly matching the contours of her body, though she also has a slightly embarrassed expression. Trademark red glasses resting on her head, she awkwardly tries to fix a wedgie situation making for a charming mini diorama in itself.
Sculptor Motoki Inada (HEPTA) and color Producer Taumokei who previously worked together on the third figure in the series, Boa Hancock Ver. BB, and number five, Nami Ver. BB 02, have once again created a beautiful 125-millimeter figure which is overflowing with character details. Look out for even more lovely swimsuit-wearing figures from the Ver. BB series in the near future!
Full Details:
Name: Portrait.Of.Pirates One Piece Limited Edition Tashigi Ver. BB
Price: 9,504 yen (including tax and shipping, excluding handling fees)
Recommend Ages: 15+
Set Contents: Complete painted figure, custom display base
Size: 1/8 scale, approx. 125 mm in height
Materials: PVC, ABS
Country of Manufacture: China
Vendors: Premium Bandai, others
Pre-order Duration: from 1:00 pm on June 3, 2016 until sold out
Release Date: Late September 2016
Manufacturer: Megahouse
©Eiichiro Oda / Shueisha Inc,, Fuji TV Network Inc., Toei Animation Co., Ltd.
Please see the official website for all the latest information.
*Sales may end without notice.*
*Product specifications may change without notice.*
*Pictured item is a prototype and may differ from the finished product.*
About the Portrait.Of.Pirates One Piece Series
The One Piece Portrait.Of.Pirates series is a collection of high quality figures from Megahouse based around the One Piece universe. The figures are produced with the intention of capturing the unique essence of the characters with detailed sculpts and finely crafted paint jobs, and are mostly made in 1/8 scale. Since beginning in 2004, the series has proved popular both abroad and within Japan with over 200 items released so far and sales exceeding 3.6 million.
About One Piece
*One Piece* is a massively popular ongoing manga series created by Eiichiro Oda which began running in Weekly Shonen Jump in 1997. In February 2015 the series broke sales records with 330 million copies worldwide. The TV anime adaptation began in 1999 on Fuji TV and celebrated its 15th anniversary in 2014.
About Tashigi
She's the captain of Marine Grand Line 5th Branch (G-5). Tashigi is just crazy about swords and fights with them too. She may have slightly dull eyes because she's so short sighted but she harbours defeated hatred towards pirates and particularly Roronoa Zoro. Tashigi has quite a serious personality but is also well liked by the crew who idolise her. Ironically she is just like Zoro's childhood friend and rival, Kuina!
About Premium Bandai
Premium Bandai is Bandai's official online store that kids and adults can enjoy wherever they are 24 hours a day. As well as exclusive limited edition items you can't buy anywhere else, the store also runs a mailing list with important character event news and campaign offers.