Manufactured by Megahouse, Nami (Punk Hazard Ver.) is a commemorative edition action figure produced in honour of Mega Hobby Expo 2016 put on by Bandai's official online store, Premium Bandai. Expertly crafted with a realistic paint job and dynamic posing, the articulated action figure is part of Bandai's Variable Action Heroes collection and will retail for 9,648 yen (excluding tax, shipping, and handling fees). Pre-orders are set to begin from 1:00 pm on May 27.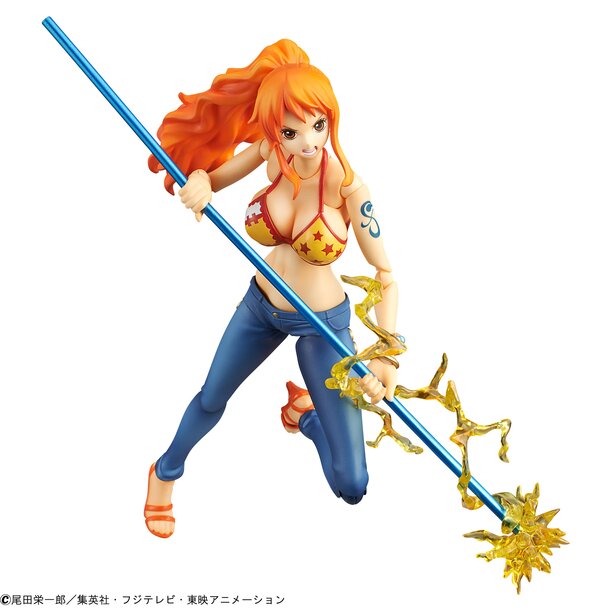 Product Page: http://p-bandai.jp/item/item-1000104410/?rt=pr
Let's take a closer look:
The Nami (Punk Hazard Ver.) figure is part of Bandai's Variable Action Heroes collection of articulated action figures and has been produced as a commemorative edition in honour of Mega Hobby Expo 2016. The figure stands at 17 centimeters tall and is inspired by the Punk Hazard arc of Eiichiro Oda's One Piece manga which takes place on the island of the same name where the terrain runs the extreme between scorching deserts and freezing icebergs.
Nami's waist-length hair is tied up in a ponytail and she's dressed only in her denim pants and yellow bikini top patterned with red stars while adopting an aggressive attitude to confront her enemies! Armed with her classic Climate Baton with effect pieces reproducing its control of clouds and lightning, the figure can be posed to recreate all those fantastic battle scenes as seen in the manga.
The figure also comes with interchangeable facial expressions featuring a Sanji-style face so you can recreate the body swap effect caused by Trafalgar Law's Ope Ope Fruit ability for a very strange looking Nami with heart-shaped eyes and a cigarette hanging from her mouth. With its realistic sculpt and high quality paint job, Nami (Punk Hazard Ver.) is a joy to behold whether just to display or to have fun posing.
Full Details
Product Name: Variable Action Heroes Nami (Punk Hazard Ver.)
Price: 9,648 yen (excluding tax, shipping, and handling fees)
Recommended Age: 15+
Set Contents: Painted, articulated, non-scale action figure plus interchangeable parts
Height (approx.): 170 mm
Materials: PVC, ABS
Country of Manufacture: China
Vendors: Premium Bandai, and others
Pre-order Duration: 1:00 pm on May 27 until late June
Release: Late September 2016
Manufacturer: Megahouse
© Eiichiro Oda / Shueisha Inc., Fuji TV Network Inc., Toei Animation Co., Ltd.
- Please see the official website for all the latest information.
*- Sales may end without notice once production numbers are reached.*
*- Sales through the webpage may end without prior notice.*
*- Product specifications may change without notice.*
*- Pictured item is a prototype and may differ from the finished product.*
Mega Hobby Expo 2016 Spring Full Details
Name: Mega Hobby Expo 2016 Spring - The Figure!!!
Dates: May 28, 2016 10:00 am to 5:00 pm (last entry at 4:45 pm)
Venue: Akihabara UDX Akiba_Square
Admission: Free
Exhibition Contents: Hobby goods (related to figures), new products, workshops, stage presentations
All About Variable Action Heroes
The Variable Action Heroes range released its first figure back in 2015 and produces impressive 18-centimeter sized action figures of popular characters with realistic paint jobs and appealing sculpts. The figures have a wide range of articulation so you really can recreate all those familiar scenes from the anime or manga. To date the series consists of One Piece figures plus the Devilman Nirasawa Ver. 2016.
What is One Piece?
*One Piece* is a phenomenally popular manga created by Eiichiro Oda which has been running in Weekly Shonen Jump since 1997. In February 2015, the series broke records as sales of the collected volumes exceeded 330 million worldwide. Broadcasts of the TV anime began on Fuji TV in 1999 and the series celebrated its 15th anniversary in 2014.
So Who Is Nami?
Nami is the navigator of the Straw Hat Pirates led by the series' protagonist, Monkey D. Luffy. She linked up with Luffy after he rescued her whilst she was a cartographer for Arlong's Sun Pirates. Armed with her Climate Baton which allows her to manipulate the weather, Nami is travelling to complete a perfect map of the oceans of the world.
About Premium Bandai
Premium Bandai is Bandai's official online store which kids and adults alike can enjoy 24 hours a day wherever they happen to be. The store sells unique limited edition items you can't buy anywhere else as well as runs a newsletter featuring the latest character event info which is the quickest way to find out about fantastic campaign offers too.