The official announcement for the second season of New Game! has finally arrived!
On Feb. 12, the cast and staff of New Game! personally delivered the announcement to unsuspecting fans who were attending the "New Game! Fan Thanks Event ~Next Level~," which resulted in a flurry of cheers and cries of joy.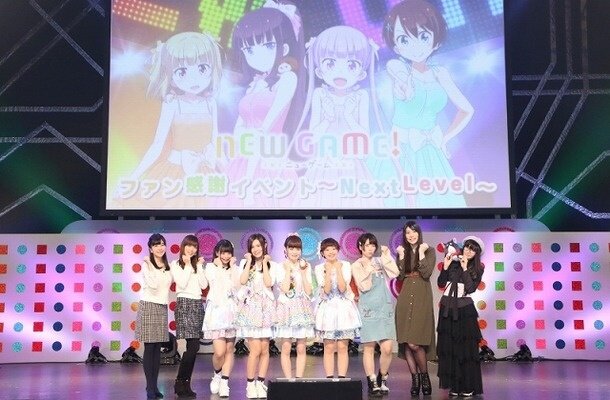 Takada Yuki (who voices Suzukaze Aoba), Yamaguchi Megumi (who voices Takimoto Hifumi), Toda Megumi (who voices Shinoda Hajime), and Takeo Ayumi (who voices Iijima Yun) were all present to express their sincere thanks to all the dedicated fans of New Game!. But voice actresses weren't the only ones to show up; staff members Fujiwara Yoshiyuki (who has worked on GJ Club and Engaged to the Unidentified ) and Shimo Fumihiko (who has worked on Kanon and Clannad ) were also there. Together, fans were given the best gift a fan of any series could want - a confirmed continuation of the work!
Musical group Fourfolium (who performed the catchy theme song for the series) also made an appearance while also announcing the Feb. 8 release of their new mini album Now Singing♪♪♪♪.
The official site for New Game! has already been updated with a new visual for the second season showing Suzukaze, whose facial expressions are indicative of the atmosphere and feel of the upcoming season that's sure to captivate fans all over again! Unfortunately, the premiere date is currently unconfirmed, but stay tuned for updates!
© Tokuno Shotaro / Houbunsha / New Game! Production Committee