The second season of Tales of Zestiria the X began airing on Jan. 8. Comments have also been released from the cast behind this long-awaited sequel including Kimura Ryohei. You can also watch the season two promotional video on the official site.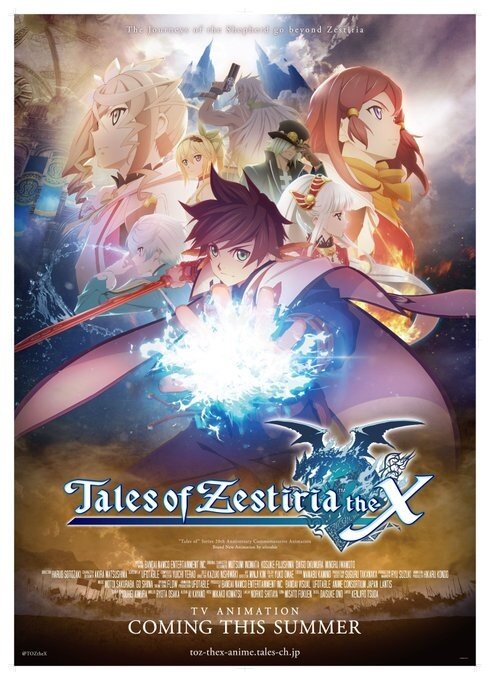 Tales of Zestiria the X is an anime adaptation of Tales of Zestiria, the 20th anniversary commemorative game for the PS3. A key visual and new PV were also released in June 2015 as the Tales of 20th Anniversary Animation. The official title was then announced that December. The 12 episodes of season one aired from July 2016 through September.
Kimura plays protagonist Sorey, and he said about this long-awaited season, "I was as excited as everyone else about season one, and I'm very happy that we can finally share the next part of their story." Osaka Ryota, the voice actor behind Sorey's childhood friend Mikleo, said about the new series, "It was so much fun to record with everyone again."
The female cast members were just as excited as Kimura and Osaka. Kayano Ai, the voice actress for Alisha Diphda, commented, "I'm overjoyed to battle together with Alisha again!" Komatsu Mikako (Rose) said, "We've been excited about season two, too, and it's finally starting." Shitaya Noriko (Lailah) told everyone, "The characters' feelings have been carefully expressed, so I think everyone can get a lot out of this story!" Edna's voice actress Fukuen Misato also commented saying, "Finally! I'm so happy to get to experience the world of Zestiria again."
Tsuda Kenjiro (Zaveid) said happily, "I hope everyone that's been waiting will continue supporting us, and to everyone that hasn't seen the series, please do. I'm so excited!" Last but not least is the voice actor behind Dezel, a character expected to appear a lot in season two. Ono Daisuke commented, "I didn't appear much in season one, so I had to watch carefully in front of the TV, not unlike Dezel haha. Years have passed since the 1st season aired. I can feel the excitement in the studio, and I'm so thrilled."
The cast is as pumped as we are for this season, which officially aired on Jan. 8.
Tales of Zestiria the X
(C) BNEI/TOZ-X