Known for its exciting battles, Kekkai Sensen/Blood Blockade Battlefront is a popular serialization in Jump SQ.CROWN. Its anime adaptation aired in Apr. 2015, giving fans a chance to enjoy those same action scenes animated. And now, a 2nd season has been announced as well!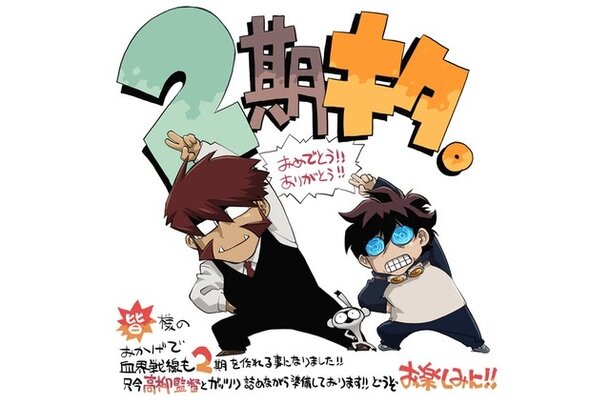 This new season will air in 2017 and be called Kekkai Sensen & Beyond. Commemorating this, there's been a new illustration by the series' original creator Nightow Yasuhiro released, and there will also be a number of exhibits on Dec. 17 and 18 at Jump Festa 2017.
Kekkai Sensen is the newest work by Nightow Yasuhiro, also known for hits like Trigun. Set in Hellsalem's Lot, formerly known as New York, this series follows a secret society called Libra and its members who fight to preserve the world's balance.
This season will be even bigger and better than the last, featuring stories that haven't been featured in the comic yet, and like the previous season, it will be animated by Bones.
The same cast from the previous season has been brought back, as well, including Koyama Rikiya as Klaus Von Reinherz and Sakaguchi Daisuke as Leonardo Watch, as well as Nakai Kazuya, Miyamoto Mitsuru, Kobayashi Yuu, Midorikawa Hikaru, Orikasa Ai, Ginga Banjou, and Uchida Yuuma. There will also be a Kekkai Sensen Talk Show at Jump Festa 2017 on the Jump SQ. Stage featuring Koyama, Sakaguchi, and Nightow. Getting to hear from the stars and original creator is something now fan should miss out on!
The Kekkai Sensen & Beyond teaser visual will also be on display at the TOHO animation booth. It's expected to go on sale as a B2-size poster at the booth's TOHO animation STORE. You can also have your fortune told by characters at the TOHO animation Shrine, and original goods will be given out as presents. Anyone with a receipt of 2,000 yen or more spent on these will be able to choose from 1 of 3 original postcards as a present.

More details are expected to release, so look forward to hearing about future developments!
(C) 2015 Nightow Yasuhiro / Shueisha・Kekkai Sensen Production Committee
(C) 2017 Nightow Yasuhiro / Shueisha・Kekkai Sensen & Beyond Production Committee