The film Doraemon: Nobita no Nankyoku Kachi Kochi Daibouken will be opening nationwide on Mar. 4. Meanwhile, Doraemon and Nobita have successfully landed on Antarctica! They were photographed with penguins 14 thousand kilometers from Japan in the intense cold.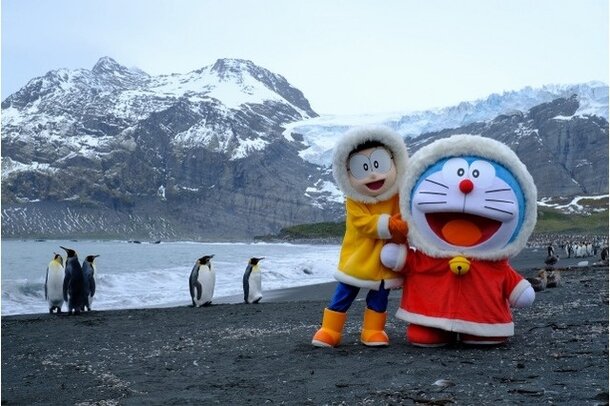 This film is the 37th in the Doraemon film series and is set in Antarctica, so Doraemon and Nobita took on the challenge of going to the South Pole. They first visited Argentina on Dec. 26 and held an event at the Japanese Embassy. These two were elected as the Anime Cultural Embassadors by the Ministry of Foreign Affairs and did the Pao Pao Dance. The anime was aired until 2016 in Argentina, and the two got a lot of attention dancing alongside the children.
The two left for Antarctica from the southernmost tip of South America, Ushuaia, on Dec. 28. They spent what would've been the first sunrise of the New Year by the sea where it doesn't set, took a commemorative photo with penguins, and successfully arrived at Antarctica on Jan. 9. 2017.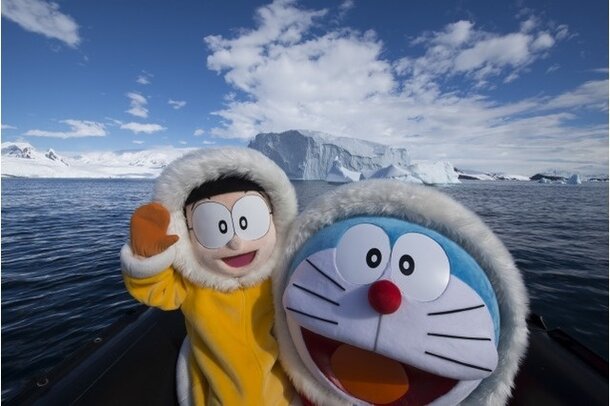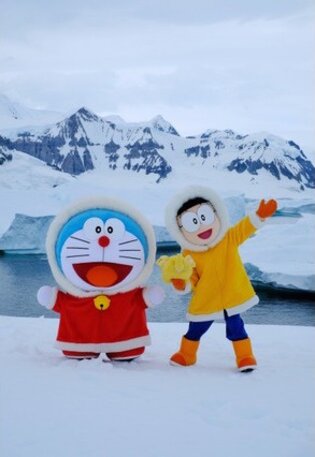 They'll be figuring out answers to questions from children while in Antarctica. These include ones like, "Is it faster for penguins to run or slide?" and "Do people live on the South Pole?" The two will also be taking photos using the latest technology like drones. These will be aired along with the TV anime as the Great South Pole Adventure Quiz on Jan. 27.
There were also supportive comments released from South Pole Kachi Kochi Company special support members Oda Nobunari and Asada Mai. Oda said, "I'd really like to go to Antarctica with the Anywhere Door too! Please advertise it! I'll be waiting for Antarctica souvenirs, haha." Asada commented, "I hope Dora-chan and Nobita have a safe return! I'm looking forward to hearing about Antarctica!"
Doraemon: Nobita no Nankyoku Kachi Kochi Daibouken
3/4/2017 National Road Show
(c) Fujiko Pro・Shogakukan・TV Asahi・Shinei・ADK 2017