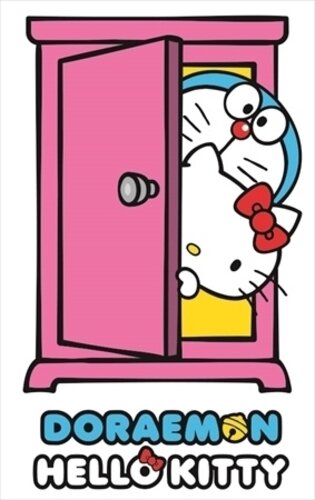 An unbelievable collaboration between two of Japan's representative characters, Doraemon and Hello Kitty, is on the way. Development on this dreamy project first announced in February of this year is finally going to kick off in August. A concept visual has also been released in time with the start of the collaboration. A lovely composition, the visual features Doraemon and Hello Kitty peeking out together from Doraemon's familiar gadget, the Anywhere Door. Having a surprisingly similar shape to each other, the duo makes the perfect pair.
The collaboration will consist of limited-time shops and a line of merchandise. The merchandise line, titled "Doraemon x Hello Kitty," is being designed to target those in their late teens and older. It has already been confirmed that approximately 320 products will be released. They will be available at department stores, specialty stores, limited-time shops, and the Sanrio Online Shop.
Limited-time shops are being developed sequentially for Nihonbashi Takashimaya, Seibu Ikebukuro Honten, Keio Department Store Shinjuku, and other stores. The limited-time shop at Nihonbashi Takashimaya titled "Doraemon Meets Hello Kitty at Takashimaya" will be open from Aug. 12–25 and will have merchandise available for presale. A full lineup of cute items for females will be available including tote bags and T-shirts. There will also be a lineup of stylish, everyday items including mugs, eco bags, and pouches.