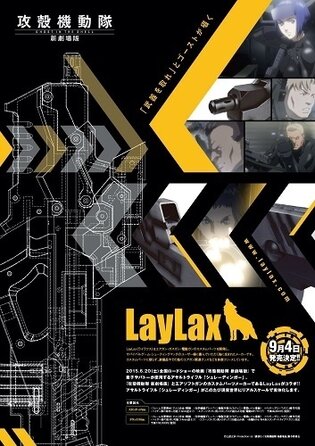 Released in Japan on June 20, all eyes are on Ghost in the Shell: The New Movie as the popular series' newest outing. It depicts Kusanagi's younger days. Beginning with Batou, each member of Public Security Section 9 gradually assembles to fight against a threat. The movie has the same high quality we've come to expect from the series, and it also uses the newest technology and depicts plenty of machines. There's no doubt that fans will be able to fully enjoy this airsoft gun as if they're members of Public Security Section 9.
LayLax, a company that produces and sells airsoft guns and military goods, is releasing an airsoft gun replica of the "Schrödinger" assault rifle used by Motoko Kusanagi and Batou in Ghost in the Shell: The New Movie. A premium item that looks just like the real thing and seems like it belongs right in the movie, the airsoft gun will be released on Sept. 4.
LayLax is also a reputed maker of custom airsoft gun parts. This time, they've realistically created the heaviness of the Schrödinger and its sharp lines. Its quality makes it suitable for use in survival games as well, giving the option of displaying it for its aesthetic charms or using it on the battlefield.
The airsoft gun comes in two versions: a Deluxe Ver. (158,000 yen) which features a full gearbox unit installed in the frame, and a Standard Ver. (99,800 yen) which comes with just the frame, allowing for purchasers to install their own airsoft gun into it. LayLax shows off their confidence with this airsoft gun made not just for fans of Ghost in the Shell, but for airsoft enthusiasts too. According to the company, the airsoft gun has been creating huge waves. And now a firm release date of Sept. 4 has been set.
A production model of the airsoft gun will also be displayed at Wonder Festival 2015 Summer to be held on July 26 at Makuhari Messe and, or course, at Chara Hobby 2015 to be held at the same venue on Aug. 22 and 23. If you're on the fence about buying it, it might be a good idea to check it out at one of these events first.
The Deluxe Ver. of the airsoft gun is for ages 18 and up. Please take note that those under 18 will not be able to purchase or use it.
■ Standard Ver.
Price: 9,800 yen (plus tax)
■ Deluxe Ver.
Price: 158,000 yen (plus tax)
Release Date: Sept. 4, 2015