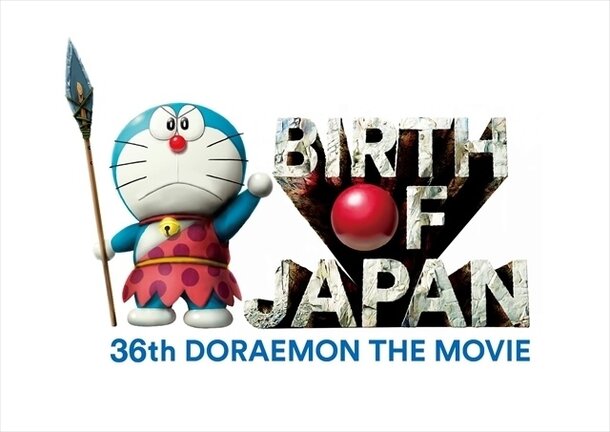 The newest movie in the hugely popular series Doraemon has been slated for a spring 2016 release. The title has also been confirmed. The 36th movie in the series is Eiga Doraemon: Shin Nobita no Nihon Tanjo (Doraemon the Movie: New Nobita and the Birth of Japan). The movie is a remake of the hit 1989 movie Nobita and the Birth of Japan using the latest technology. It will depict an adventure with Nobita and Doraemon in ancient Japan.
The Doraemon movie series has gathered popularity for a new movie being released every spring, beginning in 1980. Eiga Doraemon: Nobita no Space Heroes (Doraemon the Movie: Nobita's Space Heroes) was released this year in celebration of the Doraemon movie series' 35th anniversary. The movie mobilized over 3.47 million moviegoers, and recorded box office earnings of 3.89 billion yen.
Nobita and the Birth of Japan is the 10th movie in the Doraemon the Movie series and holds the series' record for attracting the highest number of moviegoers at 4.2 million. The remake of this movie is being written and directed by Shinnosuke Yakuwa who debuted as a director last year.
The story begins with Nobita getting the idea to run away from home. And, all for their own reasons, Doraemon, Shizuka, Gian, and even Suneo decide to run away as well. But, knowing that Japan would be populated wherever they go, they become lost on what to do. They then decide to head back 70,000 years to ancient Japan, where few people lived.
Coming before the release of the movie, the art exhibit "Nobita and the Birth of Japan and a Journey Through Space-Time" has begun in the Fujiko F. Fujio Museum in Kawasaki. The exhibit is scheduled to run from July 10 to mid-June 2016. Works on display include, of course, keyframes from Nobita and the Birth of Japan, as well as artwork themed after the one-way time machine from Kiteretsu Daihyakka, the time machine from Perman, and the time machine and journey through space-time in Pokonyan!.
Also, the museum cafe will recreate the restaurant that appears in Nobita and the Birth of Japan. Fans will be able to enjoy "that meal" they find irresistible, and limited merchandise will also be on sale in the museum shop.
Doraemon the Movie: New Nobita and the Birth of Japan
Toho Japan-wide roadshow March 2016