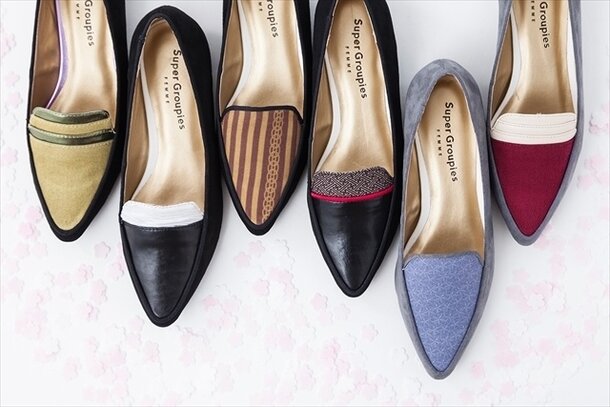 Having released numerous collaboration products together with a variety of anime series and games, Super Groupies has turned their attention to Hakuoki and will be producing Hakuoki pumps with designs based on the images of six characters. The items opened for pre-orders July 21.
Hakuoki is a stunning romance adventure game created for females by Idea Factory that began in 2008. Its incredible popularity led to the release of fan disks as well as anime and stage adaptations. Because of its mainly female audience group, the series has also been very successful in various fashion collaborations.
The collaboration pumps will add to the Hakuoki Super Groupies collection that already includes bracelets and necklaces. The pumps will also join a vast lineup of fashion-related merchandise connected to the Hakuoki series.
Designs of the pumps are based on Toshizo Hijikata, Souji Okita, Hajime Saito, Heisuke Todo, Sanosuke Harada, and also Chikage Kazama. All six characters are extremely popular in the series, and are available for players to connect with in Hakuoki games. Each pump design is infused with elements of harmonious Japanese beauty while remaining simple and comfortable for all sorts of occasions.
Each exquisite design is full of inspiration from the character it represents. The Toshizo Hijikata, Souji Okita, and Chikage Kazama models offer patterns that match kimonos worn by the characters in the series.
Of course, there is something special in store for fans of the other characters as well. The Hajime Saito model is inspired by Hajime's scarf, and features detailed wrinkles that closely resemble the signature accessory. Sanosuke Harada's bandages are carefully shown and packaged into his white and bordeau model. The coloring and details of Heisuke Todo's collar are directly reflected onto his model, and gracefully balanced out with a black base.
The Hakuoki collaboration pumps are available for pre-order until Aug. 23, and are priced at 14,800 yen before tax. Quantities are limited, and pre-ordering may be closed early when limits are reached. The pumps are fantastic pieces for fans to add to their collection, and also simple enough to wear on a daily basis on various occasions. Stay tuned for more information about Hakuoki collaborations to come!