In Japan, cherry blossom is synonymous with spring. Ushering in the new season, Hawaii's No. 1 burger chain Teddy's Bigger Burgers has introduced a limited edition "Sakura burger".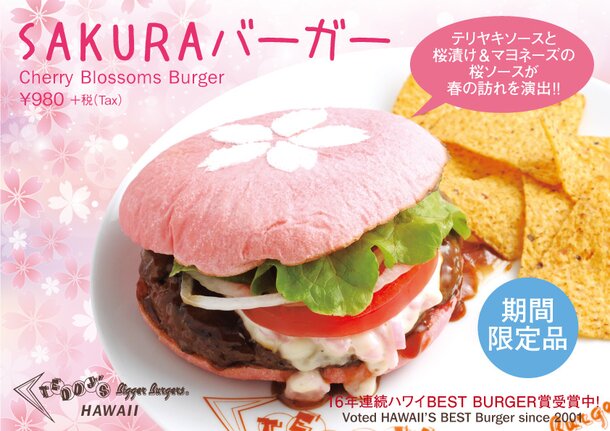 Teddy's Bigger Burgers opened in Hawaii in 1998 and has been voted as the best local burger for the past 16 years! Designed with a traditional '50s style fast food ethos, the chain has expanded beyond its Hawaiian home to the US and Japan where it offers a burger based menu plus a selection of Hawaiian treats and a few Japan-inspired items. The Sakura Burger is the latest in the restaurant's series of Japan only limited time seasonal menu options following the "Fortune Burger" which was available until the end of January in celebration of the New Year.
The new menu item is a variation on Teddy's Teriyaki burger and features a grilled 100% beef patty with finely ground cherry blossom pickles and mayonnaise sauce, tomato, onions, and red leaf lettuce.
That's a taste of spring you won't soon forget!