The handsome cast of Touken Ranbu -ONLINE- is slated for a June 2017 release in the form of adorable rubber straps released by Kotobukiya!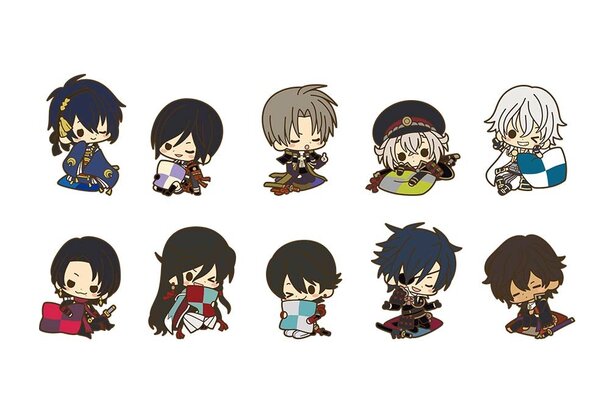 The Relaxation Version ♪
This rubber strap collection features beloved characters from the game created by DMM Games and Nitroplus. Based on a theme of relaxation, Munechika Mikazuki, Yagen Toushirou, Heshikiri Hasebe, Hotarumaru, Tsurumaru Kuninaga, Kashuu Kiyomitsu, Izuminokami Kanesada, Horikawa Kunihiro, Shokudaikiri Mitsutada, and Ookurikara can be seen snuggling with a cushion, without a care in the world! All 10 were illustrated by popular artist Sakurai in an irresistible chibi style that still maintains characteristic expressions and clothing details.
As is standard, the characters can be removed from the straps themselves. They are also the perfect size to attach to bags, cell phones, or other toteables so you'll never be without your favorite Touken Ranbu men!