The collaborative Detective Conan x Karel Capek black tea shop series opened in 2016 with positive reception, and it's been announced that there will be new releases for this year!
Following Conan's Color Trick Tea and Shinichi and Ran's Lemon Pie Tea, this year will feature Night Earl Grey based on Kaito Kid. This newly developed black tea also features a specially illustrated design.

On Sale in Late February! A Collaboration with Kaito Kid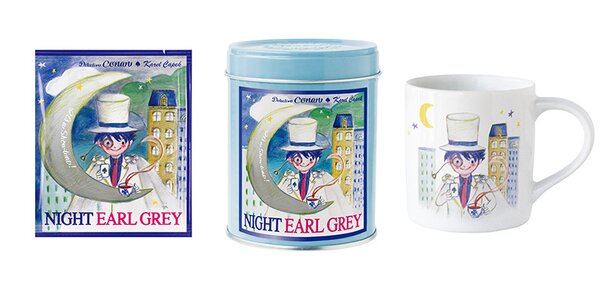 Disappearing into the Night?! Kaito Kid's Earl Grey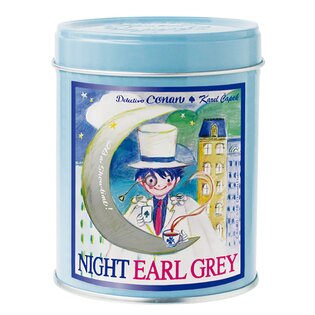 Night Earl Grey
Kaito Kid is the daredevil who flies magnificently through the night sky. This special Earl Grey features an exotic and mysterious flavor added through custom-made Dimbula tea, and when you pour in hot water, the blue fades into the color of the night sky to capture the image of Kaito Kid. In addition to a tin can version and 5-pack set of individually wrapped tea bags, there will also be a tea mug available! These are all planned to go on sale in late February, and they feature specially illustrated designs by Yamada Utako.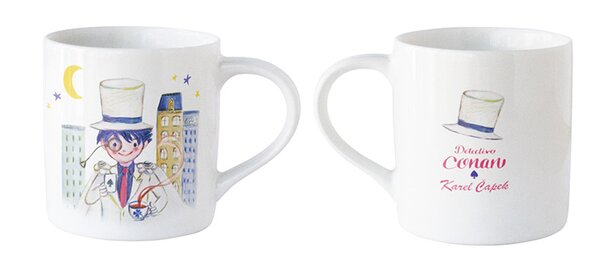 Blend Details / Tea Profile
Tea Leaf Production Area: Ceylon, Dimbula Region
Tea Plantation: Great Western Tea Plantation, Established in 1880
Elevation: 1448m
Harvested: Hand-picked during the 2016 early spring flavory season
Grade: BOP
Tea Liquid: Has an orange-yellow colored golden ring
Tea Leaf Aroma: Emits a clean aroma
Flavoring: Bergamot orange with a slightly sharp, oriental citrus scent
Blended Herb: Blue Mallow
Flavor: The first thing you sense is the pleasant astringency, followed by the classy and slightly bitter flavor of the mallow. As it cools, it fades into a mild and gentle flavor.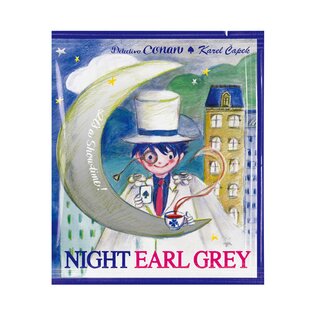 Comment from the Director Taster, Yamada Utako
"I wanted to create a pleasant sharpness, comfortable trailing note, and natural but mysterious charm to capture Kaito Kid through this black tea. The first of those was the pleasant sharpness. The first thing to achieve this was obviously the freshness of black tea, but it's also connected to the elevation and terrain of the plantation, as well as the kind of tea shrub. We went with the Great Western Plantation in Sri Lanka. There's a China bush that resembles green tea, as well as a deep black tea called Assam that were cultivated for an original blend. The flavory season lasts from the middle of January through the beginning of March, and the manager explained to me about the shift in tea processing that occurs even during the night. We chose tea leaves that are delicate and fresh even for these seasonal teas.
"Next, I looked into a gentle and slightly Oriental-style of Earl Grey for the pleasant trailing note. Last was the natural and mysterious charm. While Kaito Kid is a thief, he also has dignity about him. For this, I added the soothing herb blue mallow that instantly permeates a purple-blue color when you add hot water. Your eyes will be pulled in when you add the hot water, and I hope you'll find that sparkling moment."

More teas are planned for release this spring, as well!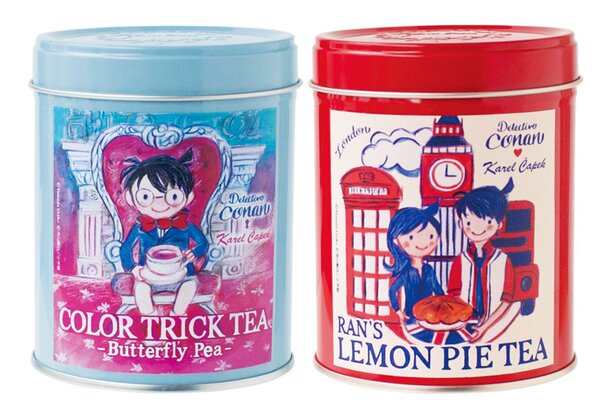 Product Details
・Night Earl Grey Tea Bags 5-Pack Set (Individually Wrapped) - ¥594 (tax included)
・Night Earl Grey Tin (includes eight tea bags), ¥1,404 (tax included)
・Night Earl Grey Tea Mug - ¥2,160 (tax included)
©Aoyama Gosho / Shogakukan