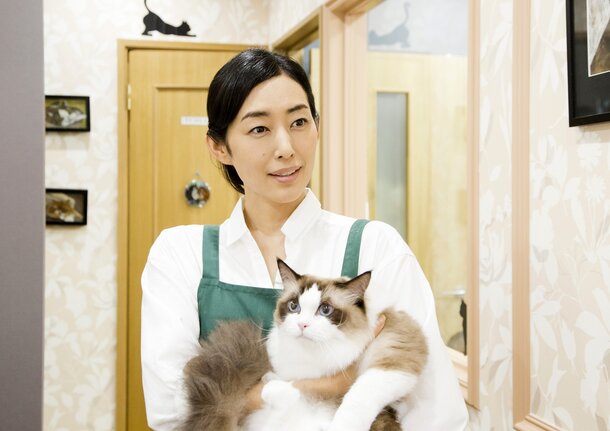 A preview for the live-action film adaptation of the smartphone game Neko Atsume titled Neko Atsume no Ie has been released. It was also announced that it will feature actors Kimura Tae, Taguchi Tomorowo, and Okubo Kayoko.
The smartphone game Neko Atsume lets you enjoy watching cats that come visit your garden. It's gained a lot of attention and love worldwide since its release in Oct. 2014, and was even featured on CNN.
The film Neko Atsume no Ie will follow Sakumoto Masaru, a novelist dealing with writer's block played by Ito Atsushi. The film begins with him being visited by a cat as he struggles to find happiness, even after moving to a relaxing new area in an attempt to turn over a new leaf. Filling the director's chair is Kurakata Masatoshi, known for his work as assistant director on the films Sekai no Chuushin de Ai wo Sakebu, Maiko Haaaan!!!, Nakumonka. He made his feature-length directing debut with Railways: Ai wo Tsutaerarenai Otona Tachi e. Planning and script-writing is being done by Nagamori Yuji, known for works like Gachiban and Nekozamurai.
The preview revealed a little bit of the film's plot, setting it apart from the game, which has no story. Sakumoto (Ito Atsushi) movies to a house that's full of cats, and after that, the pet shop owner Yoko (Kimura Tae), strange realtor (Okubo Kayoko), and Michiru's senior editor Asakusa (Taguchi Tomorowo) appear. There's also a subtly distant scene featuring editor Michiru (Shiori Kutsuna), as well as the familiar scene of many cats being fed together, adding a relaxing touch. Who knows what kind of story there will be between these characters and Sakumoto!
The Neko Atsume no Ie film opens nationwide beginning with Shinjuku Musashinokan on 4/8/2017.