Membership Applications Now Open for Pretty Guardians 2017-2018!
Membership Period: July 2017 - June 2018

Special Membership Bonus (2017-2018 edition):
- Membership card featuring original illustration by Naoko Takeuchi
(Each membership card will have a unique member serial number.)
Note: Designs are subject to change without notice.
- Moon Stick Pendant featuring design from the original manga.
Special Membership 2016-2017 Renewal Bonus:
- Sailor Letter Set
Renewed memberships keep their membership serial number from the last year.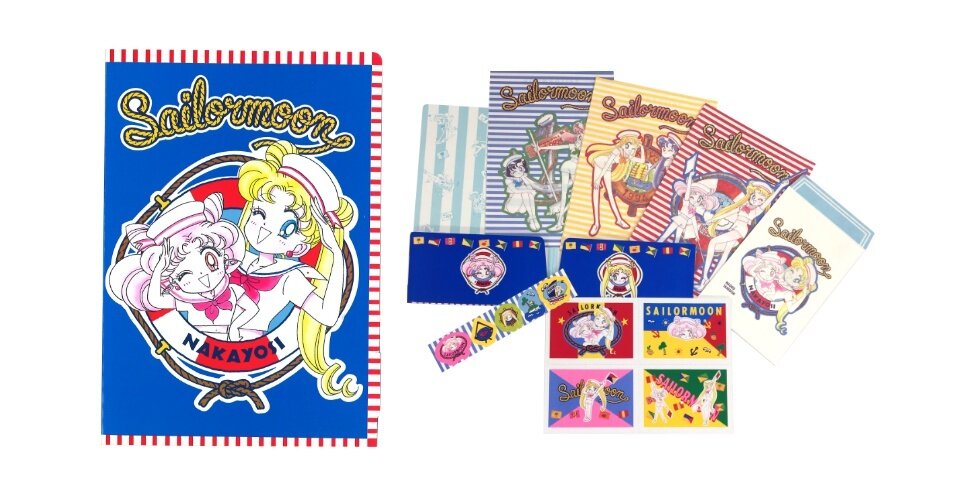 Membership Details

★ 4 issues of digital membership news reports featuring member-exclusive editorials all about Sailor Moon!
★ All new fan club exclusive merchandise


2017-2018 will also be featuring new and exciting exclusive merchandise starting at the beginning of the membership period in July 2017!

★ Member exclusive pre-sale ticket purchasing access
Get the chance to purchase tickets to various Pretty Guardians (2017-2018) Fanclub events and the Sailor Moon Musical -Bishoujo Senshi Sailor Moon.
★ Priority/early access to the various Sailor Moon collaboration promotions paired with exclusive bonus items!
Note: Most Sailor Moon collaboration promotions refer to offline promotional events within Japan.

About the Official Pretty Guardians Mobile App

- Enjoy and access with ease exclusive Pretty Guardians content through the mobile app!
*App is mostly in Japanese with partial English localization*

★ Sailor Moon Event Information (Japanese)
★ Digital news reports readable through app (Japanese/English)
★ Pretty Guardians News (Japanese)
★ "Crystal Puzzle" in-app puzzle game (Japanese)



Membership Fee

$58.00
*Important Note: Membership fee is not applied to bonus items such as the membership card and moon pendant, which are bonus gifts and not purchasable goods.*
Membership Application Period: March 27, 2017 12:00 AM ~ June 30, 2017 12:00 AM (PDT)


Important Information

Membership Details and Limitations
・ This is not a lifetime membership. The fan club membership is valid from July 1, 2017 until June 30, 2018.

・ The periodic Sailor Moon news reports offered to members during the membership period will be in digital format.
・ A portion of the services may not be available to overseas members.
・In order to make sure membership registration goes smoothly, each TOM account is limited to purchasing one membership. If you would like to purchase for yourself and another person, we ask that you use that person's email to create another TOM account on their behalf if possible to purchase.
*If you are renewing from 2016-2017 and your membership is attached to someone else's account on TOM, please contact us.

Notes on Exclusive Merchandise
・ Exclusive merchandise purchasable by overseas fan club members are limited to those that can be shipped internationally from Japan.
・ International fan club members cannot purchase from the Premium Bandai Sailor Moon FC Secret Site. All sale of merchandise for members in the international fan club will be through the TOM Shop.
・ TOM Points cannot be used to purchase fan club memberships or fan club exclusive merchandise.
・ Purchasers will be required to pay any and all customs fees incurred by fan club purchases.
・ Returns, exchanges, and refunds cannot be provided for merchandise unless defective.

Language Support and Privacy
・The official fan club site and app are available in Japanese; only a portion of content is available in English.
・ Mitsuishi Kotono's Pretty Guardian Sailor Moon Oshioki♥Radio is only available in Japanese.
・Fan club member registrations are carried out by SKIYAKI Inc., the operators of the Japanese side of the fan club. Upon purchasing your membership, you will receive a registration email from noreply@prettyguardians.com. Once you've received the registration email, click here for instructions on how to set a password and log in to the official Japanese fan club site. Please visit here for more details about what to expect after you first purchase your membership.
・ In order for SKIYAKI Inc. to prepare your membership, we will need to share with them your name, shipping address, email address, sex, and birthdate registered with your TOM account. Making a purchase means you consent to have this information shared with our counterparts running the Japanese site. Of course, your information will not be used for any other purpose except for officially creating your membership.
・ For inquiries, please contact Tokyo Otaku Mode here.

Return Policy
- We are not able to accept returns of your bonus item or membership card under any circumstance unless it is defective.
- If your item returns to us due to non-delivery or failure/rejection of your delivery by your or your local postal service, we are not able to refund any part of your membership fee.
- We recommend that all members keep track of their deliveries using the tracking information provided and frequently checking with their local postal service during delivery to prevent delivery issues.
- Members are eligible to have their bonus items re-shipped in the event that it returns to us, but there will be a re-shipment processing fee.

Refund Policy
- By purchasing a Pretty Guardians (2017-2018) membership, you agree that the fee of $58.00 which you have paid for the membership is only applicable to your status as a Pretty Guardians fan club member, and is not applicable in any part to the non-purchasable membership card and bonus item gift. Please know that both the card and bonus item are not a part of membership fee, and therefore not eligible for refund in any form from the membership fee paid.
- All sales for the Pretty Guardians (2017-2018) membership, as well as any exclusive merchandise are final. Memberships cannot be canceled nor can membership fees be refunded.