Love Live! Sunshine!! has released its first visual plus story and staff details for its all new adventure on the big screen!
Love Live! Sunshine!! The School Idol Movie Over the Rainbow is a sequel to the main series and follows the Aqours girls as they prepare to enrol at a new school. While the first and second years run into some unexpected trouble, the third years end up going mysteriously missing on the way to their graduation trip. Separated, the girls begin to realise the value of their friendships as they attempt to find a solution to their various crises.
The roles of all Aqours members will be reprised by the voice actors from the original anime: Inami Anju (Takami Chika), Aida Rikako (Sakurauchi Riko), Suwa Nanaka (Matsuura Kanan), Komiya Arisa (Kurosawa Dia), Saitou Shuka (Watanabe You), Kobayashi Aika (Tsushima Yoshiko), Takatsuki Kanako (Kunikida Hanamaru), Suzuki Aina (Ohara Mari), and Furihata Ai (Kurosawa Ruby).
Staff for the movie include Sakai Kazuo as director, Hanada Jukki for script, Murota Yuhei for character design, Takahashi Takeshi for set design, Higashi Junichi for art direction, and Katou Tatsuya for music. As with the anime series, Sunrise will be animating the movie.
It has also been announced that the first bonus gift for advance ticket buyers is a series of clear files featuring new illustrations of the Aqours girls.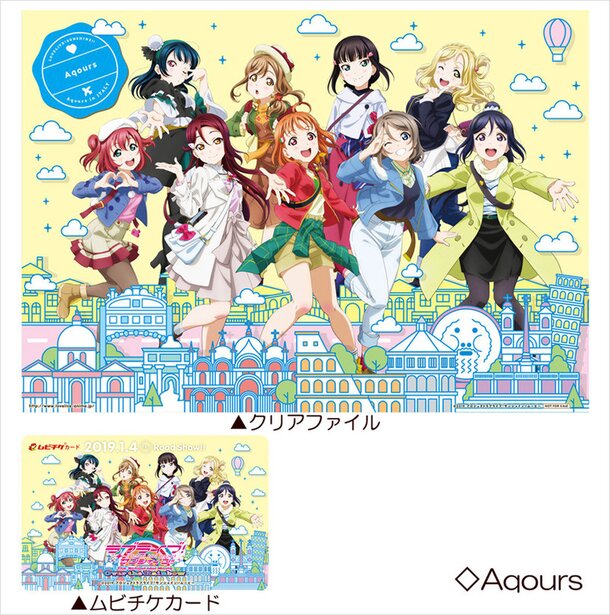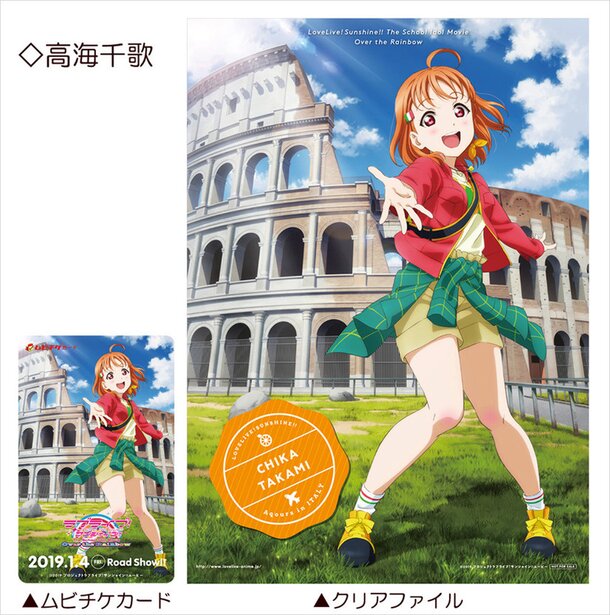 (C)2019 Project Love Live! Sunshine!! Movie