The newest Shall we date? game, Shall we date?: We the Girls+, is being released in English for Android and iOS! Get a peek in the video below~
About the Story
You take on the role of a princess living in a fairytale land after the ending of her story. Suddenly, one day a hurricane that hates handsome men takes the princes away somewhere! With no prince, the fairytale land and relaxing days of taking it easy and eating potato chips crumble, forcing you to set off to find a prince! … and where do you go?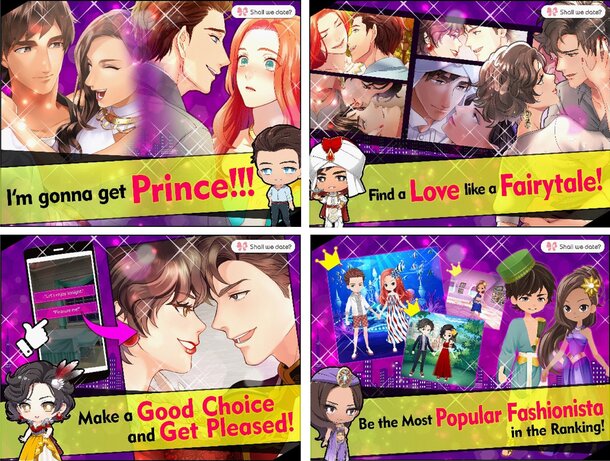 ■ Little Mermaid (Sirena Gills)

This princess' story was a sad one, leading to her turning into bubbles after not being linked to a prince. Now, though, she's got a pair of legs and is a big fan of high heels! She's as warm, kind, and genuine as ever.
■ Snow White (Blanche Rouge)

This princess was brought home and married to a prince while dead, meaning that she hasn't properly been in love. She wants to find a prince she can truly love, and she's a fearless and wild girl!
■ Aladdin and the Magic Lamp (Yazmin Garcia)

This princess got a truly happy ending, and even now, she's not interested in anyone but her own beloved prince! She's also great at her job, enjoying both work and love.
There are plenty of handsome men, as well~

Features
■ Enjoy for free.
■ You can read the story using tickets, and tickets are restored automatically.
■ There are as many stories as there are characters, and depending on how you progress the story, the ending changes.
■ Become your favorite princess while enjoying a love story.
■ The stories are brought to life through beautiful illustrations and sound.
■ You can choose your heroine name.
■ Make your character more like you through customization.
■ Get your hands on special limited edition scenarios, stills, and avatars during events.
Shall we date?: We the Girls+
・Rate Structure: Free-to-play (in-game purchases available)
・Release Date: Oct. 3, 2017
・Language: English
・Supported OS: iOS 8.0 or newer, Android 4.4 or newer
・Site: http://shallwedate.jp/wg
*The site cannot be accessed from within Japan