Celebrating another great year of Magical Mirai, illustrator Mika Pikazo has painted a special illustration of Hatsune Miku! Visitors to the event will also able to get a version of CLIP STUDIO PAINT PRO with original Hatsune Miku packing on the cover at the event's CLIP STUDIO PAINT booth. There will also be a tapestry with the same illustration on sale!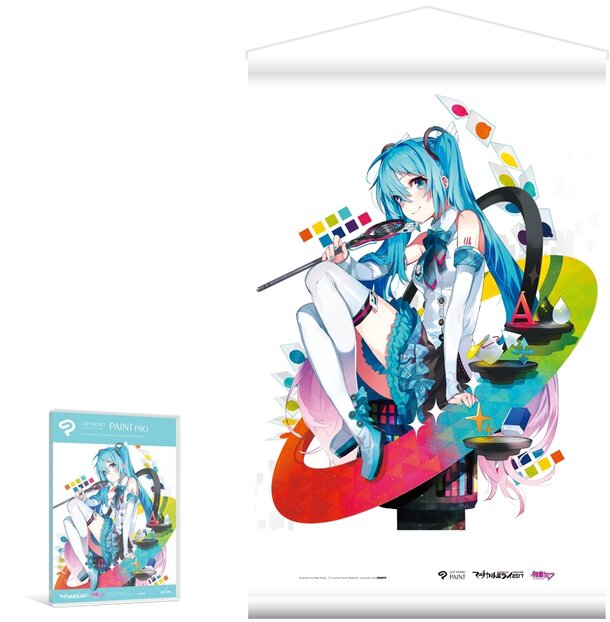 The tapestry is A2-sized (420mm x 594m), and the illustration of Hatsune Miku by Mika Pikazo looks phenomenal on it. You'll only be able to get the tapestry at this event, and at this booth (that's booth 4)! There are no plans to sell it again later, and only a limited number are available. The booth also features a painting and lineart coloring experience corner, so don't miss your chance if you happen to be in Tokyo for the event from Sept. 1-3!
Hours:
Sept. 1 (Fri.) from 12:00 pm ~ 6:00 pm
Sept. 2 (Sat.) & Sept. 3 (Sun.) from 10:00 am ~ 6:00 pm
※Final entry is at 5:30 pm
Location: Makuhari Messe International Exhibition Hall, Halls 1 and 2 (Planning Exhibit Area)
Admission Fee:
500 yen
Available Products:
CLIP STUDIO PAINT PRO Magical Mirai 2017 Limited Edition Original Packaging Version
Price:
6,000 yen (after tax)
Purchase Bonus:
A2 Size (420mm×594mm) Tapestry
Illustration by Mika Pikazo
Web: http://mikapikazo.tumblr.com/
Twitter: @MikaPikaZo
pixiv: http://www.pixiv.net/member.php?id=1039353
©CELSYS, Inc. All Rights Reserved.