Shinjuku Piccadilly will be hosting a special event to commemorate Kuroko no Basuke: Last Game's success in theaters, having earned more than 1 billion yen since premiering on Mar. 18!
The event is called "Long Run Orei Butai Aisatsu Tsuki Ouen Jouei", meaning "appreciation screening with stage greetings to express gratitude for the long run." Guests will include stars Ono Kensho (Kuroko Tetsuya), Ono Yuki (Kagami Taiga), and Kamiya Hiroshi (Akashi Seijuro). Tickets went on sale on May 17 for 2,000 yen (tax included).
In honor it being played in theaters for 10 straight weeks, there's also a message sheet for fans that includes comments from 45 members of the staff and cast.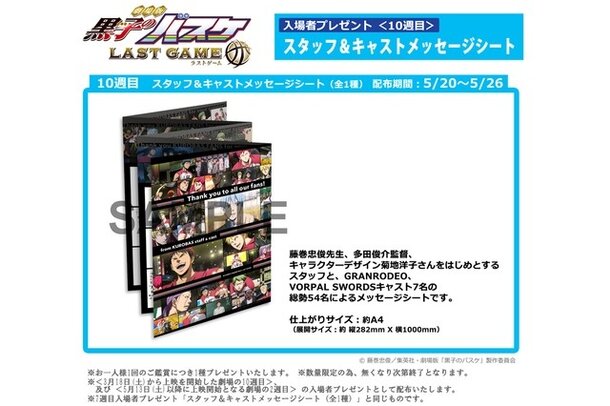 Long Run Orei Butai Aisatsu Tsuki Ouen Jouei
Dates: May 25 (Thurs.) at 9:00 pm
Location: Shinjuku Piccadilly
Guests: Ono Kensho, Ono Yuuki, and Kamiya Hiroshi
Price: 2000 yen (tax included)
(c) Fujimaki Tadatoshi / Shueisha・Kuroko no Basuke Film Production Committee