Ensemble Stars! On Stage: Take Your Marks! opened in Tokyo's AiiA 2.5 Theater Tokyo on Thursday, Jan. 5. Check out photos from the event below!
This play is based on the smartphone game released by Happy Elements K.K in April 2015 titled Ensemble Stars, a popular game with more than 2 million downloads. The story is set in Yumenosaki Private Academy, a prestigious school which has trained a huge number of highly talented idols over generations, and it's filled with a unique ensemble of characters that you can polish from coal into diamonds.
New characters are also appearing on the stage, as well as new songs! Performances are being held in Tokyo and Osaka.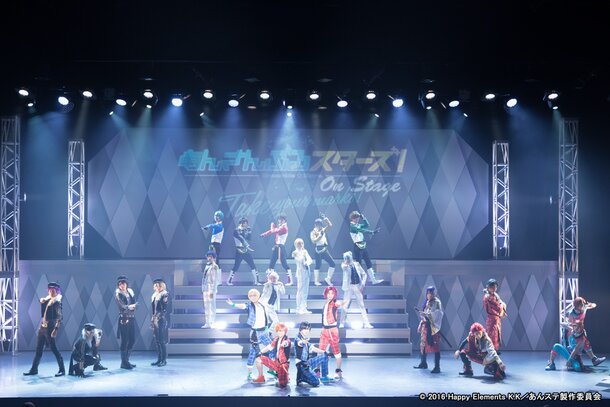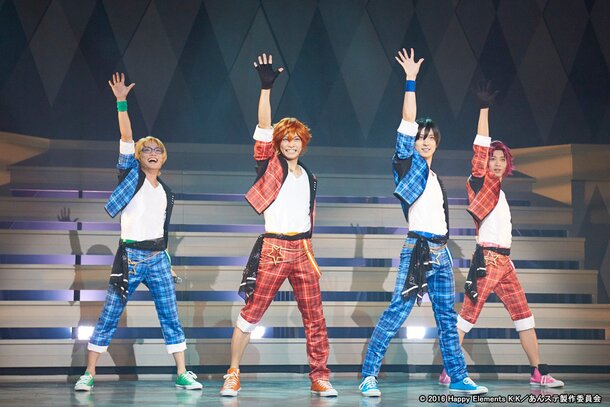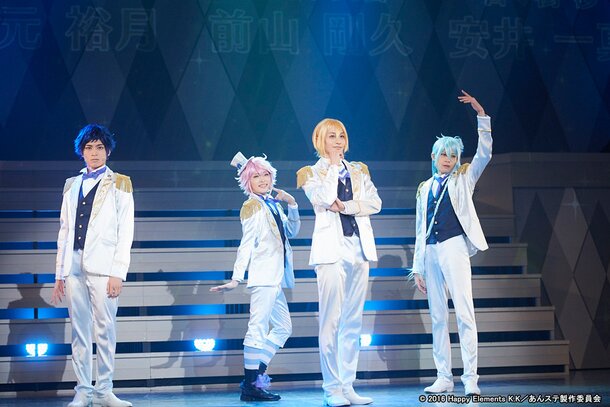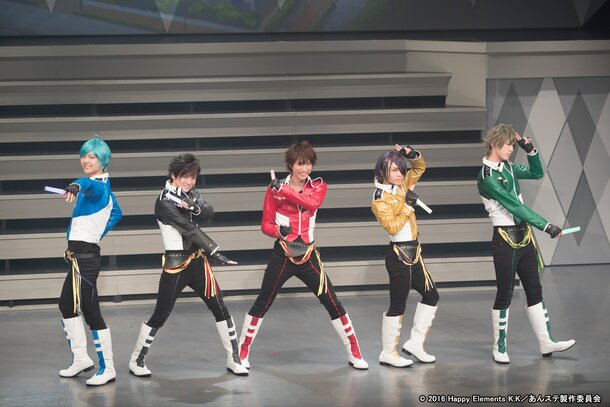 Story
After winning in the Dream Idol Festival, the up-and-coming idol unit Trickstar is told to dissolve by the student council "emperor."
Trickstar competes with a powerful performance in Akatsuki to try to reform Yumenosaki Private Academy. Eichi, the student council president who rules over the academy as "emperor," orders the unit to immediately break up even as their music continues to linger. Eichi suggests that the best way for each member to use their abilities to the fullest is for them to transfer to different units.
Subaru and the idol unit can't imagine breaking up. Contrary to Subaru's strong feelings, though, things around them begin to change. Amidst the impending crisis of their breakup, Subaru stands on the stage alone despite his worries and doubt. Conflicts and battles begin arising for Trickstar.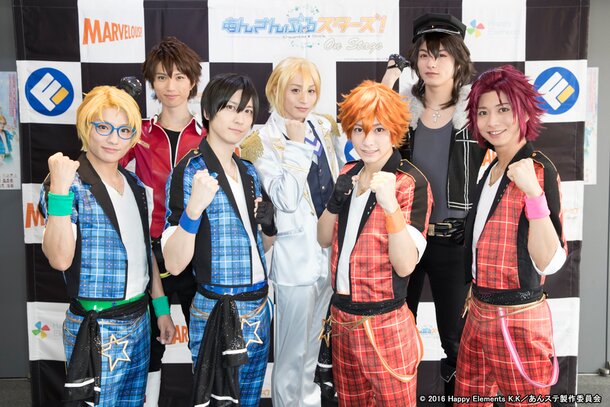 Performance Details
■ Title: Ensemble Stars! On Stage: Take Your Marks!
■ Original Work: Ensemble Stars! (Happy Elements K.K)
■ Script: Muck Akazawa
■ Production: Masanari Ujigawa
■ Schedule:
 - Tokyo: Jan. 5 (Thu.) to Jan. 15 (Sun.), 2017 at AiiA 2.5 Theater Tokyo
 - Osaka: Jan. 25 (Wed.) to Jan. 29 (Sun.), 2017 at Umeda Arts Theater Drama City
©2016 Happy Elements K.K / Ensemble Stars Production Committee