On Oct. 24, pre-orders for the "Charadeco Print Cake Love Live! Sunshine!!" cakes (11 kinds, 2,970 yen each; tax included, shipping and handling separate) based on the members of the Love Live! Sunshine!! school idol group Aqours opened on Premium Bandai! These will be the first in Charadeco's Print Cake series.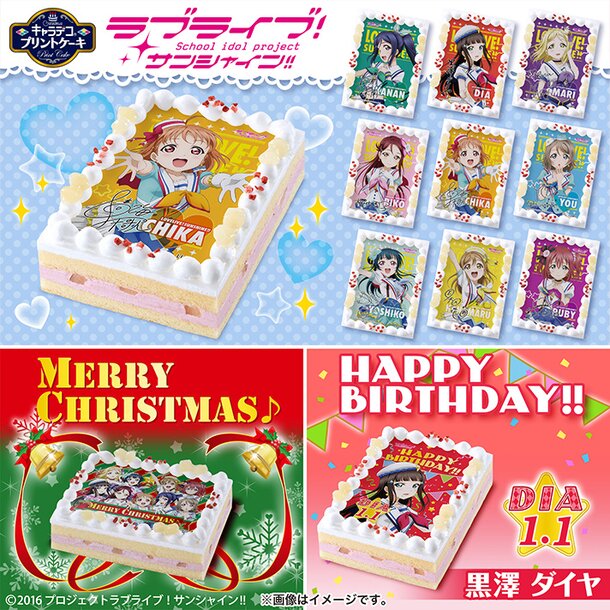 Charadeco is a decorated cake line from Bandai first released in 1994, and Charadeco Print Cake is its newest series that features characters from popular anime and other works gracing the tops of cakes in an edible print. There are seasonal ones for character birthdays ("Birthday Festivals"), as well as others that are perfect for any occasion including special days for you and your friends. Cakes for a variety characters will continue to be released in the series.
The "Charadeco Print Cake Love Live! Sunshine!!" cakes are based on the members of the school idol group Aqours from the TV anime Love Live! Sunshine!!. There are nine prints featuring each of the Aqours members including Chika Takami, Riko Sakurauchi, and Kanan Matsuura, as well as a Christmas version and a birthday cake for Dia Kurosawa in honor of her upcoming birthday on Jan. 1 for a total of 11 cakes. Birthday cakes for the other members will be released as they come up, as well.
The cakes are square-shaped and around 11 by 15 centimeters, the perfect size for eating in small groups. A strawberry cream is sandwiched between the white sponge cake layers, and the cake is topped with white peaches and dried strawberries. You'll enjoy both the print on top of the cake and the delicious flavors!
© 2016 Project Love Live! Sunshine!!