Bandai has started accepting orders for their Naruto & Sasuke figure in the G.E.M. line, a high-quality figure series directed at females, on their official webshop Premium Bandai on Dec. 16.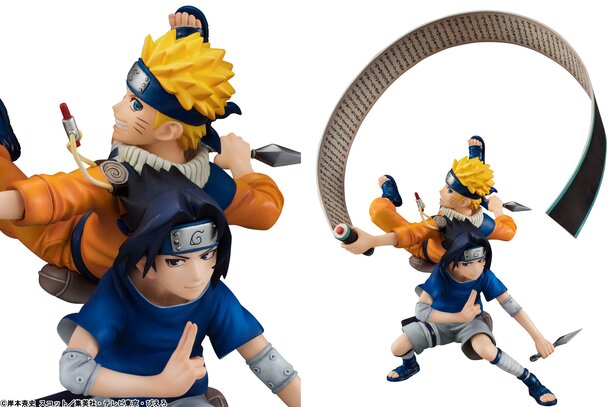 ■ Product Features
Naruto and Sasuke join the G.E.M. series, a product line by MegaHouse aimed at female fans!
This composition recreates the cover illustration for vol. 17 of the original manga, back when Naruto and Sasuke were teammates, rivals, and friends. This well-thought-out composition hints at their age with their skinny limbs and mischievous expressions, while the dynamic posing shows their strong bond. Sasuke is depicted forming a seal with his right hand and holding a kunai in his left with a grin back-to-back with Naruto, who is unfolding a ninjutsu scroll with his left hand accompanied by a kunai in his right hand and a confident expression.
What makes it even more special is that they were actually sculpted by two different people, Naruto by Dake and Sasuke by Chika, both from Shinkyo Kogyo.
■ Product Info
Product Name: G.E.M. Series Remix Naruto Shippuden Naruto Uzumaki & Sasuke Uchiha
Price: 9,990 Yen (tax & shipping included, handling separate)
Target Age: 15+
Specifications: 2 painted, non-scale PVC figures
Height: approx. 150 mm | 5.9"
Country of Manufacture: China
Vendors: Premium Bandai, others
Reservation Period: Dec. 16, 2016 while supplies last
Delivery: scheduled for late May 2017
Distributor: MegaHouse Corporation
©Kishimoto Masashi Scott / Shueisha Inc., TV Tokyo Corporation, Pierrot Co. Ltd.