It's that time of the year again. The 29th Tokyo International Film Festival was held from October 25 to November 3 and delivered great excitement to the metropolis.
This year, the festival brought its guests into the World of Mamoru Hosoda through a special presentation of his works. Director Hosoda is known around the world for a variety of titles, including but not limited to Digimon: The Movie, The Girl Who Leapt Through Time, and also Wolf Children. Together with reporters from other international media, we had the chance to sit down with him and learn more about the thoughts behind his works.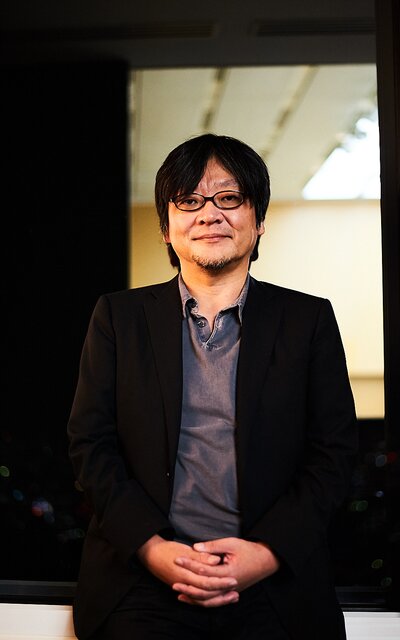 Personal Development Is the Most Interesting Subject for Films
——Themes of familial love, the maturation of children, and others related to personal identity are often included in your films. Can you tell us why you choose to use such themes?
Hosoda (H): I find the concept of personal change to be a particularly interesting one that should certainly be included in films. The most straightforward way of expressing change is through showing the maturation of children. In order to illustrate their growth, we need to show the families of the children with them. Many people tell me that's the reason why families are naturally included in my films.
What I really want to capture are the moments that cause people to change, and also why people evolve into someone that differs from who they used to be. Those thoughts are always in my mind when I work. I often say that people don't change easily, and people can't just cheer up even if you tell them to. To me, the key is understanding what does cheer us up and what allows us to truly be who we are. I'm very interested in finding those triggers to change, and I think all of this is very relevant to the topic of identity.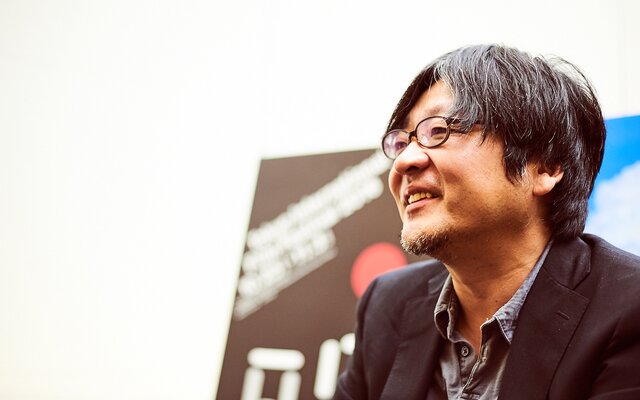 In my opinion, the most important part of finding one's own identity - regardless of where you live in the world - is to understand what makes you happy. Understanding your own identity means understanding precisely what happiness means to you in life. Being able to find your identity in life is a real blessing.
Having said that, it seems like Japanese people aren't very interested in the topic of identity at all [laughs]. It's such an important topic to people in other countries, right? That's one thing that makes Japan interesting [laughs].
——In the films you have directed, the settings included have often been opposites. For example, Digimon: The Movie was set in rural Shimane and the urban Odaiba Area, as well as the real world and the virtual world. The Girl Who Leapt Through Time took place in the present and the future, while Wolf Children was staged in the societies of humans and animals. Could you tell us your thoughts behind these settings?
H: The point is to have contrast. Rather than describing something on its own, it's better to show it in comparison to something else, since that brings out its values more effectively. In the case of the rural and urban pairings, we often talk about which is better and which we might prefer. However, each has its own unique values, and without the other, I don't think either would be very interesting at all. Urban cities have their benefits, and so do more rural areas. That's why both of them are appealing to us. I try to show the good in both sides when contrasting one against another.
Challenging Myself to What Has Never Been Done Before
——In certain parts of your films, the lines in the images are in red instead of black, which leaves an impression on the audience. We believe this technique is unique to your works, and we would like to know why you chose to use red instead.
H: The first time I used red was in Digimon: The Movie back in 2000. It's not a new type of technology or anything. Ever since we started using animation cels, we would use lines that were in white or brown that are referred to as carbon-ink. There may not have been anyone else using colors that were as red as the ones I used, though. In terms of aesthetics, I chose red because I believed it could help express a world that was special.
At the Tokyo National Museum, there is an art critic named Masato Matsushima. According to him, "using red borders when illustrating Gods in Japanese paintings is a traditional technique," which means that my works reference earlier Japanese paintings that use red. When I heard that, I figured that he was probably right [laughs]. There's a possibility that I may have come across a certain art book that used red for its lines. Maybe that's what led me to the decision.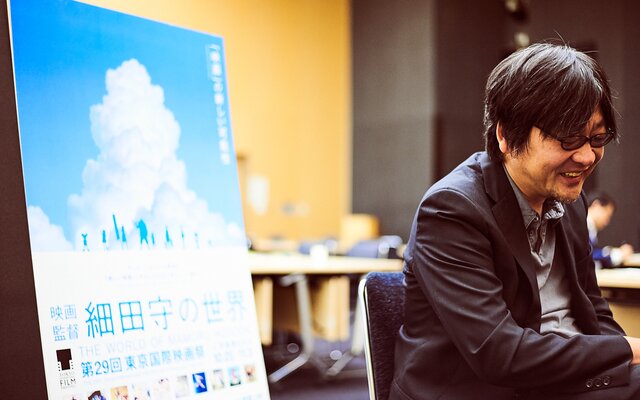 ——Using red in your lines, showing forests and flowers through computer graphics, and making films with scenarios that we have never even imagined all give off the impression that you're looking to produce something new. What inspires you to pursue things that are new?
H: I don't think too deeply into anime genres, and I don't want my films to fit into any stereotypes. Instead, I want my films to be avant-garde in what they express. If I were to make a film based on a certain genre, it's quite likely that more traditional filmmaking techniques that are common to the genre would come into play. But animated films are based on pictures, which make the possibilities of expression much broader than other types of films. I want my films to show that we all have more ideas and methods of expression than we might think. This is why I challenge myself to do what has yet to be done.
The movement of the flowers in Wolf Children can be seen as a rather casual or simple part of the film's expression, but that kind of expression has not come up very often in the history of animation. I want to continue to ensure that we allocate enough resources to show off each and every detail.
I'd Whip Up Something Completely Different That Hopefully People Will Love
——We heard that you come up with new ideas for films by watching your own work and seeing the reactions of the audience. What kind of reactions did you see from your newest film The Boy and the Beast? And what kind of ideas did those reactions give you?
H: Audience reactions are certainly important to me. For instance, Summer Wars and The Boy and the Beast, both happen to be action films, and I believe the audience generally felt satisfied with them. That doesn't mean that the next film is going to be an action film, though [laugh]. I plan on creating something different, something that isn't about action. If I were a chef instead of a director and a customer praised the food I prepared, what I would want to do is cook something completely different and have them praise that as well. The reactions of those who experience my work truly motivate me. I want to hear my audience - or my customers - say that my work is interesting or delicious, and I do my best to remember the reactions that they provide me with.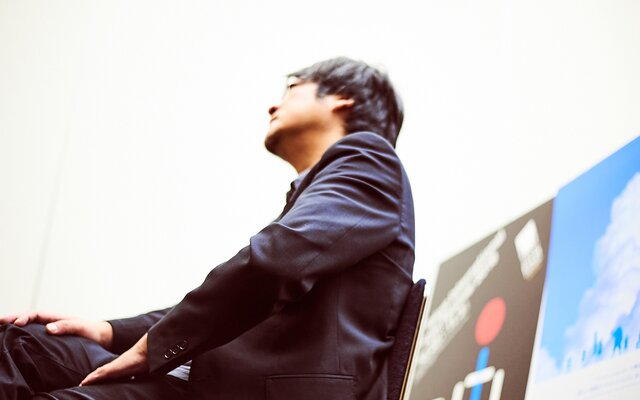 ——Are you considering the option of collaborating with other directors in Asia in the future? Also, how do you want to be perceived by your international audience?
H: There are many examples of collaborations between directors in Asia for live action anthologies. I do envy those who are able to work together on films, but I don't think it's something that's feasible for animated films. There are plenty of fantastic directors in Asia. There's the late Edward Yang who I'm a fan of, as well as Zhang Yimou and Bong Joon-Ho who may start directing new films. And that's just to name a few. Among all the talented directors in Asia, I want to express my ideas through my films in a way that is comparable to the works of the others. There are plenty of excellent films being produced in Asia, and I want to use them as motivation and encouragement as I work.
——In previous interviews, you explained how your films include references to your personal experiences. One example of that is in Wolf Children, where your experiences with your family are featured. Can you tell us about any particularly powerful experiences or events that you have yet to incorporate into your films? Will your next film include them as well?
H: For a very long time, the fact that I was replaced as the director of Howl's Moving Castle had the most significant impact on me. A new director had to be brought in while the film was being produced. Now, its effect on me isn't quite as strong anymore, since even more important things have happened. One of those is the passing of my mother, which I included in Wolf Children. The birth of my child is another example. I am a father, but I was unsure of how I should behave as one. That same sense of confusion can be found in The Boy and the Beast, where one of the characters does his best to serve as a father figure. It's quite possible that my own experiences and emotions - hesitation, confusion, heartbreak - as well as the ways in which I handle them may match the way I create my films.
——Can we expect to find these experiences and emotions in your next film?
H: Well, there's a chance that they will be included [laughs]. I'll say more about it once the time comes [laughs].
——Until now, you have been releasing new films every three years. Does this mean that we can expect a new film next year?
H: If everything goes according to plan, I should be able to announce something new in two years. I'll do my best to make an interesting film based on my own experiences, so please look forward to it!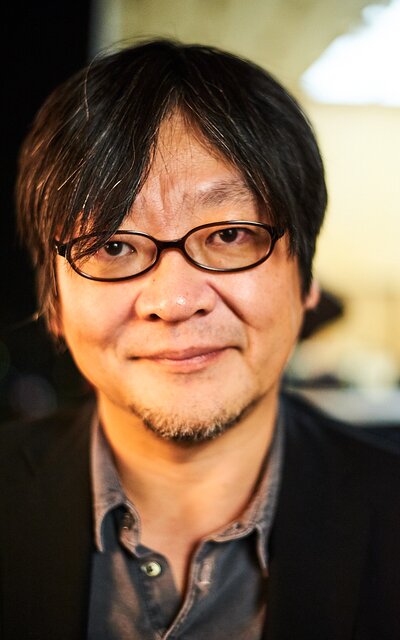 This is a Tokyo Otaku Mode original article by Takemori S. with photography by Hara T.