The best accessory to complement skirts, shorts, and all the other fantastic little things we look forward to wearing this summer could very well be a pair of beautifully long legs!
Fortunately, even for girls (like me) without the legs of a model, a few simple tricks can help create an elongating effect for our appearance. This effect makes us look slimmer, and works wonders in making our legs look even longer.
Here are a few very simple points that you could easily try out right away!
1) Wear nude shoes and heels that are close to your skin color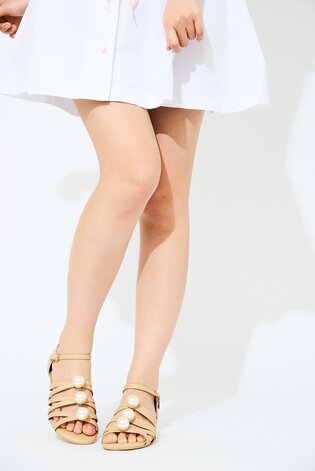 Nude footwear can appear as an extension of your body, connecting your legs to the very tips of your toes and, therefore, making them look longer! The effect is upgraded with heels, as the height and the angle provided could add a few important inches to the perceived length of your legs.
Sorry, platform lovers, the soles simply elevate your entire body, and may not contribute to the effect we're looking for! Plain sneakers usually don't do the trick, either.
Here, our model is sporting the Pearl Sandals in beige from Honey Salon. Not only is the design perfect for beaches and warmer weather, the pearls bring attention towards the tips of her toes. This tallies on a few precious extra inches of perceived "leg length" as she walks and moves around! Even without heels, the sandals offer a wonderful sense of elongation.
2) Reduce the widening effect of white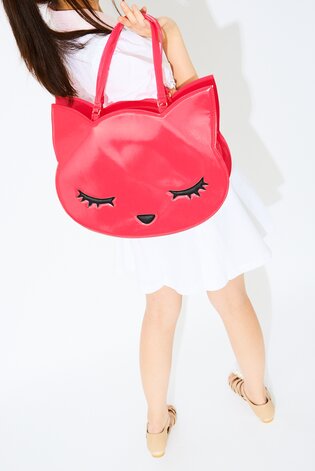 As much as we love the brilliance of a pure white dress or off-shoulder top in the summer, it does have an unfortunate tendency to generate a widening effect. If you ever feel like a white item is making you appear wider than you really are, try adding a dash of color by draping a light summer scarf over your shoulders, or pairing your outfit with a cute handbag! The key is to use vivid and bright colors, or as we say in Japan, vitamin colors!
One of my personal favorites is this adorable Enamel Tote from the Osumashi Pooh-chan series. The contrast created by the color and width of the handbag can be quite slimming. This helps to make your legs (and your body) look thin, long, and absolutely gorgeous.
3) Pair pink tops with black bottoms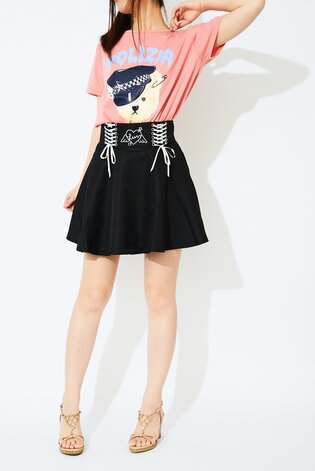 Similar to white, many shades of pink are also well known for the way they spread out and widen our body. No need to look for accessories here though, because black bottoms can often do the job better than anything else! Even for tops with more volume, black skirts or skinnies can often balance out the effects of pink, giving us extension and contrast at the very same time! This is particularly true with some careful tucking in.
Items like this high-waisted Lace-Up Circular Skirt from LISTEN FLAVOR earn extra brownie points in my books. The lace captures attention, and encourages the brain to calculate the length of your legs from the decorations at your "waist" to the tips of your toes. For our model here, the skirt can easily provide a six inch boost at first glance.
4) Remove horizontal breaks from your outfit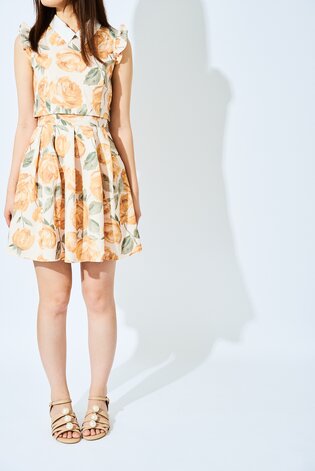 As my mother used to tell me as I dressed myself in the morning, "every extra horizontal break across your outfit takes six inches off your legs".
Okay, that's taking things a little too far.
What you should remember is that the more lines you have across your outfit, the shorter your legs and overall appearance will look! Remember, vertical lines elongate, horizontal lines widen and shorten. Definitely be careful with belts, rolled hems, and wider border designs!
Notice how there are only two clear horizontal breaks on this LIZ LISA Floral Pattern Dress, with one of them sitting at a raised waistline. This offers a sense of a much higher waist, and works wonderfully with the pleats that push our eyes up and down. Together with the nude sandals, the outfit is one of my personal favorites for creating a fantastic illusion of legs that go on for miles.
Give these simple tricks a shot if you have not done so already, and maybe we can talk more about this another time!
Enjoy your summer and your beautiful legs!
This is a Tokyo Otaku Mode original article by Yuka
*Model: Sherry Zhang*