Welcome back to our Japanese fashion blog! We recently stopped by the LISTEN FLAVOR store in Harajuku and got a close-up look at their newest items! If you're ever in Tokyo, you should definitely pay them a visit. But if not--we would be delighted to take you on a virtual tour in the following pictures!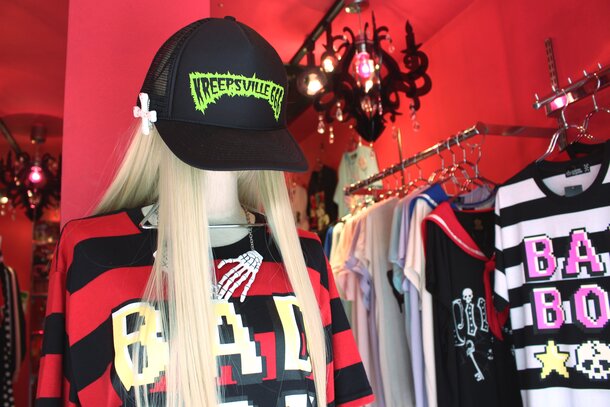 This cool mannequin was displayed right at the center of the store, just inside the front entrance! Notice how although the mannequin's outfit contains bold primary colors, many of the shirts hanging in the background are softer pastel hues.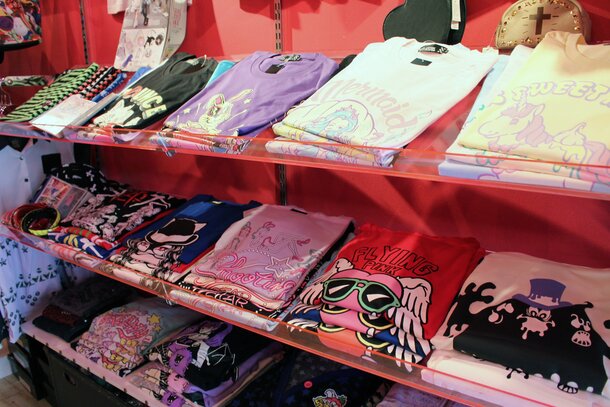 What truly makes LISTEN FLAVOR unique is how it offers multiple styles that are normally not seen together in the same brand. The original graphics on their tops are inspired by pop art and old-school cartoons. Some shirts are more punk-influenced, while others lean toward the fairy-kei style known for its soft pastel hues and dreamy worldview.

But when you look closer, you might observe that even the most sugary-sweet tops have playful or subversive elements hidden in their artwork. As a brand, LISTEN FLAVOR takes pride in being able to provide fans with a range of contrasting looks bound neither by conventional fashion genres, nor by the time of year. Their designs can be layered or worn alone for year-round comfort and cutting-edge style.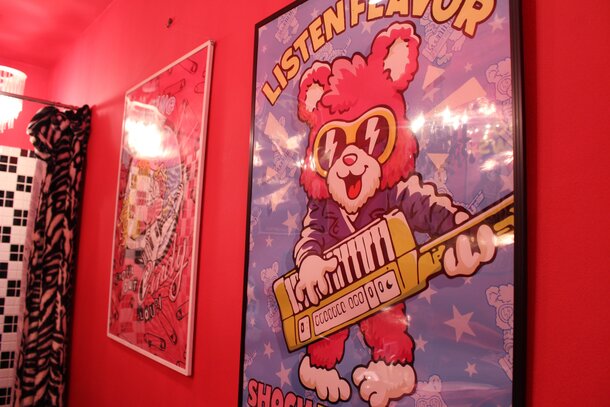 The area by the register is surrounded by large framed posters showcasing illustrations used on past LISTEN FLAVOR garments.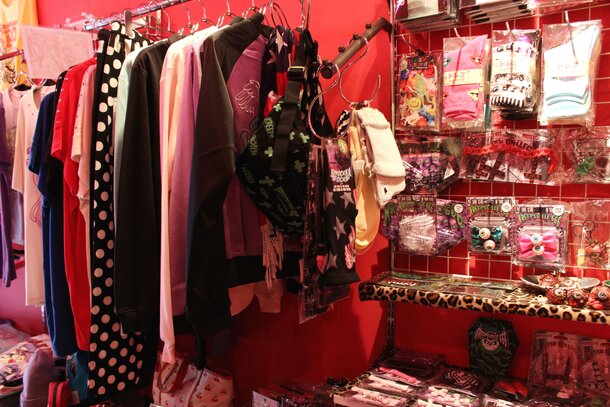 The LISTEN FLAVOR store also carries a range of daring accessories from independent designers and other makers whose vision fits the LISTEN FLAVOR philosophy of cute, cool, rock 'n' roll fashion.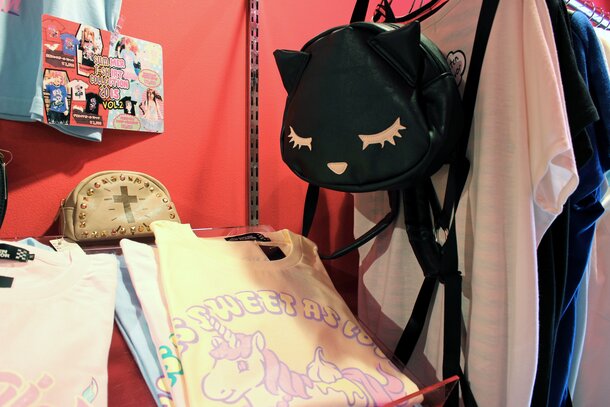 We were surprised and delighted to see an item from another brand we've fallen in love with: Osumashi Pooh-chan! While we wouldn't necessarily have expected to find Pooh-chan on display here, it's the perfect example of the free spirit that LISTEN FLAVOR embodies. The designers and staff really believe that fashion fans should have the ability to wear what they like with confidence and joy--and without having to worry about the fashion rules that might sometimes make people hesitate to combine their diverse interests in a single outfit.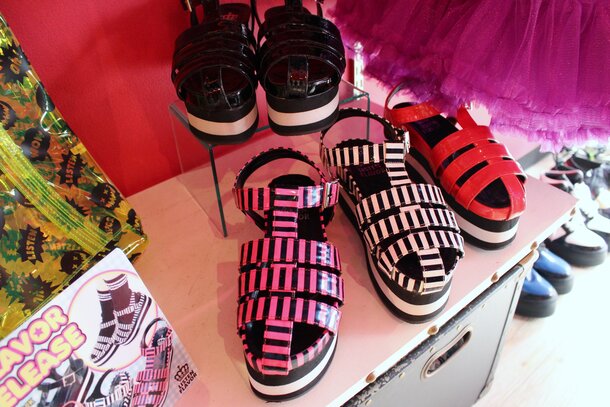 These platform sandals will be coming to TOM very soon! Though lightweight and comfortable, they provide a big boost in height! If you could have any of them, which color would you go for?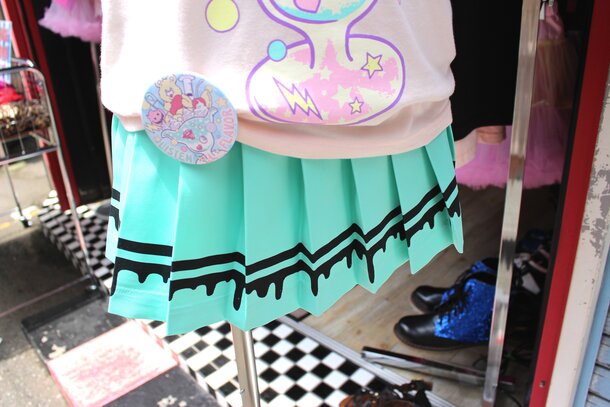 In the name of saving the best for (almost) last, here is a closer look at one of LISTEN FLAVOR's most popular designs. The previous version of this skirt (with the same pattern of melting lines) was also released on TOM and has recently sold out. This time, it will be available in four colors: mint with black lines, as shown in the picture; light pink with white lines; black with red lines; and red with black lines.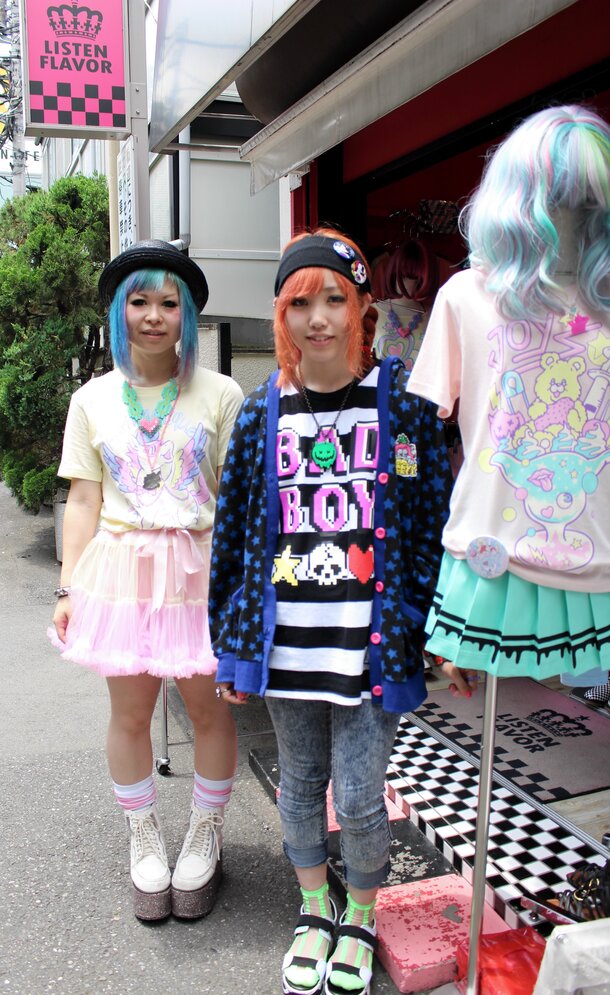 The LISTEN FLAVOR shop staff were so sweet about answering all our questions. They also mentioned that the shirt and skirt shown on the mannequin are their top recommendations out of all the new LISTEN FLAVOR items that will become available on TOM in the near future. We were immediately drawn to this outfit, too!
Keep tabs on our LISTEN FLAVOR brand page to see when these new designs become available! The TOM office here in Tokyo is actually very close to Harajuku, and we plan to visit other local shops in the near future. We hope you'll be looking forward to seeing what comes next!
Thanks for reading, and see you again soon!
By Dreamy MIDORI & Sarappe