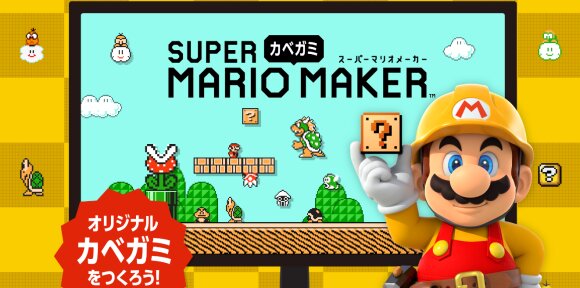 Want to try your hand at crafting Super Mario Maker screens, but don't have a Wii U? Right this way!
Nintendo's Super Mario Maker hit a homerun with by letting users create and share content for history's most popular side-scrolling platformer video game franchise. As Nintendo's most treasured intellectual property, of course the only way to play with Mario Maker has been by also purchasing the company's Wii U console, but now there's a way to get a taste of it even if you don't own a single piece of Nintendo hardware.
Nintendo has just launched the Super Mario Wallpaper Maker (Super Mario Kabegami Maker) website, which is free to use through either your smartphone or PC. Just like the name implies, it lets you make wallpaper images using the simple, intuitive interface of Super Mario Maker.
After going to the website here, scroll down until you're presented with the choice of making a wallpaper for PC or smartphone use, followed by a list of resolutions to pick from.
▼ PC on the left, smartphone on the right