This January, otaku were delighted to visit sunny Pomona, California for the first ever Anime Impulse! Anime Impulse is a two-day anime convention connected to the Asian American Expo. Attendees enjoyed a night market filled with Asian food, photo ops with nearly a dozen itasha race cars, several exciting live performances, and Arcane Maid Cafe's inaugural event. What's more, Anime Impulse boasted some of the most famous cosplayers around as guests of honor, including D-Piddy, as well as Ashley and Alodia Gosiengfiao. TOM was able to chat with these world-famous cosplayers. Here's a few snippets from the interviews.
TOM: D-Piddy, what are you looking forward to do this year?
D-Piddy: I guess number one, I'd like to survive the year. Number two would probably be the Deadpool movie! Number three would be going back to Japan! I went to Japan last year and had a blast. I want to stay a lot longer this time.
TOM: So this is Anime Impulse! How do you feel about this event?
D-Piddy: This is a first year event. It's an honor to be one of the guests for their very first year to help promote it. It's great.
More from D-Piddy about his adventures and shenanigans can be found in our video. The video also reveals sisters Alodia and Ashley dressed up in cosplay with looks that could kill!
TOM: What brings you to California and Anime Impulse?
Ashley: Actually, we were already here since December. We were on vacation with our family and relatives over here, and it just so happens that we got invited to this event. So we're really happy to be here.
TOM: We're happy to have you here! Can you tell us about your cosplay today?
Alodia: Okay. We're dressed up as Alice from the video game Alice: Madness Returns. So my outfit is the Royal Suit version while Ashley's is the Hysteria version. So, yeah. We like to be morbid (laughs).
TOM: Yeah, it's kind of morbid. It's beautiful and deadly!
You guys are so busy and you're always traveling the world. What projects should we be in touch with?
Alodia: Well, I'm going back to Japan next February because I'll be collaborating with Yoshitaka Amano-sensei. He's an artist from Final Fantasy, and I think he's launching his own fashion line! So I'll be there!
TOM: That sounds great!... We're always happy to see you guys. Thank you for taking the time to talk with us at Tokyo Otaku Mode. Any last words you want to say to our fans?
Alodia: Thank you, guys! Thank you Tokyo Otaku Mode! We love you! <3~
Ashley: We love you guys! Thank you! =D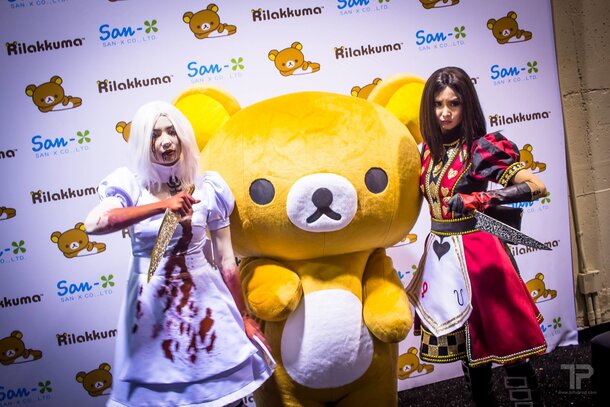 This is a Tokyo Otaku Mode original article written by Sean Cardeno.
*Photography by Jun*