Yoko Takahashi is the booming voice behind the Neon Genesis Evangelion theme songs, "A Cruel Angel's Thesis," and "Tamashii no Refrain." On July 2 at North America's largest anime conventon, Anime Expo 2015 in Los Angeles, Takahashi performed her first live show in America to celebrate the 20th anniversary of the Evangelion series. Before she went on stage, Tokyo Otaku Mode got the chance to interview Yoko Takahashi about this exciting event and her memories of the iconic Evangelion theme songs.
——How do you feel about performing at the largest anime convention in North America?
Takahashi: I'm really looking forward to it! However, while I've performed in other countries outside Japan, this is my first performance in America. I'm a bit anxious about how many people will show up, and whether or not they'll be excited to see me. I think they'll definitely enjoy hearing "A Cruel Angel's Thesis," though.
With this year being the 20th anniversary of the series, I would like to use this opportunity to meet more Evangelion fans abroad. In particular, I've always wanted to perform in America, but unfortunately have never had the chance. When I was contacted by Anime Expo and asked to perform, I gladly accepted.
——Is there anything in particular about this performance that you're excited for, or nervous about?
Takahashi: Well the performance is tomorrow, and to be honest that fact hasn't hit me quite yet (laughs). If I had to go one way or the other, I'd say that there's something about the atmosphere here that I'm still getting used to. But many of my staff came with me from Japan, and with next year also being the 25th anniversary of my debut as a singer, I know that everything before this has prepared me to come to America, so I'm still excited and ready to perform.
——You've performed in Brazil, China (Shanghai), and South Korea in the past. Are there any particular memories from those performances abroad that have stuck with you?
No matter what country I'm in, whenever I sing "A Cruel Angel's Thesis" I can hardly hear my own voice because the whole crowd is singing along. But when I sing the second theme abroad, it gets really quiet. Coming from Japan, where everyone usually sings along to both songs, it was a strange feeling.
——You had your first ever meet-and-greet with your fans here at Anime Expo. How was that?
It was my first time ever doing something like that, so I wasn't exactly sure what I should do. But everyone was very polite, they even bowed to me and tried their best to speak in Japanese to me. One person asked me to sign something for them in katakana, and I was happy to!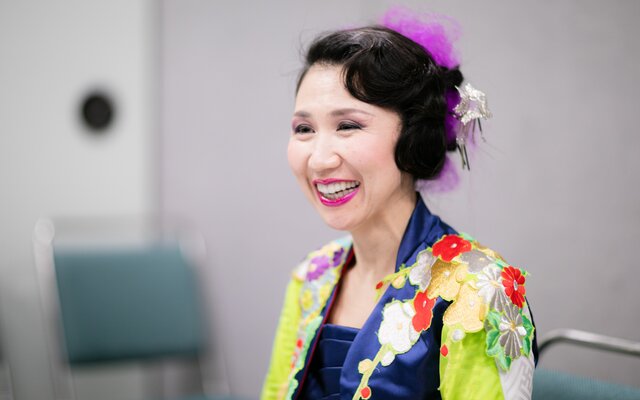 Looking back on 20 Years of Evangelion and "A Cruel Angel's Thesis"
——Please tell us about the story behind "A Cruel Angel's Thesis." How did the song come about and how were you chosen to sing it?
Well I don't actually know the specifics of where the song came from. But about 20 years ago I was studying to be a singer in Los Angeles, and after I went back to Japan I was looking for work. So I contacted someone I had met in the music industry to see if they had any jobs available. From them I found out about an audition to sing "Fly Me to the Moon," the ending theme song of a TV series called Evangelion. After my audition they invited me to try and sing the opening theme, "A Cruel Angel's Thesis."
When I recorded the song all I knew was the title, Evangelion. I didn't know anything about the plot or characters at all. So the first time I saw the anime was the same time as everyone else, when it aired on TV. Seeing the song paired with the opening sequence was really striking. The music and visuals matched perfectly and I remember it giving me goosebumps. At that moment I knew without a doubt that the song would be a hit.
——Were you coached to sing the song in any particular way during the recording?
The first time I met Hideaki Anno was in the recording studio. At that time, it wasn't even summer, but he was wearing only sandals on his feet and all black clothes. The staff were gathered together at the last minute to make changes to the lyrics, but from the recording booth I couldn't hear what they were saying and I was just standing there nervously. The most memorable direction I got while recording was when the producer told me, "Give us your best young voice! Try to sound as young as possible."
——What lyric from the song is your favorite or the most memorable to you?
I'd say "Young boy, become a legend!" is my favorite part. At the time, I didn't think the song would become the phenomenon that it did. But once it did it gave me a greater sense of duty towards the series that I sang for.
Since doing "A Cruel Angel's Thesis," whenever I sing an anime song, I make sure to look at the illustrations, hear the story behind it, and really understand the message of each work.
——After 20 years of listening to "A Cruel Angel's Thesis," what comes to mind looking back?
I'm really, truly grateful. Actually, this year on Sept. 9, the 1995 release of the original Neon Genesis Evangelion soundtrack will be rereleased as an LP record (Currently only to be sold within Japan). The jacket and design will be redone for the anniversary. The fact that after all these years it hasn't changed, or rather that it's only continued to evolve, is amazing to me.
In the beginning I didn't know the story or what the characters looked like. After a while it became incredibly popular, to the point that lots of people were asking me questions just because I was the singer behind the opening theme. After that, I began reflecting on how I came to be the one who sang that song. It really made me reflect on my life as a singer.
The truth is, in 2000, I lost my place in the music business and I nearly gave up. Even if I wanted to work, I thought that I wouldn't be able to continue unless I could find what I wanted to do, what I could do, and what I had to do. During that period Evangelion weighed heavy on my mind and I couldn't keep myself together doing the titles I was working on.
I haven't sung an Evangelion song since "Tamashii no Refrain." But I still thought about how I could continue to associate myself with Evangelion. It really has had a profoundly meaningful impact on my life.
I received offers to perform in America before, but I always declined. For some reason I didn't see the point in going. But after having troubles with my career, and seeing all the support I've gotten from fans abroad over the years, I feel like I'm finally ready to perform here. I feel like now I need to make up for all the times I decided not to come here and give everyone the best performance I possibly can.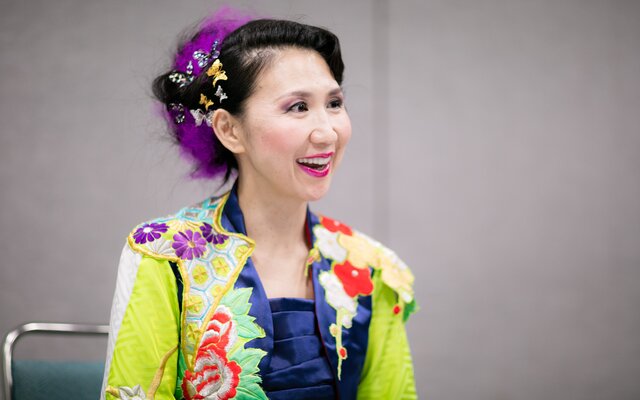 The Secret to Singing: Drive on Through!
——Do you have any tips for TOM readers on how they can sing "A Cruel Angel's Thesis" well?
Alright, I'll give up the secret! The person that wrote the song was a guitar player, so the range is very wide. The melody is also very fast to incorporate all the words, so there's not a lot of time to take a breath. It's a difficult song.
The secret is to just keep driving through the song. Like a skipping stone, it needs to keep moving quickly forward in order to make it across the water, right? That's the trick to singing the song: keep on driving through until the end. Another tip would be to start by singing it at a slow, easy tempo. If you can do that, then you just gradually increase the tempo until you can sing it at full speed.
——You made an official Facebook page in preparation for your performance here in America. What sort of info do you see yourself posting there?
It's only been about a month since we set it up, and I did it because a volunteer staff convinced me that I needed one if I was going to perform abroad.
Until now, I didn't think there would be any interest in my personal life. I didn't want to confuse fans of works like Evangelion and Cross Ange (Cross Ange: Rondo of Angels and Dragons) by giving them information about this person named Yoko Takahashi who is the voice behind the theme songs of those shows.
But the response was very positive and people seemed interested, so I decided to try and provide some info about myself and make something useful out of it. I thought that perhaps there are some fans out there who weren't yet born 20 years ago. I'm hoping that my Facebook page will be interesting and useful for those people.
On the other hand, I also think of it as a chance to connect with the rest of the world. Especially now, coming to America, I think that my association with anime songs is like an international passport of sorts. No matter what country I go to, the fans happily sing along. It would be a dream come true to be able to continue doing this in the future, so I decided to make the Facebook page to connect more with my fans all over the world. I'm looking forward to not only letting fans know what I'm thinking and what I'm doing, but also to express myself and let them know who I am.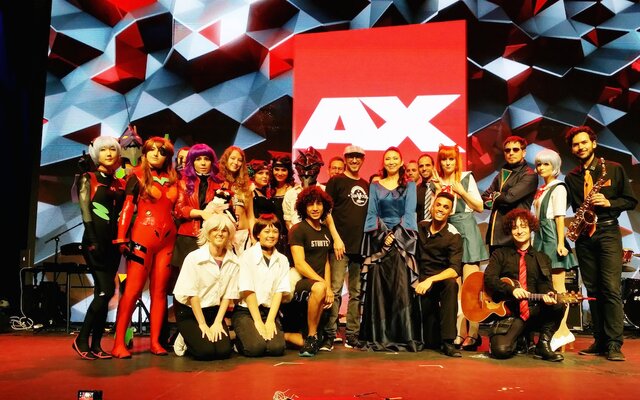 ——Do you have anything to say to TOM readers?
Otaku are currently playing a very important economic role right now. I respect their enthusiasm for the things they like to watch, listen to, and learn about. Otaku are really extremely talented people who are making a difference in the world. I promise to continue to sing the songs for the works they love, and hopefully give them something that they can get excited about.
Also, don't forget to "Like" my new Facebook page!
*This interview was conducted before the performance.
This is a Tokyo Otaku Mode original article.