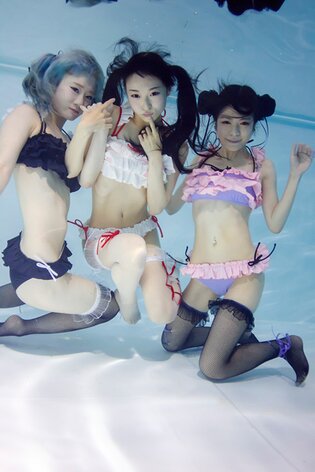 The photo collection Underwater Knee-high Girls 3 (tentative title) features collaborations with Feast by Gomi Hayakawa, a brand of lingerie designed for petite women, as well as Moira Kuchikaseya's costume brand Realise, which recently made fashion news with its front-zipper swimsuit designs.
The photo book is set to go on sale summer 2015, and though still in production, has already received overwhelmingly positive responses. It is said that Manabu Koga, the designer and photographer behind the series, met the two fashion designers at Monthly Underwater Knee-high Socks, an event which he hosted and both designers attended. After becoming close with them they decided to collaborate.
Collaborations Going Swimmingly!
As the name suggests, the Underwater Knee-high Girls series seeks to document the charm of girls underwater wearing knee-high socks. There have been two photo collections published thus far. The unique concept and beautiful photos quickly gained a lot of attention, leading to the sale of "Underwater Knee-high Knee-highs," special socks based on those depicted in the photo books, as well as a photo exhibit in Taiwan.
The highly anticipated latest Underwater Knee-high release will feature the works of a number of popular creators and brands.
Realise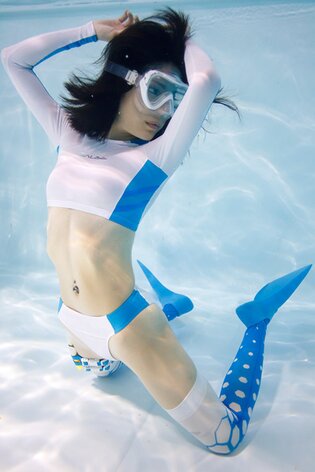 Realise made waves across the web recently with its line of front zipper swimsuits. Once the swimsuits were announced on Twitter, the news spread in an instant with illustrations and character designs featuring the swimsuits soon trending on Pixiv and Niconico. Realise has already made a name for themselves on the net.
This latest collaboration will feature some long-sleeve swimsuit designs.
Moira Kuchikaseya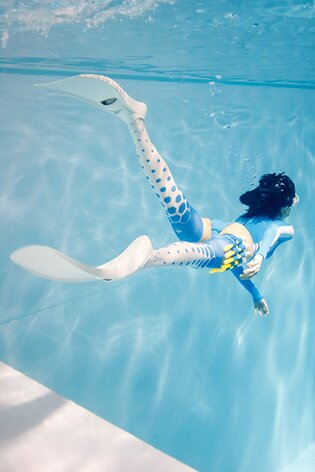 Moira Kuchikaseya began making a series of self portraits titled Nerd & Fetish in 2003. She's been a part of such events as Panchira 2015, and the Fuzzy Pretty Girls Exhibition, displaying her unique style of fetishism art. Her first photography exhibition, Moira☆Shootings Stars, will be showing at the Jinbocho Gallery until July 12.
In this collaboration, she made the original, brightly colored glow stick holster featured in the photo book.
Feast by Gomi Hayakawa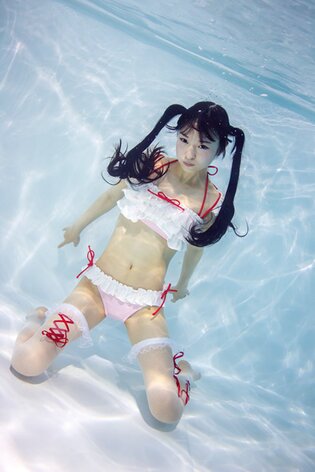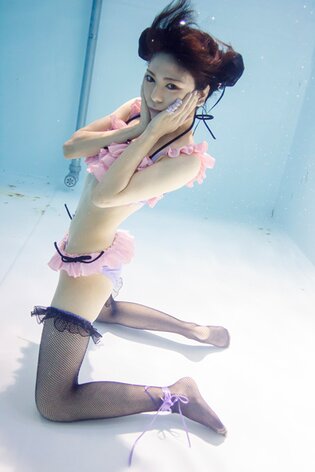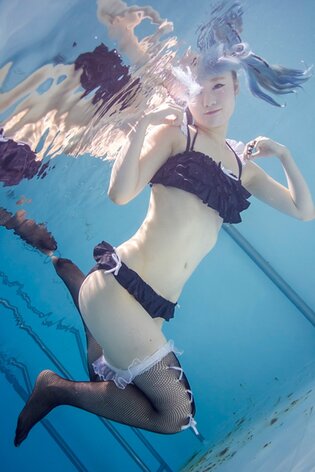 Lingerie brand Feast by Gomi Hayakawa was started by Tama Art University graphic design student and fashion designer Gomi Hayakawa. She continues to make highly liberating designs that have attracted a number of female fans, and many of her new releases have sold out almost instantly.

In this collaboration with Underwater Knee-highs, Gomi Hayakawa ventures into the world of swimwear.
Photographer and designer Manabu Koga's Monthly Underwater Knee-high Socks event is held every second Wednesday of each month in Nakako Broadway's Bar Zingaro.
The next event on July 8 will feature Shuichi Miyawaki, president of figure manufacturing company Kaiyodo. Underwater Knee-high series model Shimarisu Mashima will also be making an appearance.
Event Information
Monthly Underwater Knee-high Socks Vol. 7
Date: Wednesday, July 8, 2015
Location: Bar Zingaro (Tokyo, Nakano-ku Nakano 5-52-15, Nakano Broadway 2F)
Time: Doors: 18:00 / Start: 19:00
Price: 2,000 yen (1 drink included)
Details: https://www.facebook.com/events/1629012250645439/
Source: KAI-YOU
Source article written by Yuri Kinoshita