Ptolemy's Singularity is a spin-off comic to Satoshi Hase's sci-fi novel BEATLESS that takes place in the same world. Both the English and Chinese versions are available to read on Tokyo Otaku Mode, so those who haven't read it yet should definitely do so.
Now, Volume 2 of Ptolemy's Singularity has been released in Japan and this was celebrated with a TV commercial. The commercial stars super popular voice actress Sora Amamiya. TOM's YouTube channel is the first outlet on which the commercial can be seen overseas. Fans will definitely be surprised by the live-action visuals that capture the feel of the manga and all the wonderful goings-on!!
We have also been given permission to reprint an interview with Sora Amamiya featured in Newtype magazine, and we hope you enjoy it along with the commercial and manga.
---------
**Ptolemy's Singularity: Sora Amamiya Interview and Photo Report from the March Issue of Newtype Magazine**
**"Total coverage of a commercial shoot between Sanzigen x Sora Amamiya"**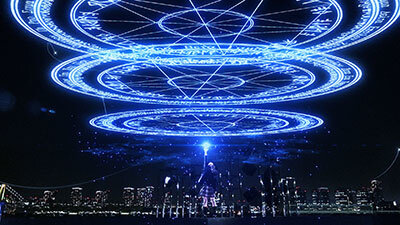 The scenes showing magic are highlights.
Newtype: What were your impressions of Ptolemy's Singularity, which you recently shot a commercial for?

Sora Amamiya: I thought that the new characters were rather deep. The handsome maestro Kaito Tendo; he's a character who's got serious "Eighth Grade Syndrome." And the disciple girl, although she has a normal exterior, she has a surprising side to her. As for Iris, the heroine, I think she's beautiful and quiet, but she's a little out of sync. I'm really looking forward to seeing what kind of events these characters will get caught up in.
NT: Is there a particular character you are interested in?

SA: Well...that disciple doesn't wear any clothes under her robes, right? I suppose Iris, maybe.

NT: What did you think when you read the storyboard for the commercial?

SA: There's a scene where a character raises their hand to the sky and lightning comes down; I think that would be a lot of fun when it's actually filmed. I can't use magic, but in the film I can. When I think about the completed film I get very excited.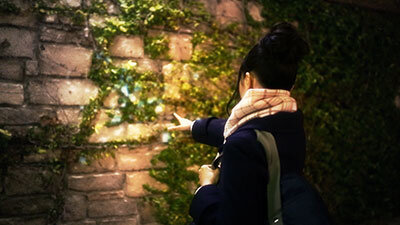 NT: If you could use magic in real life, what kind of spell would you like to try?

SA: I'd like to try instantaneous teleportation. The places where I have to go for work are often different every day, so I have to look up where I should change trains and plan what time I should leave the house in order to arrive on time. However, if I could teleport, I could zip out of my house in a second. If that were possible, I could sleep at home and practice my lines for the day's recording right up until the last minute—it would be fantastic!

NT: I guess that means the future 80 years from now (the story is set in 2099) will become a reality?

SA: Yes, but we'll have to wait 80 years, haha!
Filming Live Action: New Attempts at Expanding the World of the Series
Is this magic? Or perhaps science? A high school girl is witnessed disappearing into a wall one night in a certain area of Tokyo Bay. Before long the girl extends her arms to heaven, opens a magic circle in the sky, and summons a colossal thunderbolt…

Recently, filming was carried out on a commercial for the live action adaption of the manga Ptolemy's Singularity. Filming took place in Odaiba, in Tokyo's Minato Ward. Production was handled by Sanzigen/eDiTz, and voice artist/singer Sora Amamiya was brought in to play the role of the high school girl.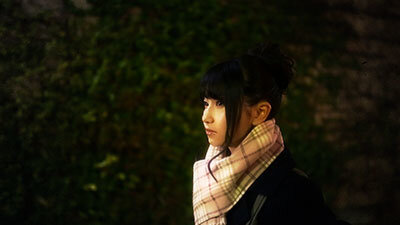 The filming began in the evening. In the midst of the beautiful night view of far-off glimmering buildings, the shoot proceeded scene-by-scene, following the storyboards exactly. As producing the magic requires CG imaging to be combined with the film once shooting wrapped up, it's uncertain exactly what the finished product will look like. Amamiya, using her imagination, plays the role of a "school girl with the ability to use magic." For those wondering about the true form of this "magic," please read the original source material.



Ptolemy's Singularity is a work created from the world of BEATLESS, a science fiction novel serialized in Newtype magazine. The manga is set in a futuristic marine city floating on the waters of Tokyo Bay, managed by a super-advanced AI, where humans coexist with robots known as hIE. Kaito Tendo, a young man afflicted with "Eighth Grade Syndrome" and practitioner of this skill known as "magic," leads the Padova Venusian Sorcery Group and seeks to start a global revolution from within his school. Satoshi Hase, the author of BEATLESS, is acting as world design supervisor, with collaboration from Gan Sunaaku, who worked on the original story draft of Attack on Titan: A Choice With No Regrets, as well as Mitsuru Osaki, who is in charge of drawing the manga. Currently, the series is available on the free comic site, Famitsu Comic Clear.

The live action commercial will be unveiled to coincide with the release of the special edition second volume of the series. This collection will consist of Chapter 7-15. A new chapter of World Frankenstein, another novel by Hase, will also be included. Ptolemy's Singularity and World Frankenstein are both linked in the BEATLESS universe as part of the Analoghack Open Resource project. With the participation of Sanzigen and Amamiya, we will surely see further expansion of the world of BEATLESS.
The story is not yet over...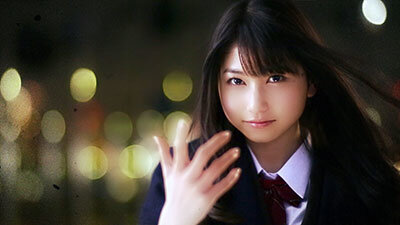 Sora Amamiya: Voice artist/singer, affiliated with Music Ray'n Inc. She played her first heroine, Kaori Fujimiya, in the series One Week Friends. She made her musical debut with the single "Skyreach."


*Ptolemy's Singularity* (2)
Art by Mitsuru Osaki
World Design Supervision by Satoshi Hase
Story Collaboration by Gan Sunaaku

Kadokawa Corporation, Enterbrain Publishing
© 2015 Wisemen's Guild
In a futuristic Tokyo run by a super advanced AI, Kaito Tendo, a young boy afflicted with "Eighth Grade Syndrome" and user of "magic," leads the Padova Venusia Sorcery Group and seeks to start a global revolution. Now available on the free comics site, Famitsu Comic Clear.
Do you believe in magic? Ptolemy's Singularity is the story of Kaito Tendo and Iris Kakaji.

**ANALOGHACK**
This winter, a compilation of Analoghack Open Resource illustrations titled ANALOGHACK went on sale. A total of 18 illustrators took part in the project, including redjuice, who managed artwork for BEATLESS, and Atsuya Uki, creator of the anime Cencoroll. In keeping with the theme of ANALOGHACK, the participating illustrators drew the ideal android.
Photo Cooperation: Tetsuya Hara (Tokyo Otaku Mode Inc.)
Well, what did you think? BEATLESS is currently being featured on Tokyo Otaku Mode. Check it out for illustrations from popular artist redjuice, introductions to various merchandise, and much more!